Running is a simple (and cheap) way to keep fit, as well as a great mood lifter – scientific studies say a 30 minute workout five days a week will help keep you happy and less stressed. But whether you're a beginner or have been running for years, a good-quality pair of running trainers is essential to help you reap the benefits of your efforts, rather than cause yourself an injury. 
Gait analysis is a popular method to help pick the pair for you, with specialist retailers offering the service in store. It involves someone watching you run and measuring your degree of pronation (how your foot moves). Under-pronation means your foot rolls outwards, over-pronation means they roll inwards and neutral-pronation is when there is minimal rolling. If you're a neutral-pronator you can wear a wide variety of trainers, while under- and over-pronators need to look for ones with more cushioning and support.
Questions have been raised about the effectiveness of gait analysis on reducing injury though. While useful, the distinct categories do not work for everyone and it's important to check your feet feel comfortable and supported in your new pair too – you shouldn't notice your trainers as you run.
We've been busy testing a wide variety of women's trainers to find out which ones are worth buying. You should aim to replace them after 300 to 550 miles, depending on how hard you land on your heels and wear through them. Expect to pay £80-150 for a good-quality pair and, unfortunately for us girls, colour options can be limited, often rather annoyingly to pink and purple. But style aside, performance is the most important factor and we've found eight that really excel.   
1. Merrell All Out Crush Light: £90, Merrell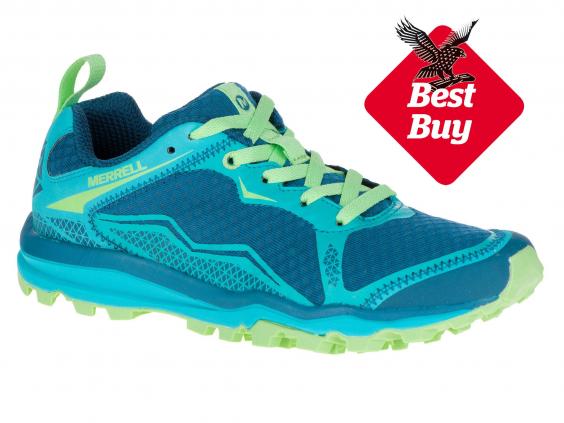 Outdoor adventure brand Merrell has a range of trail shoes to help you run across any terrain. We love this green pair (pink and purple are available too) for their lightweight and versatile build. You won't notice you're wearing them and as your foot hits the ground the springy sole will give you an energy boost to help you onto the next step. Great across mixed terrain and wet or dry ground, these are an all-rounder when it comes to running trainers. We even played a few sports in them too. You don't get sweaty feet or damp socks in rainy weather and Merrell gets bonus points for making them vegan friendly. 
2. Asics Dynaflyte: £130, Asics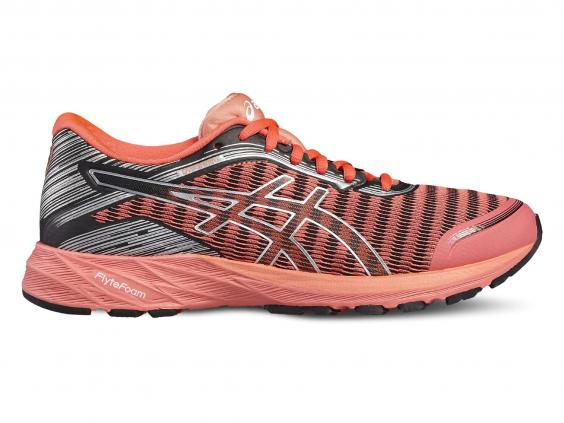 Designed for long-distance running, these trainers are extremely comfortable. There's lots of cushioning thanks to Asics' FlyteFoam midsole, which also absorbs the initial impact of your foot hitting the ground well, making you feel stable and balanced while running. Because of this protection, they're a good option for city runners or those who prefer to pound the pavement over softer grass or fields (although they do well here too). Built for a neutral-pronator, they didn't feel heavy to run in or weigh our feet down. There's a blue and yellow style available too but both designs are bright and reflective, meaning they can easily be seen on darker runs. They're a well-designed pair that's worth the investment.   
3. New Balance Vazee Prism V2: £95, New Balance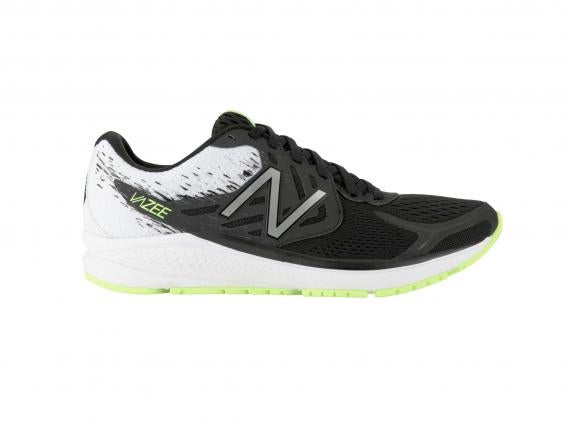 This entry from New Balance is designed to help those who over-pronate or need a little extra support. Available in two styles – pink and grey being the other option – they win immediate points for style and were our favourite looks-wise. But they didn't disappoint when it came to performance either. Firstly, they were the lightest we tested – we barely noticed we were wearing them, making running smooth and easy. They're also well cushioned so your foot doesn't feel the full force of hitting the ground. Designed for speed, they're better for short to mid-distance runs. We also played a few sports in them and they stood up to change of pace and stopping and starting well. 
4. Brooks Women's Ravenna 8 Running Shoe: £115, Brooks Running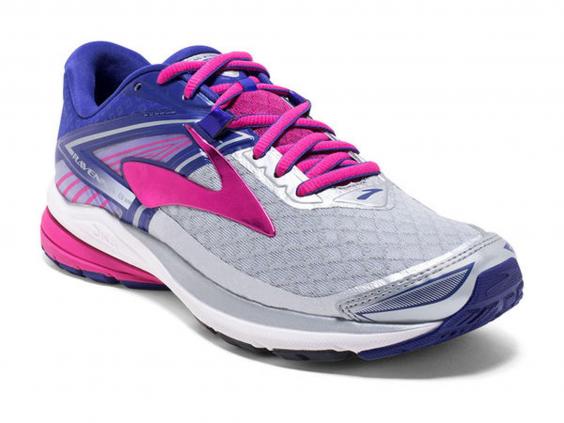 Running specialist Brooks has created an excellent shoe with its latest Ravenna design. Although the colour options are a little disappointing their performance more than made up for it. They're a comfortable fit that has enough cushioning for support but not too much it affects your run. You're unlikely to notice you're wearing them as they are lightweight and support your natural movement, with a springy toe-off to give your stride some power. This pair is a safe purchase for keen runners who want to continue to clock up the miles.
5. Salomon XA Enduro: £122.95, Trekk Inn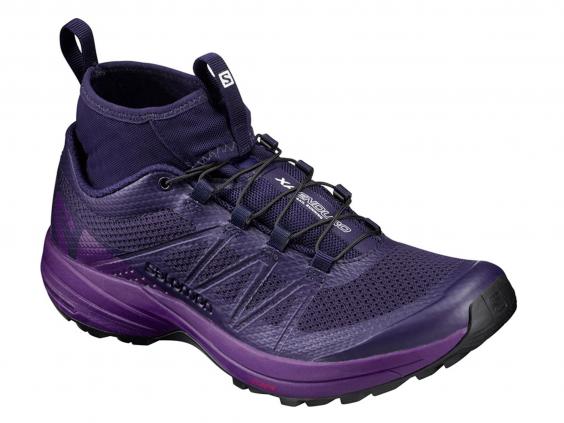 Now here's a trainer for the serious cross-country runner. Purpose built for hard-core terrain and wet and muddy weather, they're not for those who are just doing the odd run here or there. These trainers provide an extremely stable run – the grip was excellent, even in puddles, and you could maintain a steady pace through muddy fields too. You use the drawstring fastening around the ankle (rather than laces) when putting on, resulting in your feet staying dry whatever you run through – make sure you're wearing socks that cover your ankles though to stop any blisters forming (we learnt the hard way). The only negative is that they are heavy; you can feel them as you move which becomes increasingly more noticeable the longer you run for. Size-wise they come out on the small side, so go up half a size if you're unsure. If you like going off the beaten track though, these should be top of your list. 
6. Saucony Triumph ISO 3: £135, Saucony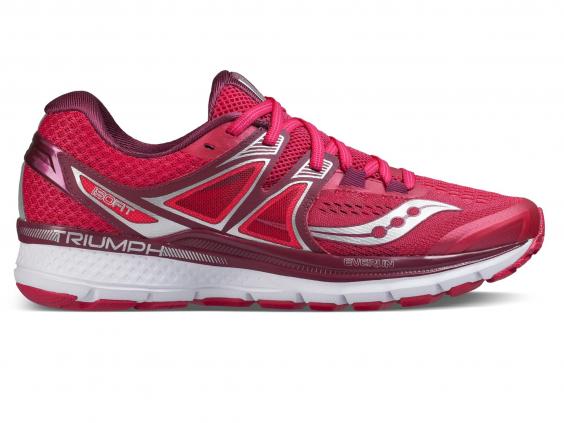 Designed for a neutral foot and road or track surfaces, this is another good option for city dwellers. They are super springy, so you feel like you're given extra power when you run and they absorb shock from your foot hitting the road well. The cushioning provides comfort and support (no blisters, even after a long first run) but they aren't waterproof – our feet started to feel a bit damp after a particularly wet and windy outing. If you're serious about clocking up the miles and getting fit though, these are a safe option. 
7. Adidas Supernova Sequence 9 Shoes: £49.97, Adidas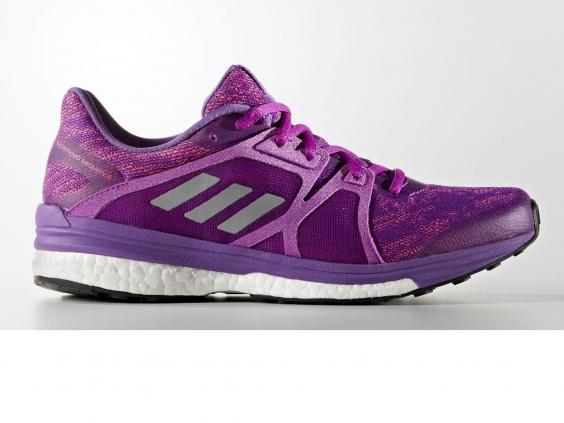 These were trialled on the frozen, winter roads of London and we couldn't fault the grip. There was no slipping or sliding and we felt stable and supported throughout our runs – even across precarious icy patches of pavement. They are cushioned too, making them comfy to wear and keeping the risk of blisters to a minimum (although we did only test them on mid-distance runs). You do feel a certain degree of bounce as you move which gives you additional energy – Adidas says this is because of its "Boost" technology which uses energy capsules in the cushioning – and the reflective sides are good for evening sessions. They're a snug fit though and a little heavier than others we tested. But for the price, they're a great pair to help you achieve your fitness goals. 
8. Puma Women's Speed 600 Ignite Running Shoes: £89.99, Puma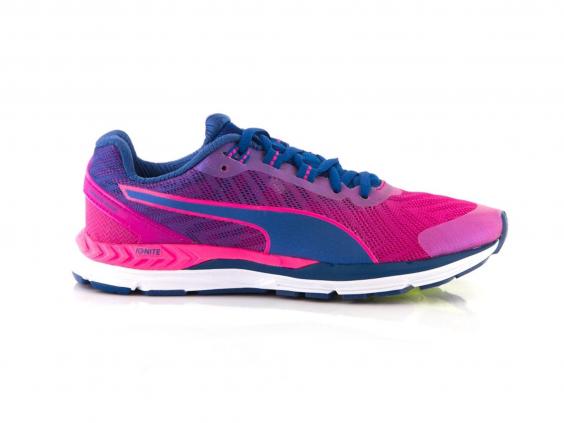 Another safe option for those who run regularly is this pair from Puma. They're a comfy ride with good grip, making winter running easier. The cushioning and build provide enough support (just make sure you're wearing proper running socks) and you feel stable as you run. We thought they were also a good option for playing sport in. At under £100, they're great value.
9. Nike Lunar Epic Low 2 Running Shoe: £130, Nike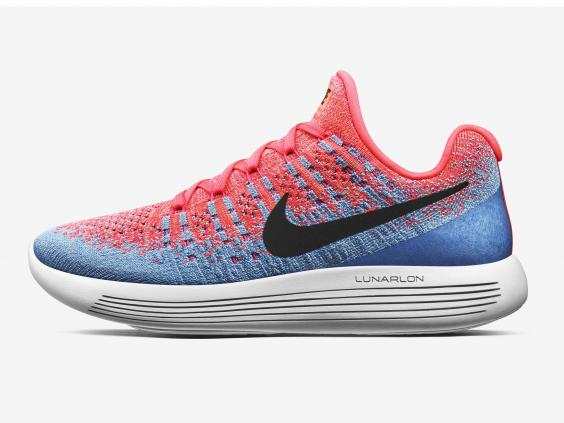 You can always rely on Nike when it comes to buying reliable running trainers. It's engineered some brilliant designs in the past and this latest pair for women is no different. They're lightweight, breathable and provide a stable run. Teamed with great comfort and cushioning, these shoes are a safe option for any budding runners. We played other sports in them too and found they were supportive when it came to changing pace or direction quickly.
The Verdict: Women's running shoes
For light and versatile trainers, our top pick is the vegan pair from Merrell. New Balance comes close, being the lightest we tried, and Brooks is ideal for keen runners. But for those who prefer cross-country outings, we'd recommend the Salomon XA Enduro.
IndyBest product reviews are unbiased, independent advice you can trust. On some occasions, we earn revenue if you click the links and buy the products, but we never allow this to bias our coverage. The reviews are compiled through a mix of expert opinion and real-world testing
Reuse content