Many of us will have at least one long car, coach, plane or boat journey planned this summer to get to an event or holiday destination. And the best way to deal with this trip is to get comfortable and sleep through it until you arrive, ideally feeling refreshed. The only way you're going to get a good nap though is with a decent travel pillow, so we've tested a whole range of weird and wonderful ones to find the best sleeping companion out there.
We tried inflatable, memory foam and those with micro bead fillings, as well a whole variety of shapes - from the traditional U-shape to whole head coverings. We took these products on trains, planes and in cars on journeys ranging from one to five hours to put the pillows through their paces and ensure they met our key checks - comfort, easy to set up and pack away and the actual amount of sleep we had using them.
1. Cabeau Evolution Memory Foam Neck Travel Pillow: £29.99, Cool Stuff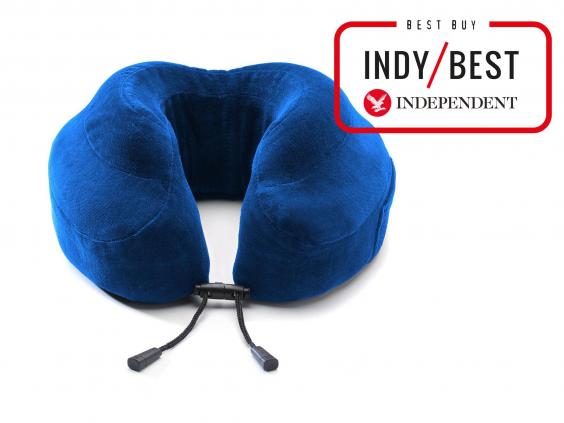 At first glance, this looks like a normal U-shaped pillow, but this memory foam  pillow features a flattened rear head support that doesn't push your head forward, as well as raised side supports, which make all the difference when trying to get a comfortable sleep on-the-go. The soft velour cover can easily be removed and machine washed, and it also features a side pocket that you can put your phone in for safe-keeping while you listen to music and drift off to sleep. Although it's more expensive compared to others we tested, this pillow is a great investment and will ensure you catch some quality sleep on your travels, especially as it comes with handy ear plugs. It also rolls down and packs away into the bag it comes with, ready to be used the next time you need a nap. Available in other colours.
2. Travelrest Ultimate Travel Pillow: £19.98, Amazon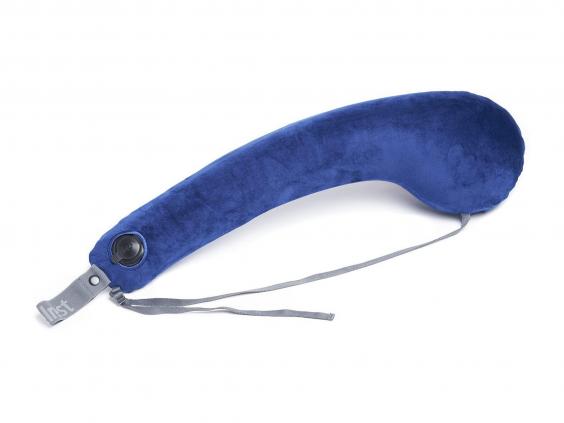 This pillow is inflatable meaning it can be folded up to fit into the smallest of travel bags. We were concerned about the time and energy an inflatable pillow might take to set up, however it only needed a couple of breaths to inflate. It's easy to tether to a car or plane seat as the string simply loops over the head rest, which is a useful feature and makes it feel secure. This pillow held its shape and didn't deflate, but we found the material wasn't as soft against our skin as other pillows we tested. It's also available in red, grey and yellow.
3. Soak & Sleep Memory Foam Travel Neck Pillow: £7.50, Soak&Sleep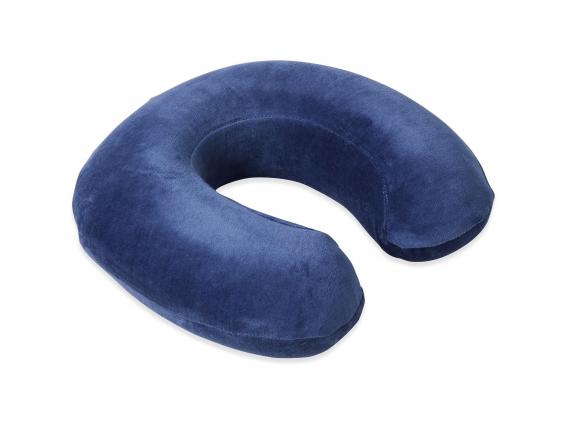 This travel pillow is a traditional U-shape but is made from memory foam, so it's great for moulding to your neck shape and continuing to be comfortable no matter how long your journey is. Another good feature is the soft cover, which is comfortable to rest your head on and can easily be removed and put in the washing machine ready for your next journey. And at this price, you're definitely getting more quality for your money. 
4. Trtl Pillow: £19.95, Amazon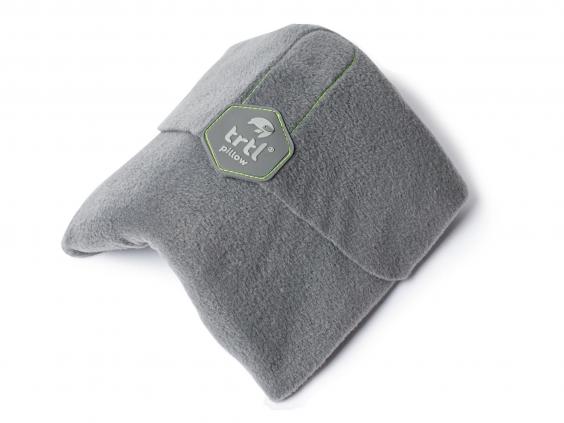 The Trtl pillow ticks the all-important box of being super soft. It feels great against your skin (and it's machine washable), which will help you attempt to catch a few hours sleep while travelling. It's also scientifically proven to hold your neck in an ergonomic position while you rest, which is better than a standard U-shaped travel pillow, and we did find it very comfortable and easy to put on - you simply choose the side of your head you would like supported, wrap the pillow around your neck and secure with the velcro strap. Weighing just 200g, this pillow is ideal if you've already maxed out your hand luggage allowance, as you can easily fold it up and slip it inside your bag.
5. Travelstar Hoodie Travel Neck Pillow: £10.95, Amazon
If you can pull off the hoodie 'look' this pillow is for you. It's made from 80 per cent polyester and 20 per cent cotton, which makes it soft and comfortable against the skin, although it's worth noting that it's hand wash only. The hood feature is ideal for providing your eyes with a little extra darkness while you try to nap and generally makes you feel a bit cosier while you travel. Available in other colours.
6. J-Pillow Travel Pillow: £15.99, Lakeland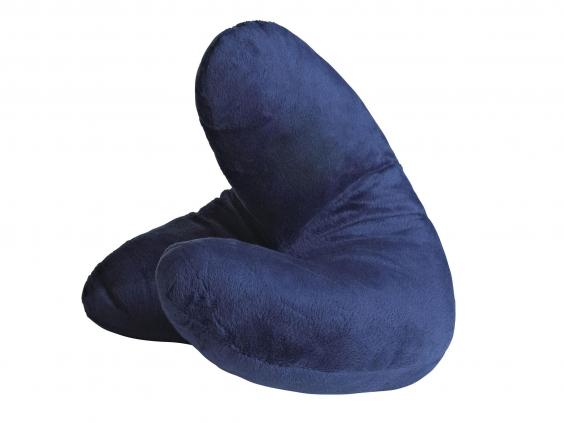 It may be an unconventional shape, but this is an award-winning travel pillow. Its shape supports the head, neck and chin while you sleep and stops your head from falling forwards. We found it was very comfortable to sleep on and we really liked the handy instruction guide it came with, providing illustrations of all the ways in which you can use the pillow to help you rest. It's also machine washable and comes with a snap loop button that means you can easily attach it to the side of your bag while you're on the move.
7. Cath Kidston Painted Pansies Foldaway Travel Pillow: £12, Cath Kidston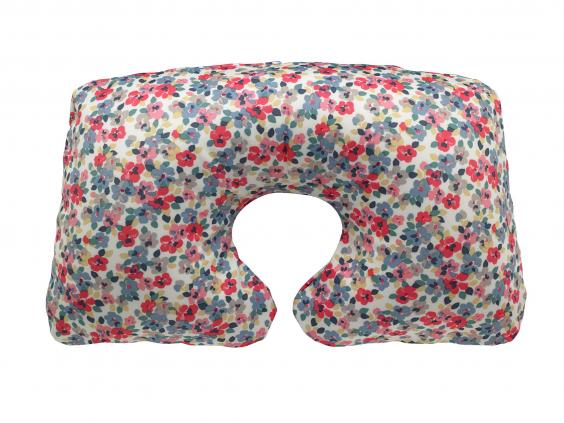 This pillow is surprisingly soft considering it's an inflatable, and it cleverly folds into its own pocket making it the smallest travel pillow we tested. However, we found it quite hard to inflate, deflate and fold back into its pocket, so it's not one to use in a hurry. If you want a pretty and small travel pillow though, which is also a reasonable price, this product is the one for you.
8. The JetRest Original Travel Pillow: £9.95, Amazon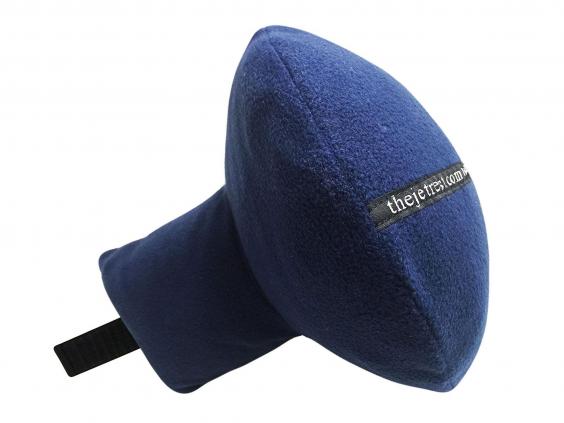 This L-shaped neck pillow is designed to help support your head in an upright position and works best on high backed seats. We found it was soft against the skin and it provided some support, but if your head tends to move when you're asleep, this pillow probably isn't the one for you as it can easily slip down with movement. It does roll up into a smaller, compressed pillow though with the help of a Velcro strap, making it easy to pack or carry around.
9. Ostrich Pillow Original: £65.95, Proidee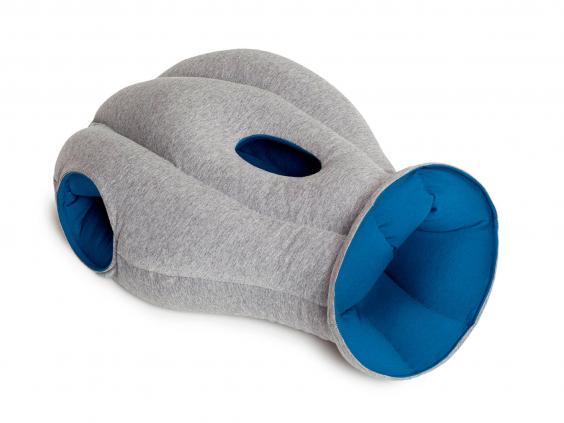 Strange-looking it may be, but this one is super comfortable. Filled with polystyrene micro beads, it covers the entire head and neck, blocking out noise and light, with a front opening for your nose and mouth, as well as two side openings designed to rest your hands in. Although it can be slightly claustrophobic, it's ideal if you can rest your head on a table. We think you'll either love or hate it (we loved it), but it does offer free returns and a two year warranty if you decide you aren't a fan. It also comes in a junior version for children over six years old.
10. Trunki Yondi Lion Pillow: £12.99, Trunki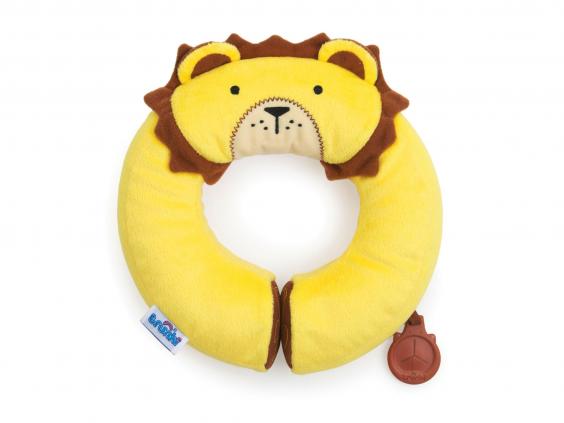 This pillow is designed specifically for children aged two to five years old, and is a fleecy, supportive cushion for them to use while you're on the move. Car seat compatible, we really liked the hidden magnets that hold the neck rest together, ensuring your child's chin is supported and stopping their head from lolling forward. Although Leeroy Lion was a firm favourite with us, it also comes in a whole host of animal variations from Koko Koala to Dudley Dino, so you'll easily be able to find the right travel companion for your little one.
The Verdict: Travel pillows
For an easy-to-use, reasonably priced pillow that will see you through any number of trips and is easily cleaned, our top pick is the Cabeau Evolution Memory Foam Neck Pillow. It offers all-round neck support as opposed to just one-sided, and can be rolled up into a quarter of its size, which is a key consideration for travel. If you're looking to spend less, the J-pillow is another great option and lives up to its award-winning credentials.
IndyBest product reviews are unbiased, independent advice you can trust. On some occasions, we earn revenue if you click the links and buy the products, but we never allow this to bias our coverage. The reviews are compiled through a mix of expert opinion and real-world testing
Reuse content