'Offensive' Banksy immigration mural in Clacton scrubbed off wall by council
The mural appeared this week in Clacton-on-Sea but the council, which said it did not know it was a Banksy piece, removed it following a complaint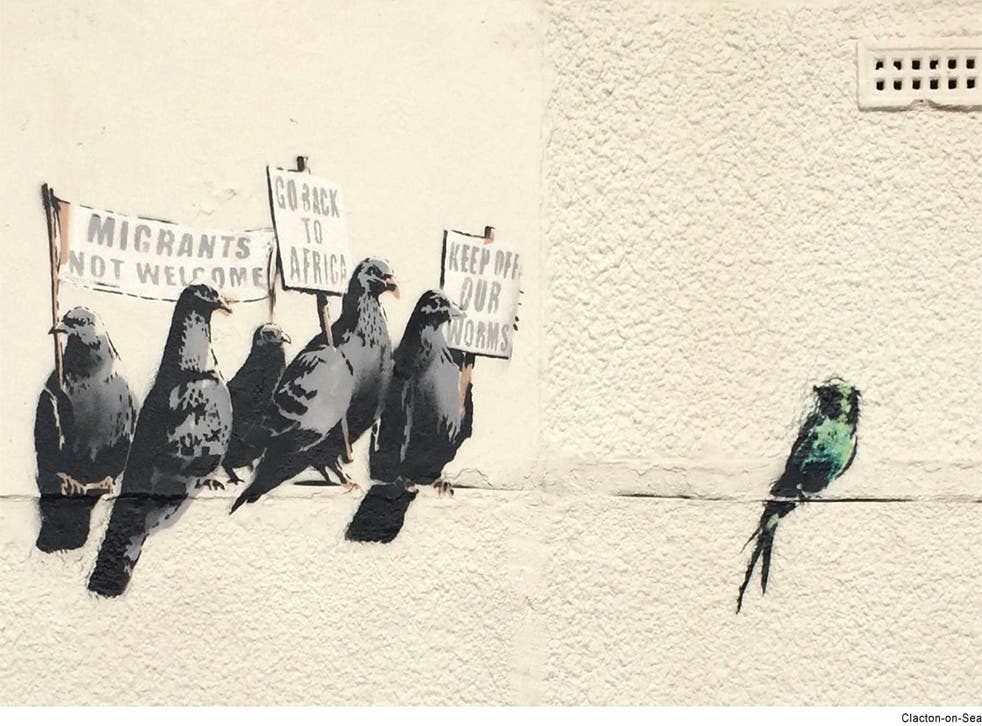 A Banksy piece tackling immigration has been scrubbed from a wall in Essex after the council, without knowing who had drawn it, responded to a complaint that it was "offensive".
The art work is commenting on anti-immigration sentiment and depicts five rock pigeons holding banners scrawled with "Migrants not welcome", "Go back to Africa" and "Keep off our worms" towards a more exotic-looking bird beside them.
It cropped up on the wall of a boathouse this week at West Beach in Clacton-on-Sea, where a by-election will take place in eight days – one that the Ukip candidate Douglas Carswell is expected to walk away with.
According to the BBC, the council said it did not know it was a Banksy piece.
Banksy murals are often valued in the tens, if not hundreds, of thousands of pounds – for example a piece entitled Mobile Lovers was sold for £403,000 in August after it appeared on the wall of a youth club in Bristol.
Tendring District Council said it had received a complaint on Tuesday that the mural was "offensive" and "racist", so in accordance with procedures had it removed within 48 hours.
The artist has since announced the piece on his website.
Nigel Brown, Communications Manager for Tendring Council, said: "The site was inspected by staff who agreed that it could be seen as offensive and it was removed this morning in line with our policy to remove this type of material within 48 hours.
Banksy's New York residency

Show all 14
"We would obviously welcome an appropriate Banksy original on any of our seafronts and would be delighted if he returned in the future."
Join our new commenting forum
Join thought-provoking conversations, follow other Independent readers and see their replies