Godzilla vs Kong review roundup: What the critics are saying
Viewers delight in the clash of the CGI monsters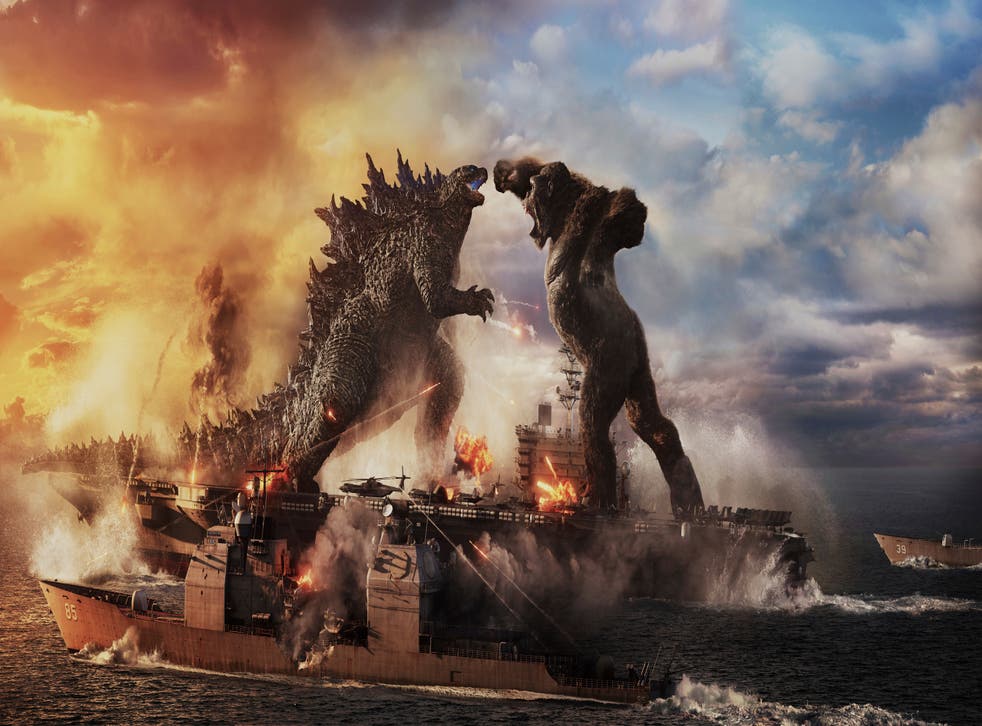 Godzilla Vs. Kong, Adam Wingard's anxiously anticipated film that launched in theatres and HBO Max on Wednesday, has managed to catch viewers pleasantly off guard as one of the biggest entertainers at the start of the year.
Critics said they didn't know what to make of the monster flick before its release, but the film opened to a surge of good reviews that said it surpassed expectations.
Clarisse Loughrey wrote in her three-star review forThe Independent: "The thrill isn't entirely lost at home. As someone who's firmly Team Godzilla, I still cheered when the overgrown iguana tried to drown Kong somewhere in the Antarctic Ocean and cried out in despair when Kong suplexed him in the middle of downtown Hong Kong. As the climax of a bitty and uneven franchise, Godzilla vs Kong is profoundly silly – and all the more enjoyable for it."
"When they do fight, the limb-flinging, body-slamming nature of it all feels somewhat realistic, even if one participant does regularly shoot atomic breath out of his mouth. No one could possibly accuse this film of taking itself too seriously – and that's Godzilla vs Kong's greatest strength," Loughrey concluded.
"Initially seen as a bloated and unwanted piece of boardroom product has now become a scrappy little contender, fighting its way from far beneath sea level up to the surface, triumphantly landing on both feet, the striking spring surprise none of us had expected," Benjamin Lee wrote in The Guardian. 
"Hollywood and Warner Brothers may end up being the biggest winners in the battle of Godzilla vs Kong, it's a genuine surprise to report that we, as viewers, also emerge as victors," Lee concluded.
Pramit Chatterjee noted in an overall positive review for Mashable, "There's not a single dull moment in Godzilla vs. Kong. It begins with the aim to entertain and hits the mark with precision."
Read more:
Robbie Collin of The Telegraph wrote in his four-star review: "The scraps between Kong and Godzilla themselves are always energetic, stylish and surprising – the twosome even develop some chemistry, of a mostly roar-based sort – while the film's impressive willingness to throw both caution and taste to the wind results in some thrilling passages of pure junk spectacle."
He added, "I especially loved the scene where Kong lumbers into a vast and ancient ceremonial hall miles beneath the Earth's crust, and wearily plonks himself on the throne, surveying the ruins of what was presumably a giant gorilla civilisation of the past."
Dave Lee of the Down Under podcast shared a similar impression calling the movie "totally bombastic, insanely ridiculous monster flick & easily one of the most impressive ever put on screen. It delivers exactly what it promises to fans of the series & those looking for an extravagantly brainless popcorn spectacle."
Later on, Lee also ended up giving the movie four out of five stars.
In The Time, Stephanie Zacharek wrote that "fight scenes are particularly gratifying, a melee of orchestrated swiping and tail-swishing that jolt the movie out of its doldrums," which is somewhat similar to Matt Zoller Seitz's review for RogerEbert.
"Godzilla vs Kong is a crowd-pleasing, smash-'em-up monster flick and a straight-up action picture par excellence. It is a fairy tale and a science-fiction exploration film, a Western, a pro-wrestling extravaganza, a conspiracy thriller, a Frankenstein movie, a heartwarming drama about animals and their human pals, and, in spots, a voluptuously wacky spectacle that plays as if the creation sequence in 'The Tree of Life' had been subcontracted to the makers of 'Yellow Submarine,'" Seitz wrote.
Others, however, weren't taken with Godzilla Vs. Kong.
John Nugent of The Empire wrote: "Godzilla Vs. Kong mostly delivers on its promise of a big monster-fighting another big monster. It just depends whether you're willing to sit through the toe-curlingly bad set-up that surrounds it."
The editor gave the movie two stars out of five.
Similarly, Jessica Kiang wrote in LA Times, "So after 2014's beautiful but rather boring 'Godzilla,' the enjoyable, moderately inventive 'Kong: Skull Island' three years later, and the absolutely incoherent 'Godzilla: King of the Monsters,' this fourth entry in Legendary Pictures' Monsterverse is as dumb as the franchise has ever been. Only this time it knows it and leans into it."
Join our new commenting forum
Join thought-provoking conversations, follow other Independent readers and see their replies