Katy Perry 'Dark Horse' video causes offence after featuring burning 'Allah' pendant
Muslim groups claim new video is 'blasphemous'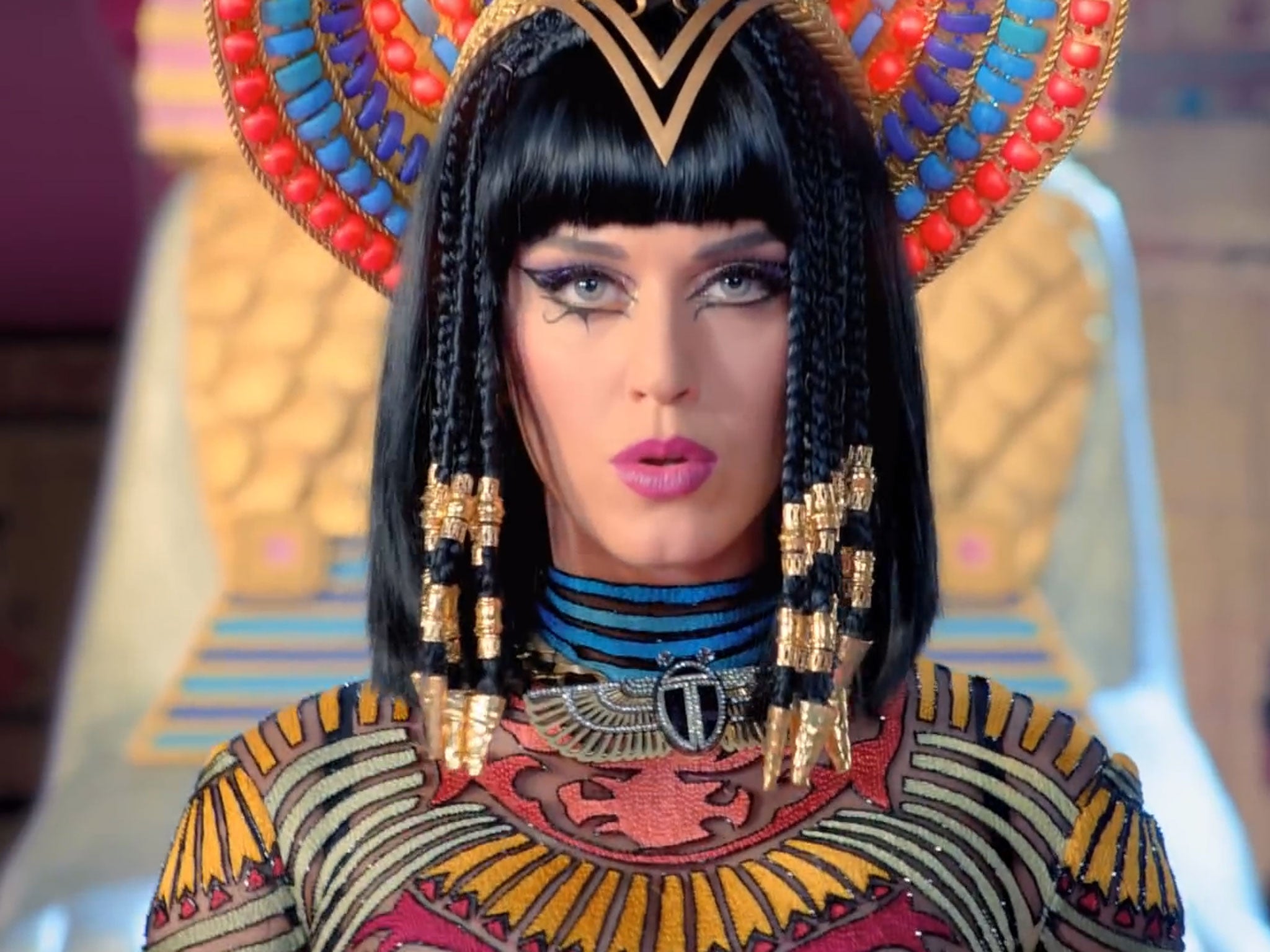 In the latest 'racist music video' accusation, Katy Perry's "Dark Horse" has sparked an online petition demanding it be pulled from YouTube, with some Muslims claiming it is blasphemous.
More than 50,000 Muslims have pledged their support for the video to be removed because of an offending scene, which shows an Islamic necklace burned by lightning shot from Perry's fingers.
Shazad Iqbal of Bradford, West Yorkshire, who started the Change.org petition, said the burning of the pendant with the Arabic word for God was "blasphemous" and "distasteful".
"At 01.15 into the video 'Dark Horse', a man is shown being burned, whilst wearing a pendant (also burned) forming the word 'Allah', which is the Arabic word for God," Iqbal wrote.
"Such goes to show, that blasphemy is clearly conveyed in the video, since Katy Perry (who appears to be representing an opposition of God) engulfs the believer and the word God in flames."
He added: "Using the name of God in an irrelevant and distasteful manner would be considered inappropriate by any religion."
Most signatures so far have come from Britain, but people from Muslim countries such as Pakistan, Qatar and Saudi Arabia have also entered into the debate.
"Absolutely disgusted at the music industry for allowing this to happen," wrote Bilal Khan from Birmingham. "Music should be about spreading love not hate."
Faeezah Shaik from South Africa also commented: "Artists should consider the impact their 'art' would have on society and not just go ahead and do things for the sake of being controversial."

Enjoy unlimited access to 70 million ad-free songs and podcasts with Amazon Music
Sign up now for a 30-day free trial
Sign up

Enjoy unlimited access to 70 million ad-free songs and podcasts with Amazon Music
Sign up now for a 30-day free trial
Sign up
Perry is also seen pole-dancing with bizarre cat-human bodyguards in her latest video, which has amassed over 30 million views.
The US pop star grew up in a devout Christian home as both her parents were traveling Pentecostal ministers. She started her career singing Christian Gospel music before deciding to change track.
Perry recently told Marie Claire that she now has no identification with any religion or "old man sitting on a throne" but still feels "a deep connection with God".
It is not the first time Perry has been criticised for her portrayal of other cultures. She received a strong backlash for her 'Japanese' performance of "Unconditionally" at the American Music Awards last November.
Most-followed people on Twitter
Show all 10
Other singers to be accused of cultural insensitivity include Lily Allen, whose video "Hard Out Here" was labelled racist because of the twerking black backing dancers
Rihanna was also ordered to leave an Abu Dhabi mosque last year after compromising the "sanctity of the site" by posing for a photoshoot.
Perry seems to have no qualms about her controversial behaviour, as she recently attended Miley Cyrus' Bangerz tour and enjoyed a front row kiss with the "Wrecking Ball" singer.