First Aid Kit review, Who by Fire: A live covers album Leonard Cohen would have loved
Fans of both Cohen and First Aid Kit will be delighted that 'Who by Fire' is one live concert that has been preserved. It offers the best of the live ritual: familiar songs reinvented in the moment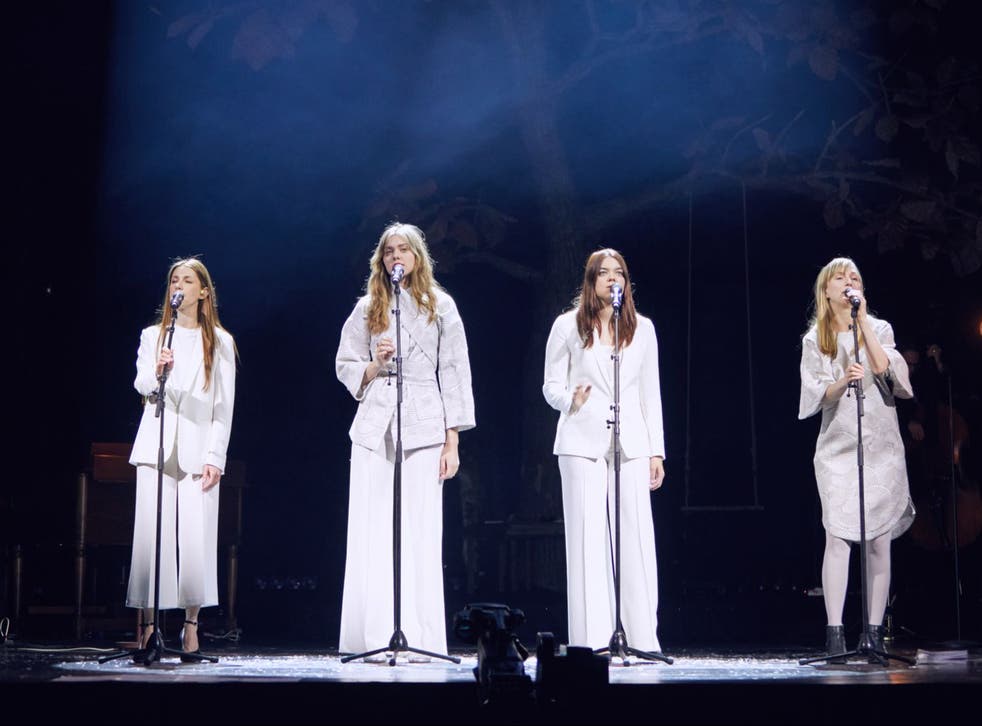 "Something out of the ordinary," is how Johanna and Klara Söderberg describe the four Leonard Cohen-themed concerts they played at Sweden's Royal Dramatic Theatre back in March 2017. The sisters had always loved Cohen's work. They say if they pick up a guitar then his 1967 song "Suzanne" is often the first one they sing. So, four months after his death, they assembled a group of Swedish musicians to help them celebrate his songs and poems. The gold and velvet grandeur of their surroundings added a sense of ceremony to the proceedings, which were broadcast live on Swedish television.
One year into the pandemic, any gig is obviously "something out of the ordinary" for all of us. But fans of both Cohen and First Aid Kit will be delighted that Who by Fire is one that has been preserved. While mostly gentle, not jarring the pandemic's hush, it offers the best of the live ritual: familiar songs reinvented in the moment. Cohen's deep themes of sex, death, despair and spirituality speak to the moment while his wit and wordplay continue to delight. The band structured the shows like church services, allowing space for music and silence, spoken words and sentences lifted by melody. It's invigorating to hear words we last heard rumbling from the rusty guts of an octogenarian prophet come soaring with sweet, fresh purpose from the mouths of his young disciples.
First Aid Kit use a supple, constantly shifting mix of acoustic guitars, pianos, chimes, strings and pounding drums as a lake on which to float the dead man's words. The work featured in the concerts cover almost the full span of Cohen's career, stretching from the well-beloved folk songs of the late 1960s and early 1970s (including "Suzanne", "So Long Marianne" and "Famous Blue Raincoat") to the synth-backed growl of 2016's "You Want it Darker". These are interspersed with poems from his 2006 Book of Longing. Many of these will be new to casual fans and First Aid Kit's sensitive backing arrangements stoke the black coals of his printed words, often raising flames from them.
At times, it feels that Cohen was writing for the world of Black Lives Matter and coronavirus. So in "Tired" he wrote: "We're tired of being white and we're tired of being black, and we're not going to be white and we're not going to be black any longer. We're going to be voices now, disembodied voices in the blue sky, pleasant harmonies in the cavities of your distress. And we're going to stay this way until you straighten up..."
In "The Asthmatic", he wrote repeatedly of being unable to breathe and here the assembled artists recite the suffocating text like an accusing Greek chorus. It may be the only track that those bereaved by Covid-19 have to skip. On "You'd Sing Too", he reminds us of the beauty of the natural world and how, in isolation, we have no need to compare our voices to those of our rivals. Known to joke that despite his dark themes he was a "closet optimist", Cohen often spoke of wanting to write a song as joyful as Louis Armstrong's "Wonderful World". Here, First Aid Kit help him achieve something in that awed and generous spirit.
Read more:
The ever-lush harmonies of the Söderberg sisters are sweet, determined and fierce by turns. On "Suzanne" they tilt phrases sharply up five notes at the end – like birds flicking tail feathers. On "Everybody Knows" – the anti-exploitation hymn which Cohen wrote imagining himself as a Humphrey Bogart-esque cynic – they really sing into words Cohen only intoned. On "Hallelujah", they eschew the showboating of a hundred talent show contestants for a conversational mutter. The women's voices are balanced by the husky male voices Jesper Lindell (on "Show Me the Place" and "Chelsea Hotel") and Loney Dear on the thunderous, piano-backed "Avalanche".
During the seven years Cohen spent in a Zen monastery, he learnt that "monks polish one another, like pebbles in a bag" and the collective spirit of the artists featured in these concerts does the same. They remain distinct voices, but all working the service of one mysterious maker's art. If Cohen were still alive, he would have loved every note.
Register for free to continue reading
Registration is a free and easy way to support our truly independent journalism
By registering, you will also enjoy limited access to Premium articles, exclusive newsletters, commenting, and virtual events with our leading journalists
Already have an account? sign in
Register for free to continue reading
Registration is a free and easy way to support our truly independent journalism
By registering, you will also enjoy limited access to Premium articles, exclusive newsletters, commenting, and virtual events with our leading journalists
Already have an account? sign in
Join our new commenting forum
Join thought-provoking conversations, follow other Independent readers and see their replies