Richard III, Trafalgar Studios, review: Martin Freeman gives highly intelligent performance
But the actor doesn't radiate a sufficiently dangerous sense of unpredictability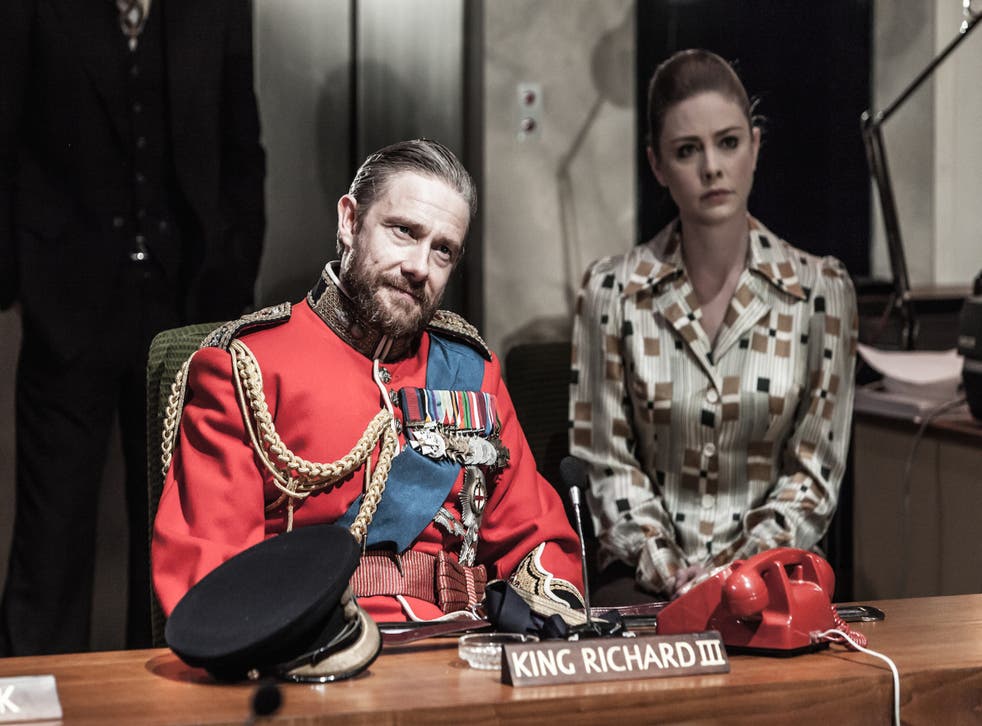 Director Jamie Lloyd is playing a smart and enlightened game with his Trafalgar Transformed seasons. His aim is to change the demographic of the theatre audience and last year he wooed young newcomers to his production of Macbeth through a canny combination of recruiting a star better known for his movie work (James McAvoy), a bold, in-yer-face aesthetic, and special cheap prices on Mondays, half of the seats reserved that night for schools and first-timers. The result was a resounding success on all fronts.
Now he has adopted a similar formula for this new production of Richard III, with the added piquancy that, on the face of it, Martin Freeman is pretty counter-intuitive casting for Shakespeare's hunchbacked villain.
True, the actor has been artfully subverting his mild-mannered Mr Nice Guy image on the small screen with his excellent performance as Lester, the hapless, wife-murdering insurance salesman in Fargo, a part that's somewhat better preparation for playing the psychotic monarch than Bilbo Baggins, Dr Watson or Tim.
And nothing has vindicated Lloyd's notion that the theatre-going constituency needs a rejuvenating shake-up more than the snobbish controversy that has erupted about "etiquette" after reports that Hobbit-fans, described as "over-excited", have been accused of breaching decorum simply for cheering Freeman after his first soliloquy at a preview. Weren't "traditional" playgoers allowed to applaud with impunity Dame Angela Lansbury's every exit and entrance at the recent Blithe Spirit?
Freeman gives a highly intelligent, calculatedly understated performance, full of witty mocking touches in his rapid line-readings (he refers to "this princely....heap" with a comically fastidious pause) and creating a rapport of shared superiority with the audience over his dupes.
But the character's malign, self-delighting magnetism and the sheer diabolic effrontery of, say, his wooing of Lady Anne (Lauren O'Neil) don't make themselves felt. It's a violent, bloody production (with torture and gore galore); yet except in one added and repulsively effective sequence (heightened by a malfunctioning lift door that keeps opening and closing naggingly and uselessly at the side), Freeman doesn't radiate a sufficiently dangerous sense of unpredictability.
Lloyd has transplanted the proceedings to1970s (evoking the Winter of Discontent, geddit?), but I am not sure that this updating clarifies the politics of the play – the intelligence officers who plotted a coup d'etat against the Labour Government were operating wholly covertly unlike the Oswald Mosley-style Richard and his blackshirts who, together with a corrupt aristocracy, provided a more telling analogy for the Crookback's seizure of power in Richard Eyre's alternative-1930s version at the National.
The audience sit on both sides of Soutra Gilmour's design which locates the play (initially you think it must be a self-reflexive joke) in an office. Dominated by two long narrow desks, this set not only limits the actors' freedom of manoeuvre but creates a rather cumbersome and incongruous all-purpose milieu (if those old-fashioned typewriters could speak!). When Maggie Steed's baleful, rather camp old Queen Margaret delivers her curses (or when they come true), it results in a spark-spraying power cut as she sips her tea with grim schadenfreude.
The vivid company perform with great verve and there are some horribly eloquent strokes: Gina McKee's vehement Queen Elizabeth has to be forcibly taped to a chair before she'll listen to Richard's loathsome entreaty and flinches when the scissors are brought to free her.
Instead of at a grand coronation, Richard, in full uniformed splendour, emerges rather sheepishly from a trip to loo (sue flushing sounds) at the start of the second half, a neat bit of bathos indicating the anti-climactic nature of power once achieved and the downward trajectory that here leads to the ghosts actually trying to kill him in his savage nightmare on the eve of Bosworth Field.
If the production doesn't, for imaginative coherence, achieve the standard set by Lloyd's Macbeth, I hope it won't be long before Freeman broaches the Bard for a second time.
To September 27; 0844 871 7632
Register for free to continue reading
Registration is a free and easy way to support our truly independent journalism
By registering, you will also enjoy limited access to Premium articles, exclusive newsletters, commenting, and virtual events with our leading journalists
Already have an account? sign in
Register for free to continue reading
Registration is a free and easy way to support our truly independent journalism
By registering, you will also enjoy limited access to Premium articles, exclusive newsletters, commenting, and virtual events with our leading journalists
Already have an account? sign in
Join our new commenting forum
Join thought-provoking conversations, follow other Independent readers and see their replies