Iron Fist has Finn Jones on the defensive - our interview with the ex-Game of Thrones actor and Marvel superhero
Joined by Jessica Henwick, the actor discusses his controversial casting and those reviews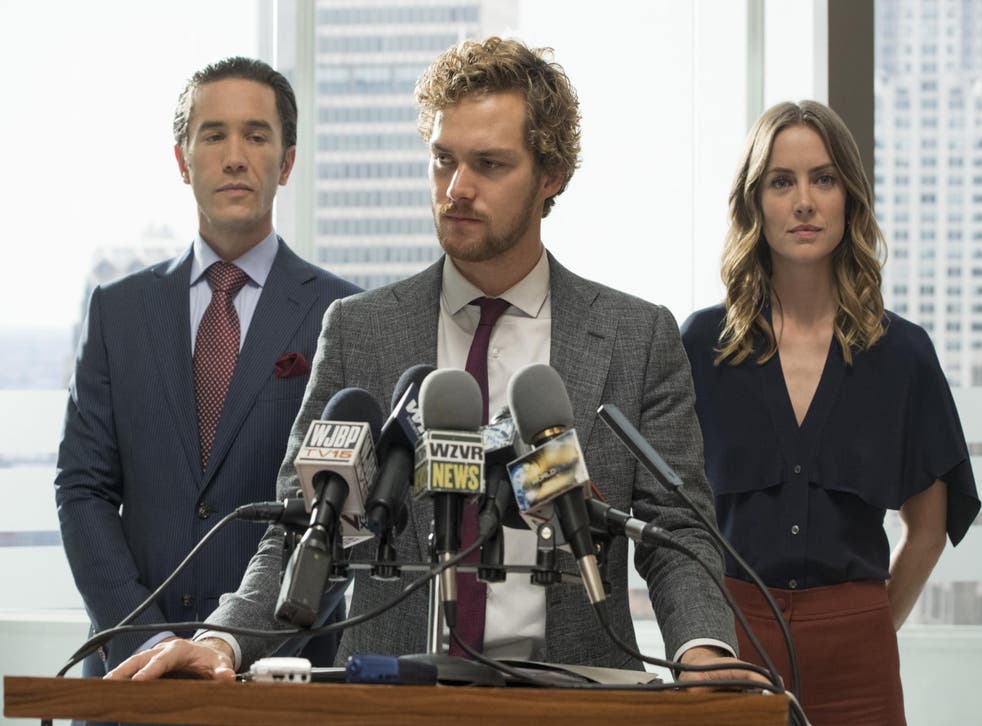 There's no escaping the controversy surrounding Iron Fist. Waiting in a New York lobby, dozens of journalists are talking in hushed tones, the main topic of conversation being the widely negative reviews. Many people here are responsible for those scathing early verdicts, yet they wait patiently to interview cast members Finn Jones and Jessica Henwick.
It's a remarkable contrast to the atmosphere before last year's Luke Cage junkets when everyone was hugely excited to interview Mike Colter and Mahershala Ali, eager to discuss the timely bullet-proof superhero series. Today, though, journalists are relatively nonchalant about the entire affair.
That's not necessarily because of the show's quality. No, there's another oversized elephant in the room: Finn Jones's casting as the titular character. When Iron Fist was initially announced as the final Defender - an Avengers-style team that also features Cage, Daredevil, and Jessica Jones - vast numbers of the public thought the character should be played by an Asian actor.
Fans argued how Danny Rand - an expert in martial arts who wields a mystical force called the Iron Fist by focusing his Chi - was wholly inspired by Eastern culture but was originally white merely because that was acceptable in the 70s. Less so today. After all, Netflix's various series have already broken new ground featuring the Marvel Cinematic Universe's first leading female and black superheroes; why not make another progressive step and cast an Asian lead?
Marvel's Iron Fist - Trailer
Yet, here we are. Marvel decided to cast the English 28-year-old, sticking to the comic book's original formula. Without access to the showrunners, Jones has been left to defend the casting decision and the show's negative reviews, having already said Iron Fist "is for the fans, not critics" and partially blaming President Donald Trump for the uproar.
Perhaps, then, Jones feels the diversity controversy has clouded critical opinions? "I don't know," he tells me. "That's not for me to say. I'm not a critic. I'm an actor. I see the role I get given on the page. I try to bring it to life as best as I can."
A fair answer - what else was he really going to tell me? Perhaps, though, Jones was hesitant over taking on the role? "No, of course not," he refutes. "Why should I have been?"
Unfortunately, being a prying journalist, I had to know a little more. He quit Twitter earlier in the week after people took issue with Jones re-Tweeting a speech by actor Riz Ahmed to the House of Commons on representation in film and television. Jones added the caption "representation is important." The subject is raised and Jones quickly responds: "I didn't quit Twitter. I left for about two hours. It was 'clickbait'."
"My original intention for all of this was to amplify a speech made by Riz Ahmed on representation on television and in film," he continues. "I care a lot about that. I cared a lot about that way before I was cast in this role. It's something that matters to me.
Access unlimited streaming of movies and TV shows with Amazon Prime Video Sign up now for a 30-day free trial
Sign up
Netflix Originals 2017: All the films and TV shows to look out for

Show all 14
"Now, my intention was to amplify that speech and that's still my intention. I think our show represents a very wonderful, diverse cast of actors, and I'm proud of our show for doing that. Not only female, but actors from all different backgrounds. There are actors in our show who are in the last six episodes whose names haven't even been released yet. And so, I think we're doing a good job representing actors from different cultures." Jessica Henwick - who plays Colleen Wing and is also in the room - didn't comment on the diversity issue.
Instead of further aggravating the situation, it was time to move the conversation on. However, for the remainder of our time together, there remained a spectre hanging over the room, as if every response from Jones was a defence of the show's quality.
For instance, asked about doing martial arts training before filming, Jones extensively explained how his busy schedule "didn't allow me to continue the training as much as I would have liked to," adding that "being lead of the show, has a lot of demands." To me, at least, this seemed a direct response to critics who called the show's fight scenes lacklustre compared to the likes of Daredevil.
"I was luckier in that Colleen's story is much more involved with the last half," Henwick adds. "There were no scenes where I was just standing in the background, so I had a lot of time to train."
Towards the end of the interview, the topic of binge watching was brought up, Netflix having made the phenomena mainstream. While Henwick admitted to being a keen binge-watcher (she also enjoys 'event television' like Lost) Jones once again brings up those reviews, unprompted.
"The great thing about Netflix is it puts the audience in the driving seat," he said. "In response to some of the reviews that we've been getting, what I've really noticed about Netflix and Marvel is that it doesn't matter. They have Netflix in their homes, they can decide what they want to watch and how they want to perceive this show. Netflix is great because it takes out all the middlemen, and it's just about the content and the viewer. For that reason, Netflix is a great medium for art and for storytelling. It's just the creative team and the audience and that's how it should be."
Having spoken to other journalists, the actor was obviously questioned further on the reviews and his casting throughout the day (I was one of the first to talk to him), something that will no doubt cloud the show's reputation no matter the quality. Despite this, both Jones and Henwick remain positive about their future with the franchise.
"The Defenders is going awesome," Jones says. "Really good. It's fun. We have a great dynamic between the four of us. Me, Charlie [Cox], Krysten [Ritter] and Mike [Colter], it feels like we've known each other all our life. I'm enjoying it so much."
Henwick adds: "I think we've set up a nice foundation for the character in Iron Fist. It's been a pleasure continuing her story into The Defenders as well. I would love to keep playing her." Whether another series of Iron Fist happens, though, seemingly remains up to Netflix subscribers.
Iron Fist reaches Netflix this Friday.
Join our new commenting forum
Join thought-provoking conversations, follow other Independent readers and see their replies