Zimbabwean poacher arrested after four years on the run for 'killing more than 100 elephants'
Tony Maphosa was arrested on suspicion of poisoning more than 100 elephants with cyanide
Caroline Mortimer
Tuesday 25 July 2017 16:45 Comments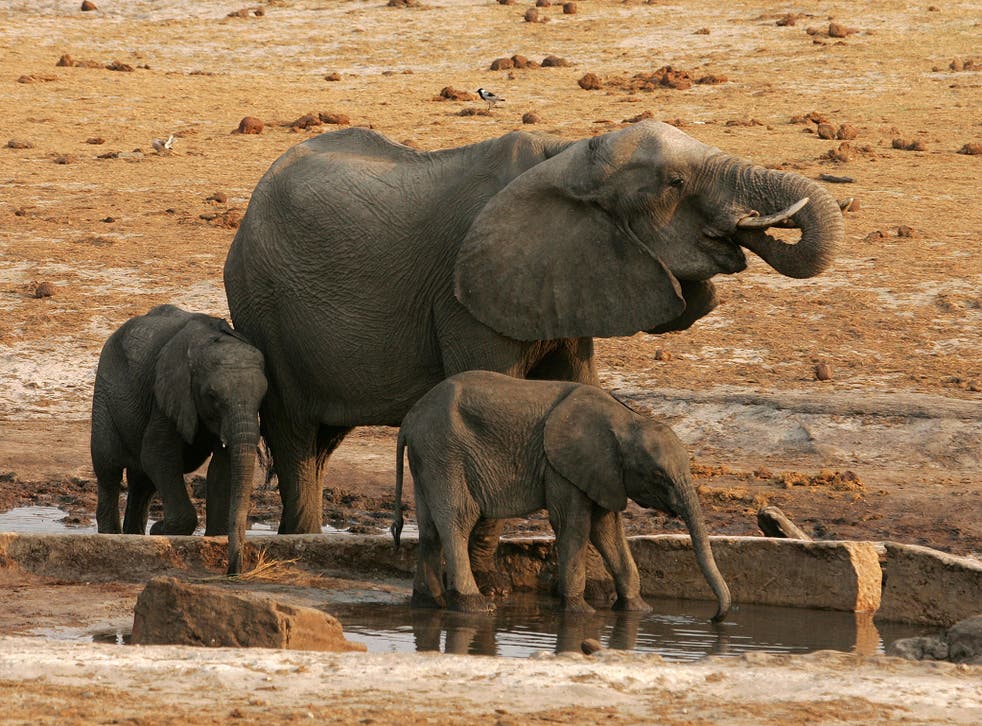 The manhunt for a suspected poacher ended was he was caught by police in Zimbabwe, almost four years after he was accused of killing scores of elephants using cyanide capsules.
Tony Maphosa has been on the run since 2013 after he allegedly poisoned water points and salt pans used by the animals.
But was arrested in the Hwange National Park after a tip off last week.
The anti-poaching team, which included officers from the Zimbabwe Parks and Wildlife Management Authority and police, also reportedly recovered two pieces of ivory from him when he was captured.
"A man from Tshotsho was arrested on Wednesday with two elephant tusks", said park spokesman Tinashe Farawo.
He added that the anti-poaching team was still on the ground after two elephants were killed earlier this week in another suspected cyanide poisoning.
Maphosa "has been on the wanted list in connection poisoning elephants in 2013 and is also linked to the death of eight elephants this year", a police source told the Zimbabwe Chronicle.
Poaching is an acute problem in the national park, which was home to Cecil the lion until he was famously shot by US dentist Walter Palmer in July 2015.
Dozens of elephants are also killed for their tusks every year.
In 2015, 11 of the animals were killed in the park when they were poisoned by a cyanide-laced salt lick.
World news in pictures

Show all 50
Six had had their tusks hacked off but some of the victims were too young to have tusks, the youngest being only three months old.
Cyanide is becoming an increasingly used tactic of poachers operating in sub-Saharan Africa as it means they can kill more victims with less likelihood of getting caught by park rangers.
China, which for years was a major centre for the ivory trade, signalled that it would be cracking down on the trade in a bid to stop poaching.
Though Beijing signed up the ban on the international trade in ivory in 1990, the internal trade remained legal to protect the antiques but in practice fuelled smuggling.
The country announced it would ban the domestic trade by the end of 2017 and research has shown this has already caused a fall in the price of ivory.
But this has not been mirrored by a fall in poaching and many fear growing demand from other developing nations in Asia such as Vietnam may make up the shortfall.
Although ivory carving is not as revered in the country as it is in China, demand for the intricately, handcrafted statues and figures has increased, The Guardian reported.
Register for free to continue reading
Registration is a free and easy way to support our truly independent journalism
By registering, you will also enjoy limited access to Premium articles, exclusive newsletters, commenting, and virtual events with our leading journalists
Already have an account? sign in
Join our new commenting forum
Join thought-provoking conversations, follow other Independent readers and see their replies