The Independent's journalism is supported by our readers. When you purchase through links on our site, we may earn commission.
8 best kettlebells to upgrade your at-home fitness setup
From deadlifts to squats, work up a sweat with these tried and tested weights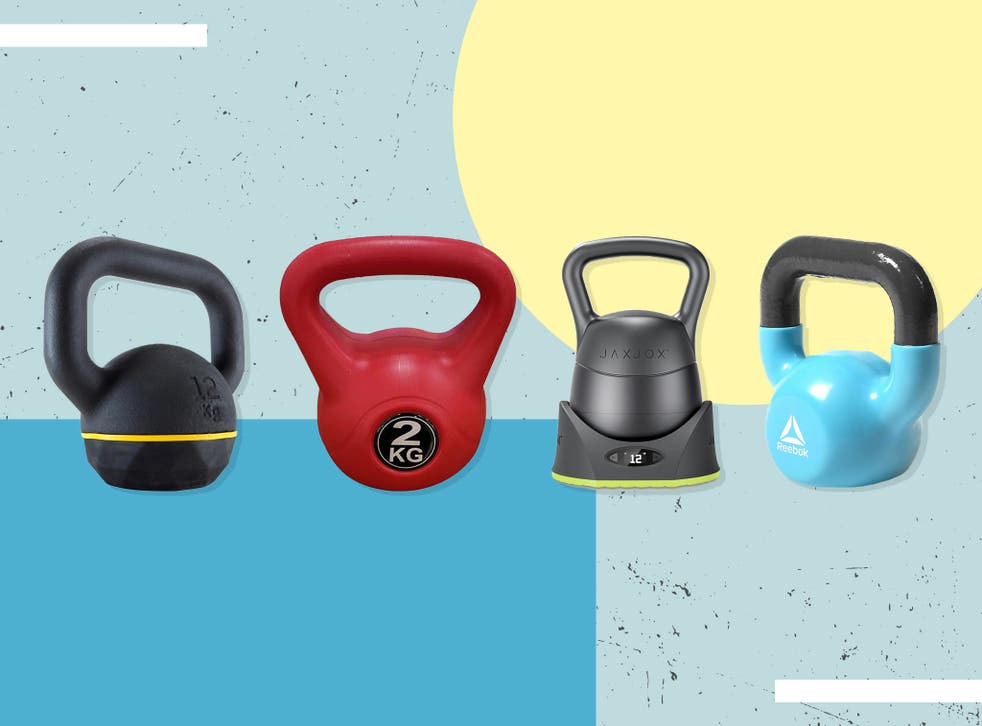 Whether you want to work up a sweat, pump up your push-up or get strong, kettlebells are an essential piece of home gym equipment – even if your home gym is a corner of your bedroom.
From digital weights that you control with your phone to vintage hunks of pure cast iron, there are options out there for every workout. Our reviewer initially tested these kettlebells in a gym with a personal trainer to avoid injury before starting a home workout, and we'd strongly recommend you do the same unless you have plenty of experience with weights or have completed a good gym induction.
We tested the kettlebells with a combination of cardio and strength-training workouts. The Nike Training Club app has plenty of good routines with a variety of weights, while Fitify concentrates on the basics and lets you build your own training plan.
Kettlebells come in a variety of styles, but your first consideration will be selecting a weight. This depends on your style of workout as much as your strength: if you want to bring weights into an existing cardio workout (spinning, for example) go as low as possible, around 2kg. If you're a beginner but keen to build up strength through squats and swinging, look around the 8-10kg range with a wide grip for one and two-handed moves. If you're a "big five" kind of lifter (the classic strength moves like squat and deadlift), pick a weight that fits into your current routine – something you might not be able to do 10 reps with yet but can build up to, because good, heavy kettlebells are relatively expensive.
If you want to lift really heavy or regularly, invest in a competition-standard hollow-core kettlebell. The weight distribution feels more predictable and easy to get into the swing of, and the consistency in sizing across the weight range means you can find a grip and stick to it. If you want to lift light or as part of an aerobic workout, or you need a pair of kettlebells, a solid cast iron kettlebell will do fine.
Read more:
We also tested – and loved – two very different kettlebells, a digital one with adjustable weight and a fluid-filled kettlebell, which are great for lifters with some experience.
As well as good form, the most important thing to know about kettlebells is that repeatedly putting them on the floor (or, let's be honest, dropping them) can really damage the floor surface. Even with coated kettlebells that are designed to prevent this, it's best to workout on a mat, and to store your kettlebells on a mat or rack like you would at the gym.
We have recommended a mix of specific weights and ranges for all abilities, but if you're not sure whether one is right for you, test out the range in your gym before buying.
The best kettlebells for 2021 are:
Kettlebell FAQs
How to use kettlebells for beginners 
Squats: Start off with a simple one – squat as you usually would while holding one bell close to your chest with both hands. 
Lunges: Hold one bell in each hand – allowing them to hang by your sides – while stepping in and out of a lunge position. 
Sit-ups: Lie on your back while holding one bell to your chest with both hands, perform a sit-up as normal, and once upright, drive the bell upwards above your head until your arms are straight. 
Flutter kicks: Lie on your back while holding one bell out in front of you with both hands, and kick your legs upwards – while keeping them straight – one at a time, in a flutter-like motion. 
Weight
This will depend as much on your workout style as it will your strength. For cardio, go as light as possible – around 2kg. For beginners looking to build up strength with squats and swinging, look for anything within the 8-10kg range. 
Comfort of the handle
Textured, wider handles will be more comfortable to hold, especially if your hands are on the larger side.
Single kettlebell or a set?
As a rule of thumb, beginners should start with a single bell as they build up their confidence and ability, before moving on to two. It is perfectly possible to do most kettlebell exercises with just one bell, but those wanting to ramp up their fitness and strength as much as possible will be able to do this more effectively with a set.
Material coating the kettlebell
While many kettlebells are made entirely of cast-iron, others have an added layer of vinyl to prevent them doing damage to your floors – though this can crack and peel with time. For ultimate comfort and grip, rubber-coated bells are a good option. Either way, the handle shouldn't be too rough or too smooth, so you can maintain a good grip after you have worked up a sweat.
Mat for use and storage
Repeatedly putting down (or dropping) your kettlebells can do quite a bit of damage to your floors, so it's always best to invest in a gym mat. It's recommended to go for a heavy-duty rubber option rather than something thinner such as a yoga mat.
The verdict: Kettlebells
Whether you're lifting heavy from the start or looking for a pair of kettlebells to last a lifetime, Wolverson's competition kettlebells are in a league of their own. For a full studio experience (and no worrying about scuffing the floor), invest in JaxJox's clever system.
Voucher codes
For the latest discounts on kettlebells and other sports and fitness buys, try the links below:
For more products to upgrade your fitness gear, read our round-up of the 8 best yoga mats perfect for using at home or in the gym
Register for free to continue reading
Registration is a free and easy way to support our truly independent journalism
By registering, you will also enjoy limited access to Premium articles, exclusive newsletters, commenting, and virtual events with our leading journalists
Already have an account? sign in