The Independent's journalism is supported by our readers. When you purchase through links on our site, we may earn commission.
7 best yoga mats for perfecting your downward dog at home
Whether you're seasoned at savasana or going with the flow, unroll these models to elevate your practice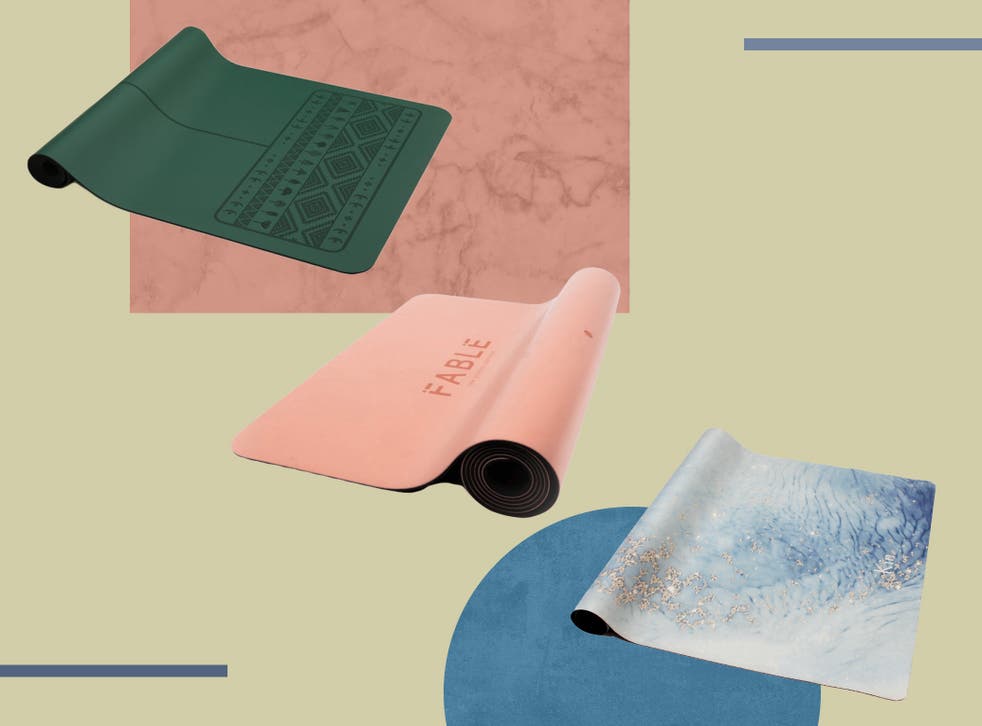 Hands up if, like us, you've spent one too many yoga classes sliding off your yoga mat in downward dog simply because you couldn't get any form of grip during a sweaty flow?
We know we're not alone – we've seen other yogis carefully place sweat towels at the front of their mats, hoping they will absorb any unwanted moisture during their practice. But it doesn't have to be this way. Yoga mats should offer the grippiest of grips – even when the sweat is pouring – not resemble a slippery ice rink.
Whether you're already committed to a daily practice or brand new to yoga, one thing is for sure: you need a durable yoga mat that offers support, cushioning and grip (after all, the last thing you need is chaturanga-induced carpet burn).
A yoga mat should be easy to clean and carry, and double up for your pilates and HIIT workouts, too. Most yoga studios will usually provide yoga mats free of charge but – in our opinion – it's better (and way more hygienic) to get sweaty on your very own mat that you can roll up and take home.
How we tested
In order to find and test the very best yoga mats on the market, first, we had to narrow down the search (google "yoga mats" and you'll get something ridiculous like 58,600,000 results). We noted the brands commonly used at some of London's top boutique yoga studios, scoured through hundreds of reviews on Amazon and stalked some of our favourite yogi influencers on Instagram to see which mat they used.
Read more:
We also talked to big-name labels to find out what was new in their lines and to third-party stockists to get a sense of their best-selling yoga mats.
The following mats were tested at home, putting each through everything from fast-paced vinyasa flow to low-voltage yin – we even tested their ability to withstand burpees and jumping lunges during online HIIT classes. We marked each of them on their size, weight, grip, thickness, surface texture and durability. These are the ones that were the perfect balance of functional and affordable.
The best yoga mats for 2022 are:
Yoga mat FAQs
What type of yoga mat is best for beginners?
Before buying your first yoga mat, there are a few things you need to consider. Firstly, think about what type of floor it will be used on – if the mat doesn't have enough grip, on hardwood or tile floors it may be difficult to balance in various poses.
Additionally, a non-slip mat will be helpful when working up a sweat or when practising hot yoga in a heated room. If you plan to transport your mat between your home and classes, then look for one that's lightweight and rolls up easily.
The thicker the mat, the more cushioning it will provide for sensitive knees and wrists, and you'll be able to use it for other exercises too, such as pilates.
What thickness mat is best for yoga?
Thicker yoga mats are a great option to provide extra support for anyone who suffers from knee pain, sensitive wrists or is looking to practise hatha or restorative yoga.
Most standard yoga mats usually measure 3mm thick, while a thick yoga mat starts at approximately 5mm. However, the most important thing to consider when picking one is your own personal comfort.
How to clean a yoga mat?
Depending on how often you practice and the intensity of your sessions, you can usually go a week or so before your mat needs a thorough clean. But, if you tend to sweat a lot or find that your mat retains an odour, it is best to clean it more often.
For a quick spot clean, you can buy ready-made antibacterial sprays that are designed to be used on both sides of the yoga mat to kill off any germs and eliminate odours. Alternatively, you can mix a few drops of mild dishwashing liquid and two cups of warm water into a spray bottle.
It is also important to check your mat's specific cleaning recommendations. While some can be spot cleaned only, others are hand-washable and some can even be put in the washing machine on a gentle cycle.
Is there a difference between a fitness mat and an exercise mat?
While it is fine to use just one mat for all forms of exercise, there is a difference between fitness and yoga mats. Those designed solely for yoga are often thinner, longer and have more grip, while standard exercise mats can be a bit thicker to offer extra support for higher-impact workouts.
The verdict: Yoga mats
Whether you're returning to your local yoga studio after a bit of a break or you've started practising yoga more frequently at home with online virtual classes, you'll need a reliable mat. We really rate both Lululemon's reversible yoga mat and Liforme's yoga mat, but our favourite has to be Yogi Bare's Paws Natural rubber yoga mat. Ticking boxes when it comes to size, weight, cushioning and non-slip technology, we also love the brand's commitment to sustainability and fostering important conversations around mental health.
Voucher codes
For the latest discounts on other sportswear, try the links below:
Make your practice even more comfortable with pick of the best yoga pants and leggings
Register for free to continue reading
Registration is a free and easy way to support our truly independent journalism
By registering, you will also enjoy limited access to Premium articles, exclusive newsletters, commenting, and virtual events with our leading journalists
Already have an account? sign in
Register for free to continue reading
Registration is a free and easy way to support our truly independent journalism
By registering, you will also enjoy limited access to Premium articles, exclusive newsletters, commenting, and virtual events with our leading journalists
Already have an account? sign in