The Independent's journalism is supported by our readers. When you purchase through links on our site, we may earn commission.
The Big Fashion Wrap of 2020
Masks, moon prints and politician-approved totes: How we styled out 2020
Hayley Spencer looks back at the style moments that defined a year like no other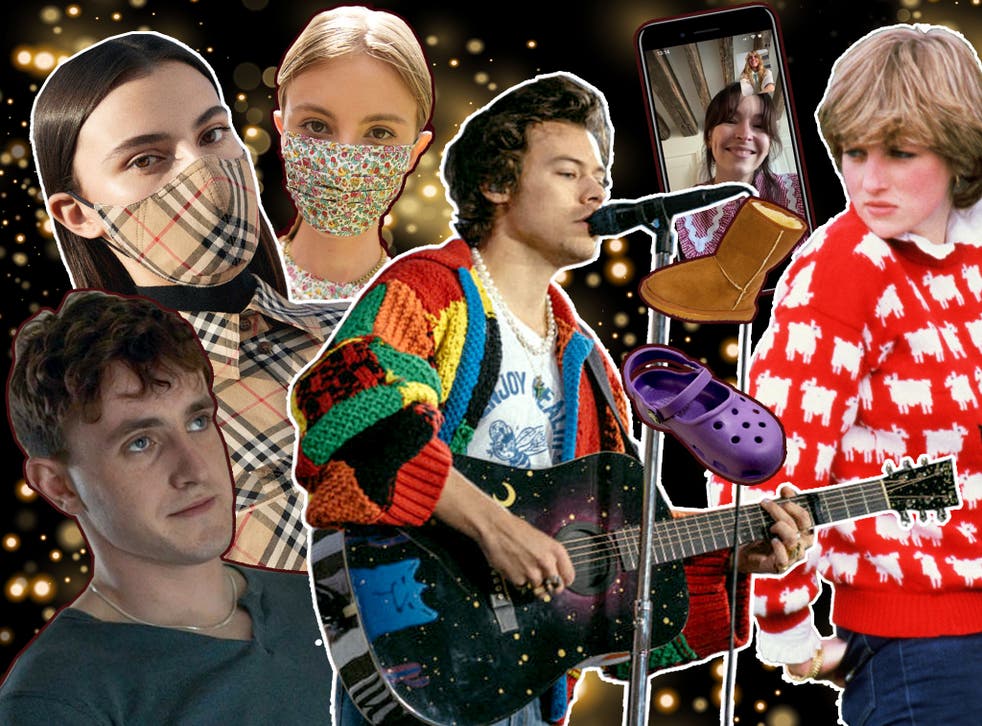 This year has gone by in a blur of locking down, bubbling up, tiers and travel corridors, punctuated by a major election, human rights movements and climate disasters. Though not forgetting: a lot of box set binging. So it is apt that in a year that was simultaneously eventful and uneventful, a mix of pragmatism, political statements and escapism have defined the world of fashion. Masks and vote merch became the unexpected cult buys, Zoom was the new venue du jour, and without the glamour of real-world events, TV's heroes became our new style icons.
As it finally comes to a close, here's a recap of the moments which have defined fashion in the time of Covid.
Red carpet style turned green
Often disappointing for its sea of muted formalwear, this year's award's ceremonies proved considerably more colourful. The colour trending in the first few weeks of 2020 was rather ominously: green. From Charlize Theron's Dior Golden Globes look, to Lupita Nyong'o's in belted Valentino and Lizzo's feathered Critics' Choice Awards confection, looks in shades of chartreuse, neon and emerald from the Spring Summer 2020 shows trended. At least before we were robbed of red carpet action entirely, we were treated to several bright ones.
PPE became a high fashion affair
As Covid took hold in March, hospitals were left overwhelmed and under equipped. Simultaneously, the fashion industry ground to halt while workers were told to stay home, leading brands to rally in support of local health workers by pivoting to PPE production.
Louis Vuitton's owners, the LVMH group converted their cosmetics factories into hand sanitiser production lines for local French hospitals, while Burberry's famous trench factories in Yorkshire churned out around 160,000 pieces of PPE donations for the NHS during lockdown. Non-surgical masks had a high fashion makeover, as many houses like Christopher Kane in the UK and Christian Siriano in the US converted their studios into production lines for face coverings made from old season fabric offcuts. In the holds of economic uncertainty, it was a heartening display of support to our frontline workers.
Style got Zoom-ready
As lockdown came into force on 23 March, our social lives and catch-ups with colleagues quickly migrated screen-side. It wouldn't be long before Zoom became synonymous with awkward exits, overtalking and the words "YOU'RE ON MUTE", but briefly it was a source of solace for fashion fans, providing a platform for serving up looks. Guides to top-half dressing stormed the internet, featuring attention-grabbing earrings – which aptly held a weight only bearable for the time it takes to polish off a couple of cocktails made in your kitchen speakeasy before retiring to the sofa. Also top of shopping lists were home office appropriate XL Peter Pan collared shirts by Ganni and cult label La Veste.
Dressing down became the new dressing up
Above desk level it may have been all business, but below it, the humble sweatpant fast became the nation's sartorial source of comfort, causing searches to rise 104 per cent from March to April, according to the 2020 fashion report from global fashion search platform, Lyst.
Without a series of glamorous events to attend, influencers' feeds had a stay home makeover too, and were awash with loungewear inspo, with full tracksuits by sustainable labels Les Boys Les Girls and Pangaia trending. Proving that fashion loves irony, the bright green of both Whatsapp's icon and the virus emoji – which began trending on the red carpet in January – was the Instagram set's sweatsuit colour of choice. It was even the shade of the pair of joggers which adorned The New York Times August "Sweatpants Forever" front cover in August about the unraveling of the fashion industry as we know it.
Ugly shoes had a moment
Also peaking in popularity by Spring was the much maligned Croc, with sales rising by a third between April and May, according to Lyst. Comfort, ease and our newfound love of gardening all contributed to a huge 135,000 average monthly searches in 2020, which continued to remain strong in Autumn despite lockdown lifting for a new normal of socialising. Meaning that croc, horror: we were willing to wear these orthopaedic-approved shoes in real life.
The plastic clog gave way to the furry shoe come winter, as UGG's slippers and boots garnering an average 201,000 and 90,500 average monthly searches in 2020, respectively. Lyst data showed that searches grew 24 per cent week on week from September onwards, meaning that: yes, the sheepskin-lined shoe once favoured by Juicy Couture-clad It girls has once again found a place in the fashion canon.
Connell's chain took on a life of its own
The adaptation of Sally Rooney's best-selling novel Normal People into a BBC box set gripped the nation during lockdown's most testing time. In the process it catapulted its stars Daisy Edgar-Jones and Paul Mescal to style icon status overnight. The signature tiny silver chain worn by Mescal as Connell Waldron became synonymous with his unassuming sex appeal and even spawned a viral Instagram account. Don't pretend you didn't consider buying one for your boyfriend, too.
Harry Styles sparked a DIY movement
In February, Harry Styles wore a characteristically colourful patchwork JW Anderson cardigan for a performance on the Today show. However, as is the nature of the beast that is social media, it wasn't until July that it became the most coveted piece of clothing on TikTok, as teens began sharing their own DIY knitted cardigans and upcycled versions of the design. The trend gained so much momentum (the #harrystylescardigan tag has been 41 million views to date) that Jonathan Anderson himself shared a PDF of the pattern and detailed instructions on how to recreate the knit at home. "I am so impressed and incredibly humbled by this trend," said the creative director.
Fashion week went virtual
Come July, the latest in 2020's series of new challenges for the fashion industry was how to navigate show seasons without the usual catwalk productions and presentations now negated by social distancing rules. The British Fashion Council was fast to adapt, taking the usual men's shows online with a new website and content destination. Many labels made their shows co-ed and chose to cut back from five to two shows a year. As Gucci's Alesandro Michele suggested, the pandemic provided the perfect opportunity to reexamine the show schedule for good. "I'm passionate about fashion shows, but maybe we can be open to seeing them in a different way," Michele said.
Couture Week's usually exclusive show schedule followed suit in streaming online, forcing the brands to flex their creative muscles. Highlights included a fairytale film from Christian Dior, while an edgy retro style music video performed by Belgian pop singer Sylvie Kreusch showcased Olivier Theyskens first collection for Azzaro.
Designers excelled at distancing
Instead of streaming his collection, Paris favourite Simon Porte Jacquemes was among those who decided the show must go on – albeit in a heavily adapted format. A 600-metre long pink runway was transported to a wheat field in a small town in the South of France for the show which saw models walk at a 2-metre distance in the designer's vibrant Spring/Summer 2020 looks. Titled  "L'Amour' for Jacquemes" staff who had worked on the pieces from home, the show was attended by a small number of influencers and editors. Despite being rooted in nature and reality it was undoubtedly one of the most surreal fashion moments of the year.
Marine Serre's moon was rising
Parisian designer Marinne Serre, who has become a celebrity favourite since being awarded the 2017, won the LVMH Prize for Young Designers. Her designs have been worn by everyone from Rihanna to Kylie Jenner and Dua Lipa. But after Beyoncé wore a full catsuit bearing the designer's signature moon print in the visual version of her "Black Is King" album – released in July – Marine became a household name. Searches for the print jumped 426 per cent in 48 hours following its release, according to Lyst. As a result, Marine Serre has been one of the few labels to thrive during the pandemic, with revenues for the label estimated to have doubled from 2019 to 2020, according to WWD.
Conscious fashion went mainstream
2020 marked a turning point for sustainability in the fashion industry. Accusations that fast fashion giants like Boohoo were mistreating factory workers put our shopping habits under the microscope in July and a new more conscious era in high street fashion seemed to be dawning. Cue a slew of conscious, recycled and rentable collections released by some of fashion's more mainstream labels, from Ganni X Levi's rentable denim to a more questionable "circular" Asos collection. Peer-to-peer rental site By Rotation reported a growth of users of 43 per cent from March to June indicating a possible curb in our obsession with newness. While eBay data backed this sentiment with its Preloved section seeing a 404 per cent increase in sales in June, compared to two years earlier.
The sales of an 8p dress on Black Friday by Pretty Little Thing in November underlined that the appetite for the buzz of a bargain isn't yet dead, though the ensuing backlash on Twitter about the cost to the environment and supply chain confirmed that there is a larger appetite for change, and that more than the minority now how the impetus to stand up for it.
Telfar's totes gained It bag status
The latest bag to gain cult status was the Shopping Bag from Black-owned brand Telfar. The oversized carry-alls with a TC logo embossed on them went from the trademark of New York's arty types (the bag was once nicknamed the Buckwick Birkin) to mainstream must-have this summer. After politician and feminist icon Alexandria Ocasio-Cortez was pictured wearing one in Washington in August it led to 270 per cent week-on-week growth in searches for the bag, according to data from Lyst.
That same month, the brand opened up a made-to-order service for 24-hours to allow all fans who had missed out on previous restocks to place an order as per their tag line of "it's not for you – it's for everyone". Proving its commitment to catering to the masses, the label collaborated with none other than Ugg in November. Naturally, the result was a shearling lined version of the small and medium shopping bag.
Masks were here to stay
At the Spring/Summer 2020 shows presented in Autumn 2019, survivalism was a catwalk trend explored by the likes of Marine Serre and Gucci who sent masked and gloved models down the runway. In 2020 it became a reality and masks became a wardrobe staple for the foreseeable.
After the rush to provide PPE for key workers subsided, designers like Christopher Kane also began selling face coverings made of off-cuts or DIY kits to the public. When the list of indoor places that masks became mandatory was extended in August, the mask evolved into a full-blown accessory available from many cult labels like Rixo and O'Pioneers in patterns to match their dresses. Ahead of the curve as ever, Off-White had released a cross-printed face covering featuring Virgil Ablo's signature cross print in January which became the most searched menswear item in the world for the first quarter of 2020. It's no surprise that Lyst reports that searches for masks grew 502 per cent this year, and that fashion face coverings will be worth $3bn (£2.2bn) by 2025.
Vote merch was a must-have
Undoubtedly one of the most defining events of the year, the US election on 3 November and the importance of postal votes during the pandemic spurned on celebrities, influencers and activists to speak out whenever and however they could. Cue endless vote merch, reminding citizens of their rights to register and vote. Searches for the terms "vote" rose 29 per cent week-on-week in October on Lyst as US citizens clamoured to get on board with fashion activism.
Michelle Obama led the charge in making election merch mainstream when she wore a necklace from ByChari which spelled out "vote" as she delivered a speech for the first night of the Democratic National Convention. It was revealed in September as part of a new collection of merchandise curated by Obama's stylist Meredith Koop featuring everything from mugs to T-shirts.
The Crown effect
With news that the latest series of The Crown was set to hit our TVs in November with Emma Corin portraying Princess Diana, our fascination with the people's Princess and her style was reignited.
While her Heart of the Ocean-esque jewels, tiaras and famous revenge dress were perfect fashion escapism on screen, her signature cycling shorts and oversized jumpers combos proved perfect lockdown style inspiration. Even before The season 4 of Netflix's hit had debuted, Diana's gym style sparked a copycat moment in a Vogue Paris editorial featuring Hailey Bieber styled by Virginie Benarroch.
Come October, Diana fans clamoured to buy Rowing Blazers reissue of the black sheep sweater Di wore at a polo match (she liked to wear her feelings). It was made in collaboration with original designers Warm and Wonderful by Joanna Osborne and Sally Muir and spurned a whole new legion of copycats. After all, if anyone knew how to style out times of crisis it was Diana.
Register for free to continue reading
Registration is a free and easy way to support our truly independent journalism
By registering, you will also enjoy limited access to Premium articles, exclusive newsletters, commenting, and virtual events with our leading journalists
Already have an account? sign in
Register for free to continue reading
Registration is a free and easy way to support our truly independent journalism
By registering, you will also enjoy limited access to Premium articles, exclusive newsletters, commenting, and virtual events with our leading journalists
Already have an account? sign in
Join our new commenting forum
Join thought-provoking conversations, follow other Independent readers and see their replies