The Independent's journalism is supported by our readers. When you purchase through links on our site, we may earn commission.
Wines of the week
Cabernet franc wines you need to know about
Find flavours of chocolate, cherries and spice among Terry Kirby's pick of this vibrant grape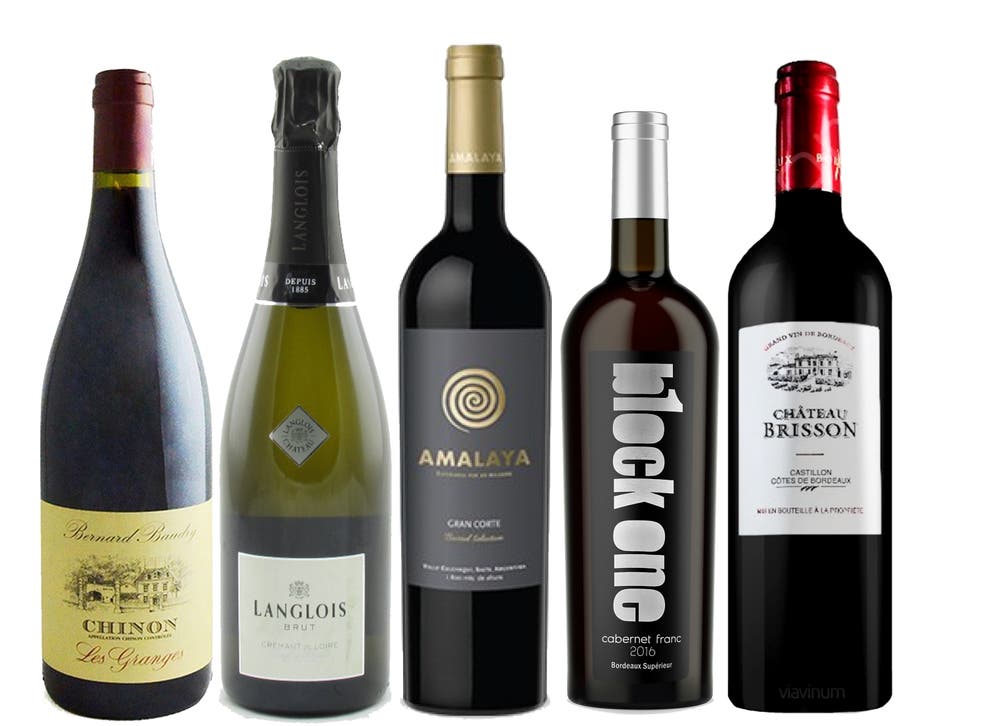 In 2009, David Stannard, an Englishman, bought a small amount of largely neglected vineyard land near his family's holiday home in the village of Cardan in the Gironde region, inland from Bordeaux, in order to help save it from the rampant property development which was threatening the area's rural winemaking heritage.
A petrochemical industry executive by trade rather than a winemaker, he recruited an expert local mother and daughter team to run the Paradise Rescued vineyard and winery, which is fully organic, one of the smallest wineries in the region and produces a limited amount of carefully hand crafted wines, with quite un-Bordeaux like labels – no gothic font or pictures of ancient chateaux. 
It is also one of only 10 vineyards in Bordeaux to produce a wine made 100 per cent from the cabernet franc grape, the stunning Paradise Rescued Block One 2016  (£21.00 winebuyers.com) amply demonstrates the subtle charms of this lovely grape: elegant, smooth red and black fruit flavours, medium bodied, with characteristic hints of spice and chocolate and lovely fresh vibrancy. 
A second wine from another plot bought in 2011 combines 35 per cent cabernet franc with grapes from restored and newly planted merlot vines in the Paradise Rescued Block Two 2016 (£18.00 winebuyers.com) which is predictably weightier than its sibling, with chunkier chocolate and black cherry flavours, remaining juicy, succulent and silky on the palate. Both these terrific wines repay Stannard and his team's faith in their 25-year-old cabernet franc vines and are ideal with a range of dishes, from roast chicken to vegetable tagines and, with the latter, richer casseroles and red meats. 
They also demonstrate neatly the two roles of the grape – succulent and vibrant as a solo act and bringing those qualities to blends as it does in Bordeaux, where it acts as supporting act to the dominant cabernet sauvignon and merlot of the region, leavening and balancing the two heavyweights.
A more traditional example of a claret blend – and label – would be the excellent Chateau Brisson Castillon Cotes De Bordeaux 2016 (£16.95 tanners-wines.co.uk; £18.50 davywine.co.uk) which has 20pc cabernet franc to 75pc merlot and 5 per cent cabernet sauvignon: classic qualities of plush, smooth brambly fruit. And very good value for a wine of this quality.  
Outside Bordeaux, the real home of cabernet franc is further north in Chinon in the Loire, where the grape, grown in mostly clay soils, really does get the individual showcases it deserves, producing lighter wines that need to be drunk relatively young, such as this absolutely splendid pair of organic wines: the medium bodied Chinon Les Gravieres Couly-Dutheil (2017 £16.46 christopherpiperwines.co.uk; 2018 £17.50 highburyvintners.co.uk) and the slightly lighter Les Granges Domaine Bernard Baudry 2019 (£16.50 leaandsandeman.co.uk). The former are both resplendent with gorgeous, succulent red fruit flavours and so easily drinkable with charcuterie and lighter meats or goats cheeses; lightly chilled, they would also work very well with white fish dishes. If you like lighter pinot noir and gamay wines, you will like these.
In the Loire, cabernet franc is also used in sparkling wines – as pinot noir is in champagne and English sparkling – such as the Langlois Chateau Cremant de Loire Brut (£17.50 champagnedirect.co.uk) where it is blended with 60 per cent chenin blanc and 20 per cent chardonnay to give some added structure and heft to the apple pear and subtle quince flavours – a simply fabulous celebration wine.  
But at the quirky Maison Ventenac to the north of Carcassonne in the Languedoc, between the Pyrenees and the Massif Central, they have enough Atlantic influences on the climate to grow cabernet franc successfully, as in the organic and amphora aged Les Dissidents Paul 2018 (£19.85 mcswiggans.co.uk). This is just a bit weightier than the Loire wines and closer to the Paradise Rescued Block One in style, while retaining those succulent black fruit and hints of tar, bitter cherry and chocolate notes; a great wine for all Mediterranean type foods.
Outside France, cabernet franc can be hard to find, but in Argentina it is celebrated alongside malbec, also once prevalent in Bordeaux blends and with which it is sometimes paired to great effect, in wines such as the Amalaya Malbec Gran Corte 2018 (£16.99 haywines.co.uk) where the grapes at grown at 1,800 metres in the Calchaquí Valley deliver juicy freshness to the mix of rich, robust flavours of dark berry fruits and chocolate with a lovely velvety mouthfeel. 
But cabernet franc can also thrive here on its own, as in the Kaiken Obertura 2017 (£29.95 etonvintners.com) also from high altitude grapes grown in Uco Valley in Mendoza: this is as about as different from the French wines as possible: big, rich, powerful, black fruit flavours, that characteristic freshness still shining through and ideal for roast meats, steak and seasonal game. 
A special occasion wine that, like David Stannard, celebrates a very special and rather wonderful grape.
Register for free to continue reading
Registration is a free and easy way to support our truly independent journalism
By registering, you will also enjoy limited access to Premium articles, exclusive newsletters, commenting, and virtual events with our leading journalists
Already have an account? sign in
Register for free to continue reading
Registration is a free and easy way to support our truly independent journalism
By registering, you will also enjoy limited access to Premium articles, exclusive newsletters, commenting, and virtual events with our leading journalists
Already have an account? sign in
Join our new commenting forum
Join thought-provoking conversations, follow other Independent readers and see their replies