The Independent's journalism is supported by our readers. When you purchase through links on our site, we may earn commission.
Wines of the week
The white wines you need for a magical Christmas
Although this year's celebrations will look a lot different, one constant we can rely on is the food and the drink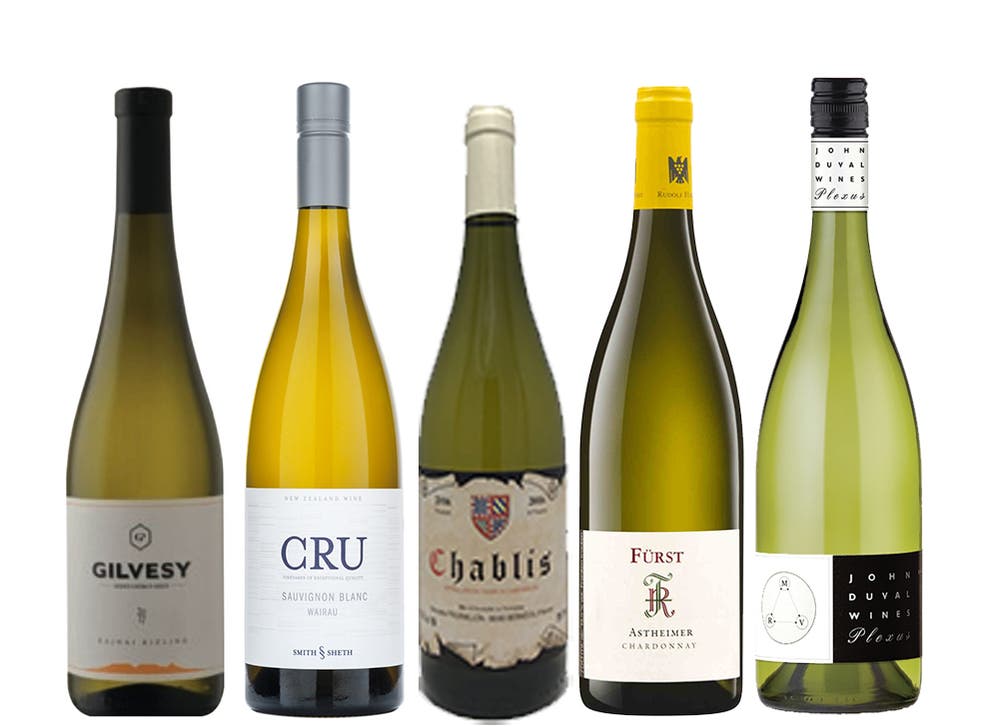 One thing is for sure this Christmas: however we celebrate, if we are only allowing ourselves a couple of meals with family and friends or if it's just that Zoom celebration, we need to do it as well as we can. And that means serious wines.
While red wines can often seem to dominate at Christmas, we do need full-flavoured whites in our cellar as well, for aperitifs and oysters, for smoked fish and canapes, and for centrepieces such as salmon wellington, baked sea bass and vegetable and vegan mains. And many of us do prefer a rich white with our turkey or chicken.
First of all then, some chablis, which, with its clean, citrus and stone-fruit flavours and its dry minerality, is the perfect aperitif or accompaniment to those oysters or smoked salmon. Both the Fournillon Chablis 2017 (£15.95 stroudwine.com; £16.50 reservewines.co.uk) and the Nathalie and Gilles Fevre Chablis 2018 (£16.99 robertsandspeight.co.uk; £19.50 jnwine.com) embody these qualities; they are precise, lean, mineral wines of gorgeous poise and persistence. 
For something much weightier, the old chardonnay vines and extended lees ageing of the Daniel-Etienne Defaix Chablis 2015 (£22.50 tanners-wines.co.uk) deliver greater concentration, depth and fuller-flavoured complexity for richer dishes such as salmon as a main course. 
Moving south to Burgundy and the Cotes Chalonnaise, the Domaine Jacqueson Rully Blanc 2018 (£22.95 thewhiskyexchange.com) has toasty, creamy flavours that work fabulously with roasted white meats like turkey and chicken, as well as baked fish. 
So much for the classic wines of France, but other parts of the world produce fabulous special-occasion chardonnays that do not have to be over-oaked. We don't really associate chardonnay with Germany, but the Furst Astheimer Chardonnay 2017 (£33.28 laywheeler.com, £39 jnwine.com) is very mineral, with some floral notes and precise, nutty, citrus flavours. 
California is well known for its chardonnay and although some tends to be over-oaked, the Marimar Estate Russian River Valley Acero 2018 (£26.50 farehamwinecellar.co.uk) from the Californian venture of the Spanish Torres combine, is the opposite; taking its name from the Spanish word for steel, signalling that oak is absent here, it remains full flavoured and creamy on the palate. Both these wines are versatile enough to match with a range of white meat and fish dishes.  
Moving away from chardonnay, but returning to Germany, the organic Weingut Frey Pinot Blanc 2019 (£17.00 shaftesburywines.co.uk; £17.00 thelittlewineshopandsocial.co.uk) from the Rheinhessen region is very different again: smoky notes, some slight honeysuckle, pear and apriot flavours, but finishing very dry. Complex and interesting and a great wine for smoked eel, one of my favourite Christmas starters. 
Now for a riesling, but not from Germany: the Gilvesy Rajnai Rizling 2017 (£15.95 davywine.co.uk) from Hungary has characteristic lime, lemon and pure mineral flavours and is another one for smoked fish and oysters or other shellfish. In my book, sauvignon blanc is the perfect wine of spring, but it's also a refreshing aperitif and, like all these wines, great with shellfish and vegetable dishes. 
Try the Smith & Sheth – Cru Wairau Sauvignon Blanc 2019 (£18.50 winedirect.co.uk), which is benchmark Marlborough sauvignon, with expressive hedgerow and gooseberry flavours and that bracing minerality. 
But for something that will really match up to substantial special-occasion dishes, John Duval, the man who once made what many consider Australia's greatest wine, Penfolds Grange, has combined two southern French staples – roussanne and marsanne – with a healthy shot of viognier into an enticing whole: the John Duval Plexus Barossa Valley 2018/19 (£22.99 or £19.99 if bought as part of a mixed six bottle purchase majestic.co.uk; £20.40 fieldandfawcett.co.uk) has rich but not overbearing flavours of pear and nectarines and some honeysuckle aromas. A big wine for the big occasion. So, that's a white Christmas sorted. Now for the red one next week…
Register for free to continue reading
Registration is a free and easy way to support our truly independent journalism
By registering, you will also enjoy limited access to Premium articles, exclusive newsletters, commenting, and virtual events with our leading journalists
Already have an account? sign in
Register for free to continue reading
Registration is a free and easy way to support our truly independent journalism
By registering, you will also enjoy limited access to Premium articles, exclusive newsletters, commenting, and virtual events with our leading journalists
Already have an account? sign in
Join our new commenting forum
Join thought-provoking conversations, follow other Independent readers and see their replies