The Independent's journalism is supported by our readers. When you purchase through links on our site, we may earn commission.
Wines of the week
A dozen sparkling wines for the festive season
Terry Kirby picks out 12 bottles that show just how much more varied the bubbly variety is than posh champagne and bargain prosecco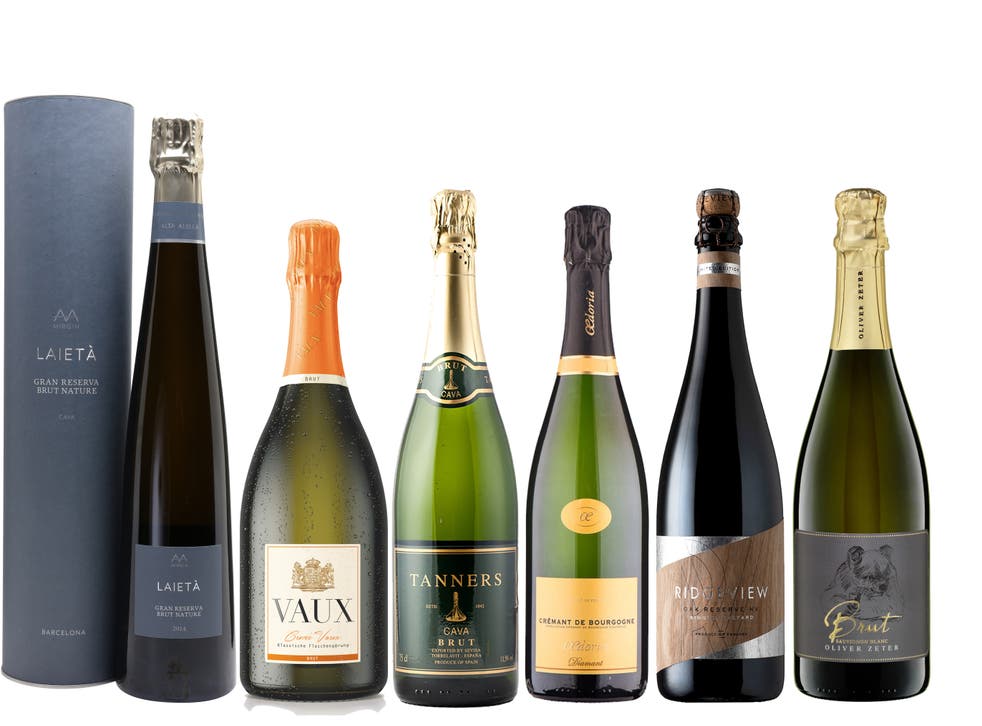 We now know there will be an opportunity to share a sparkler with a few family and friends this Christmas. There is, I think, so much that is life-enhancing and exciting about the pop of a cork, that it makes any occasion special, even for those of us who will be exchanging presents and good wishes over Zoom.
There are so many occasions, whatever our circumstances, that can call for a glass of sparkling: from a palate-tingling aperitif before a big meal, to drinking with canapes or smoked salmon, or making a brunch of scrambled eggs into something a bit more exciting. It's no longer just about posh champagne or bargain prosecco either; there are many styles and bottles to chose from these days – and to suit all wallets.
And while the UK is one of the world's biggest consumers of sparkling wine – 200,000 bottles last year – now we also produce some of the world's best ones ourselves.
So here is a selection of some of the best sparklers around, starting where we left off last week, with prosecco. The big news on Planet Prosecco is that rose prosecco, made using the charmat method from pinot noir and glera and subject to the same regulations, is now on sale in time for the festive season (for fuller explanation of prosecco rules and how it differs from spumante see here and here). Of those I've tried, one of the best is the Prosecco Rose DOC (£6.49 aldi.co.uk)  which is fun, fruity, very dry and very cheap. What's not to like? And probably being cleared off the shelves as you read this…
At the other end of Planet Prosecco are the more prestigious wines made in the Valdobbiadene area of the Veneto, under the DOCG designation: among them, celebrated producer Nino Franco's Nodi Valdobbiadene Superiore DOCG (2017 £19.00 laywheeler.com; 2015-2016  £24.30 sommelierschoice.co.uk), made from a single plot of old vines, is top notch: really intense citrus flavours, very dry, very elegant.  
Spanish cava has suffered at the hands of prosecco for some years and should not be neglected as it delivers a very similar burst of effervescent citrus flavours but is made using the traditional champagne method. If you want an everyday, very dry, very good-value cava, with creamy, biscuity flavours overlaying the citrus and orchard fruits, for, say, a brunch or for Bucks Fizz, look no further than Tanners Cava Brut (£10.70 tanners-wines.co.uk). If it is for something more celebratory, then check out the completely different beast that is the Alta Alella Laieta Gran Reserva Brut Nature Cava (£26.95 thewhiskyexchange.com) which gets to be called a Gran Reserva because it has been aged for 30 months; made from chardonnay, pinot noir and obscure pansa blanca, it is brimming with big, complex, creamy, rich flavours. If your fancy runs towards the more vintage-style, richer sparklers, then this is one to seek out – while the unusual tall bottle and container makes it a lovely present.  
One sparkling wine that has bubbled away completely under the radar in the UK is German sekt, which is also made by the traditional champagne method and can offer a very different take than either prosecco or cava, with different grapes in the mix. The Vaux Cuvee Vaux Deutscher Sekt Brut 2016 (£16.70 jascots.co.uk), from a very old established producer, is made from pinot noir, pinot gris and riesling, with the former two giving richness and the riesling a clean and balancing acidity; a good wine for aperitifs with salty canapes. Lovers of the grassy zestiness of sauvignon blanc should seek out the crisp elderflower flavours of the Oliver Zeter Sauvignon Blanc Brut NV (£20.49 butlers-winecellar.co.uk), which is ideal with any kind of seafood. Both made in the Pfalz region, they demonstrate the real diversity of sekt.
We have, however, begun to appreciate the virtues of French cremant, that country's only national wine style – although the grapes used vary from region to region, it must be aged for three years and made in the traditional style. A couple of weeks ago I was waxing lyrical about cabernet franc and the Loire region, where it is held in high regard both for still red and sparkling wines. The Abbesse de Loire Cremant de Loire Rose 2019 (£14.49 laithwaites.co.uk) perfectly shows off the grape's gorgeous, crisp, fresh, red berry fruit flavours, with just a hint of citrus; definitely a wine for grilled prawns or crab cakes. Over in Burgundy, they make their cremant with chardonnay, so the Oedoria Cremant de Burgogne (£12.99 haywines.co.uk;  £13.95 cheerswinemerchants.co.uk) has those classic flavours of creamy, lemony citrus, with just a hint of brioche. Another one for that brunch or to accompany some canapes.
Staying in France, we come, inevitably, to champagne. While there are plenty of famous labels out there to choose from and loads of tempting offers in the high street, there are two "big" special occasion champagnes from slightly lesser-known names that I want to single out: the limited edition Ayala No 7 Brut Vintage (£68.00 thefinestbubble.com; £70.00 thechampagnecompany.com), a decade-aged, chardonnay-dominated blend of grand crus from the 2007 vintage, with intense, honeyed, apricot and brioche flavours; while the oak-styled label of the Billecart-Salmon Brut Sous Bois NV (£56.90 urban-drinks.co.uk; £70.00 champagnedirect.co.uk) gives a suggestion of how its blend of chardonnay, pinot noir and pinot meunier has been oak-aged to deliver complexity and richness, with creamy, toffee and brioche notes. Serious, sophisticated winemaking on display in both.  
However, champagne can no longer reign supreme as the celebration drink of Christmas. The virtues of English and Welsh sparkling are now well known and new wines are emerging all the time. Although the first vines of the Roebuck estates were planted in Sussex in 2006, such is the delay in making sparkling that their wines have only been released in the last couple of years, scooping a number of awards. The Roebuck Estates Classic Cuvee 2014 (£34.99 grapebritannia.co.uk; £35.00 roebuckestates.co.uk) already feels like an established and trusted brand, with, as they say, classic champagne style from the chardonnay, pinot noir and pinot meunier combination, fermented in French oak and aged for three years: baked apple, brioche, cream and citrus in one harmonious, elegant and complex whole.  
Also in Sussex, the Ridgeview estate was already a leader in the field when those first vines were planted by Roebuck. Now to mark their 25th anniversary, they have raised the bar even further with an ambitious, limited-edition bottle.
In something of a riposte to the Ayalas and Billecart-Salmons across the Channel, the Ridgeview Oak Reserve NV (£75.00 ridgeview.co.uk; butlers-winecellar.co.uk) puts down a marker to champagne, simply saying: "Yup, we can do that really special, sophisticated thing as well, you know." The stylish and award-winning label heralds a 100 per cent chardonnay from a single vineyard, but which is taken from different vintages and aged in different types of oak: this delivers incredible presence and complexity, and subtle oak and spice notes, while never underselling the characteristic English sparkling fruit freshness and hedgerow flavours. It is a magnificent celebration wine,  perhaps worth it just to mark getting to the end of this most difficult of years, and certainly my choice to put some fizz into the festive Zoom call. 
Register for free to continue reading
Registration is a free and easy way to support our truly independent journalism
By registering, you will also enjoy limited access to Premium articles, exclusive newsletters, commenting, and virtual events with our leading journalists
Already have an account? sign in
Register for free to continue reading
Registration is a free and easy way to support our truly independent journalism
By registering, you will also enjoy limited access to Premium articles, exclusive newsletters, commenting, and virtual events with our leading journalists
Already have an account? sign in
Join our new commenting forum
Join thought-provoking conversations, follow other Independent readers and see their replies