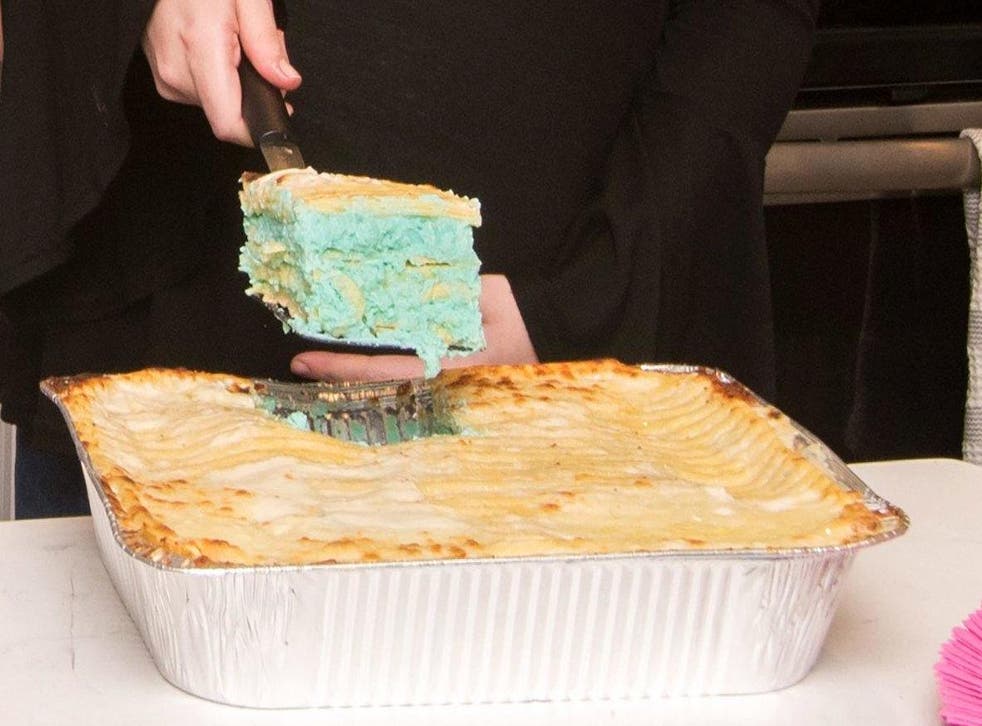 Parents are now using coloured lasagna to reveal their child's gender
'I'm gonna have nightmares'
Olivia Petter
Wednesday 23 January 2019 13:46 Comments
Just when you thought we'd reached peak absurdity with gender reveal parties, when expecting parents host lavish gatherings to announce the sex of their baby to friends and family, someone pitches the idea of a gender reveal lasagne – and it's taken seriously.
That's right, people are now ordering coloured versions of the Italian staple dish and serving it up to guests in celebration of their baby's sex.
So far, this innovative concept is only available in the US via restaurant chain and catering company Villa Italian Kitchen, which can deliver the pink or blue meals to more than 100 cities.
But creativity doesn't come cheap: one lasagne for 12 people will set you back $140 (£107), but it does include garlic bread and salad.
For those quite rightly wondering how lasagna becomes either pink or blue, it's all in the cheese. You didn't really think they'd start adding food colouring to tomato sauce, did you? Now, that would be ridiculous.
Baby names facing extinction

Show all 10
Naturally, Villa Italian Kitchen's offering has sparked some visceral reactions on social media.
"I love a lasagne... But that looks gross!" wrote one disgruntled Twitter user.
"I don't even get gender reveal parties anyway like who cares? Honestly? Who actually cares? You're having a human, not a doll, it can be whatever it wants to be!"
Another felt the news had affected their faith in the food industry: "There are so few Italian chain restaurants you can trust," they tweeted, adding that "no Italian person would do that to food".
Just the sight of turquoise lasagna seems to have disturbed many. "Damn. I was about to go to sleep and now I'm gonna have nightmares," one person lamented.
Some people did find comfort in the fact that ordering either a pink or blue lasagne is at least a safer way to reveal the sex of your baby than, say, using a live alligator or starting a wildfire that spreads 47,000 acres in southern Arizona.
The latter is what happened to expecting father Dennis Dickey, 37, who shot a rifle containing a highly explosive powder called Tannerite at a target as part of his a gender reveal celebrations as a party near Green Valley.
But things did not go to plan and the flames, which lasted for more than a week, spread rapidly to the nearby Coronado National Forest, causing £6.3m worth of damage.
The slip-up meant that the explosion was neither blue nor pink.
Register for free to continue reading
Registration is a free and easy way to support our truly independent journalism
By registering, you will also enjoy limited access to Premium articles, exclusive newsletters, commenting, and virtual events with our leading journalists
Already have an account? sign in
Join our new commenting forum
Join thought-provoking conversations, follow other Independent readers and see their replies