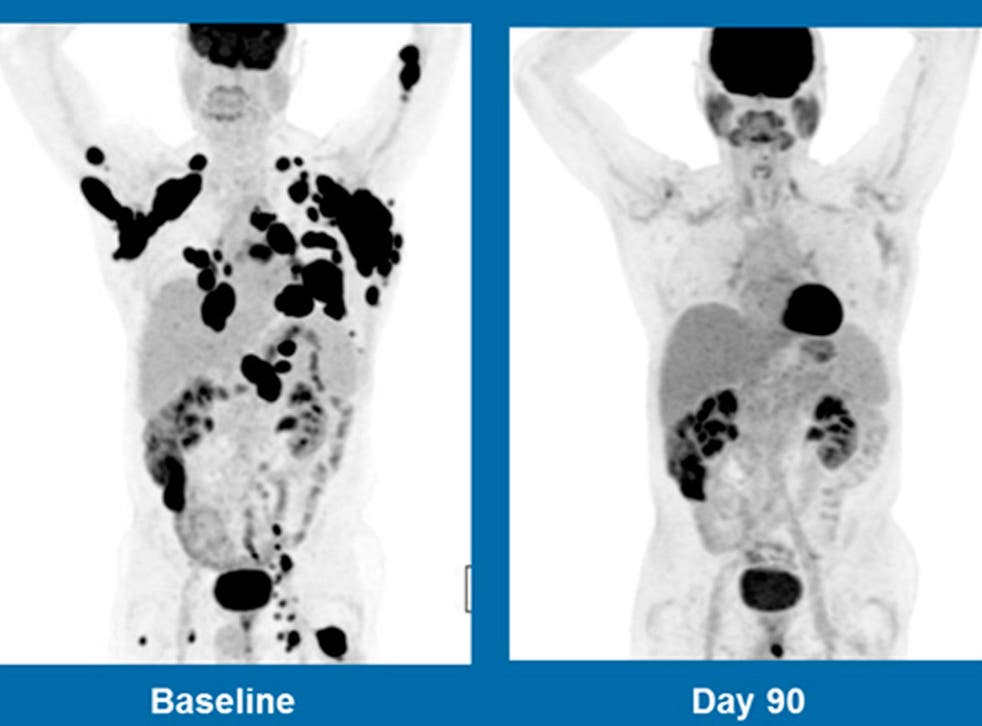 'Extraordinary' new cancer drug appears to cure a third of terminal lymphoma patients in small study
Experts say results are promising but caution further research is needed to establish if the cancer will return; the side-effects may also include a small risk of death
A private drug company has developed an experimental cancer drug that has produced apparently "extraordinary" results, with a third of very ill lymphoma patients showing no signs of the disease after a single treatment.
However the company, Kite Pharma, cautioned that its version of CAT-T cell therapy may have also killed two of the 101 people in the study.
The patients had non-Hodgkin lymphoma and all other treatments had failed. Normally they could expect to live for about six months.
Nearly nine months later, more than a third showed no sign of the disease and more than half were still alive.
The treatment uses gene therapy to prompt the patient's blood cells to attack cancer. In total 82 per cent of patients saw their tumours shrink by half or more at some point in the study.
One patient, Dimas Padilla, 43, of Orlando, credited the treatment with saving his life.
He had been told his cancer was getting worse and his treatment was failing. "I was thinking how am I going to tell this to my mother, my wife, my children," he said.
But in August, he had CAR-T therapy and subsequently saw his tumours "shrink like ice cubes". He is now in complete remission.
"They were able to save my life," Mr Padilla said.
And independent expert, Dr Roy Herbst, cancer medicines chief at the Yale Cancer Centre, was taken aback by the treatment's success.
"This seems extraordinary … extremely encouraging," he said.
However Dr Herbst said further studies were needed to see if the benefit of the treatment was lasting or if the patients' cancer returned.
"This certainly is something I would want to have available [to patients]," he said.
Martin Ledwick, Cancer Research UK's head cancer information nurse, also expressed caution.
"These results are promising and suggest that one day CAR-T cells could become a treatment option for some patients with certain types of lymphoma," he said.
"But, we need to know more about the side effects of the treatment and long-term benefits."
Health news in pictures

Show all 40
Dr Fred Locke, a blood cancer expert at Moffitt Cancer Centre in Tampa, Florida, who co-led the study and was a paid adviser to Kite, stressed the patients in the study had had few other choices left.
"The numbers are fantastic," he said. "These are heavily treated patients who have no other options."
The drug was developed at the US National Cancer Institute and then licensed to Kite.
The results were released by the company and have not been published or reviewed by other experts. Full results will be presented at the American Association for Cancer Research conference in April.
The company plans to seek approval from the US Food and Drug Administration by the end of March and in Europe later this year.
Experts have warned that the UK may have to wait for such new treatments after Brexit as companies will seek regulatory approval in the largest markets first.
The Associated Press contributed to this report
Join our new commenting forum
Join thought-provoking conversations, follow other Independent readers and see their replies