The Independent's journalism is supported by our readers. When you purchase through links on our site, we may earn commission.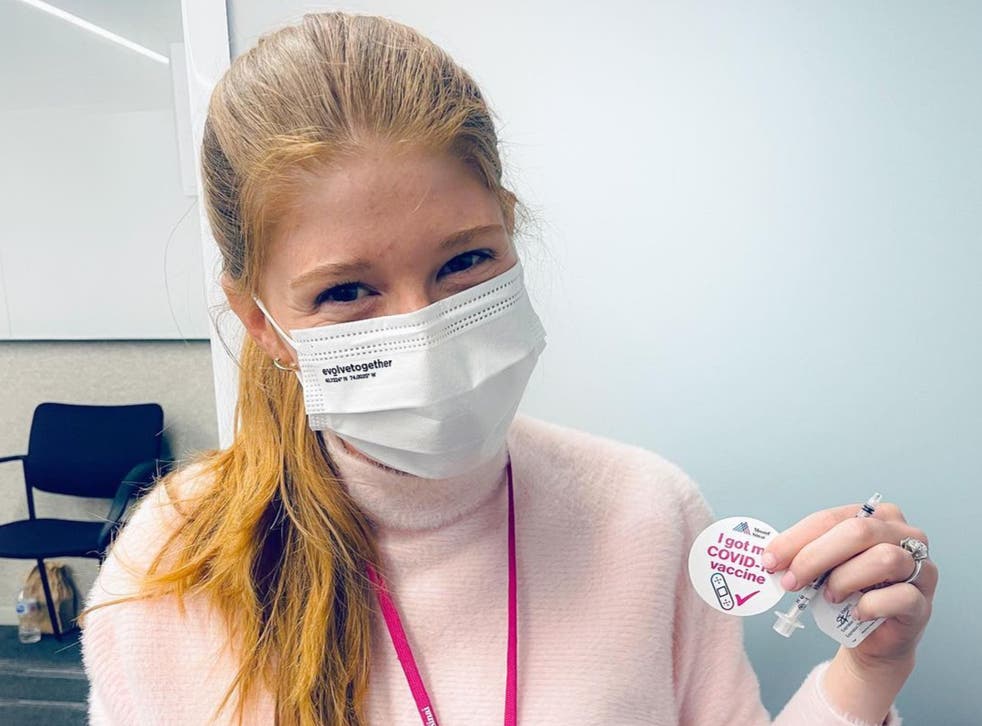 Bill Gates's daughter Jennifer says she's had first dose of Covid vaccine and it 'didn't implant my dad's genius'
Jennifer is an aspiring physician in her second year of medical school
Leer en Español
Bill Gates' daughter Jennifer Gates has joked that the Covid vaccine "sadly did NOT implant my genius father into my brain" while revealing that she has received her first dose.
The 24-year-old shared that she received the first dose of the vaccine on Instagram on Thursday, where she acknowledged her privilege and thanked those working in the medical field who "made this achievement in modern medicine possible".
"It's been over a year since the SarsCOV2 variant emerged, and we now have more solutions, including immunisations, to help protect individuals and communities," Ms Gates, a second-year medical student at the Icahn School of Medicine at Mount Sinai in New York City, wrote. "I am beyond privileged to receive my first dose of mRNA to teach my cells to mount a protective immune response to this virus.
"As a medical student and aspiring physician, I am grateful it will give me protection and safety for my future practice."
Ms Gates also urged her more than 356,000 followers to receive the vaccine when they are able, and for their families to do the same, adding: "The more people who get immunised, the safer our communities are for everyone."
The medical student then took the opportunity to express her gratitude to "the physicians, scientists, public health experts, pharmacists and so many others who made this achievement in modern medicine possible", while noting that the vaccine will allow the healthcare workers who have worked tirelessly on the frontlines of the pandemic to "increase their ability to succeed".
In the caption of the post, which sees Gates wearing a face mask and holding a sticker that reads: "I got my Covid-19 vaccine," she also noted that she would be continuing to wear a mask, or two, after she receives her second dose and urged her followers to reach out if the reason why is not "self-explanatory" so that she could provide informational resources.
Experts have said that individuals who receive the vaccine can still get and spread Covid, and that immunity from the vaccine doesn't begin to emerge until at least 12 days after inoculation, while a recent study conducted by the Centers for Disease Control and Prevention (CDC) found that wearing two masks was better than one in preventing the spread of Covid-19.
Gates concluded the post with a PPS joke about the possibility of the vaccine implanting the genius of her father, the co-founder of Microsoft, into her brain, writing: "if only mRNA had that power..!"
The joke appears to be referencing the bizarre conspiracy theory that the philanthropist wants to use a Covid vaccine to implant microchips into Americans for global surveillance. 
In response to the post, many of ms Gates' followers praised her for sharing the important message.
"Caption!!! As a biologist studying immunology the low awareness around vaccines and the way they protect our bodies is insane and we need to work so people realise how amazing they are!" one person commented.
Another said: "Very well said, all the way to the PPS!! Keep setting an example and stay safe!"
Others agreed with the wish about having the possibility to implant the "genius" of Gates' father, with one person writing: "Sounds a little creepy but I'd love to have some of your father's genius inserted into my brain!"
While the guidelines vary by state, many medical students, but especially "those involved with care of Covid patients," have been eligible to receive the vaccine because they are considered healthcare workers, according to The New York Times.
Register for free to continue reading
Registration is a free and easy way to support our truly independent journalism
By registering, you will also enjoy limited access to Premium articles, exclusive newsletters, commenting, and virtual events with our leading journalists
Already have an account? sign in
Register for free to continue reading
Registration is a free and easy way to support our truly independent journalism
By registering, you will also enjoy limited access to Premium articles, exclusive newsletters, commenting, and virtual events with our leading journalists
Already have an account? sign in
Join our new commenting forum
Join thought-provoking conversations, follow other Independent readers and see their replies