The Independent's journalism is supported by our readers. When you purchase through links on our site, we may earn commission.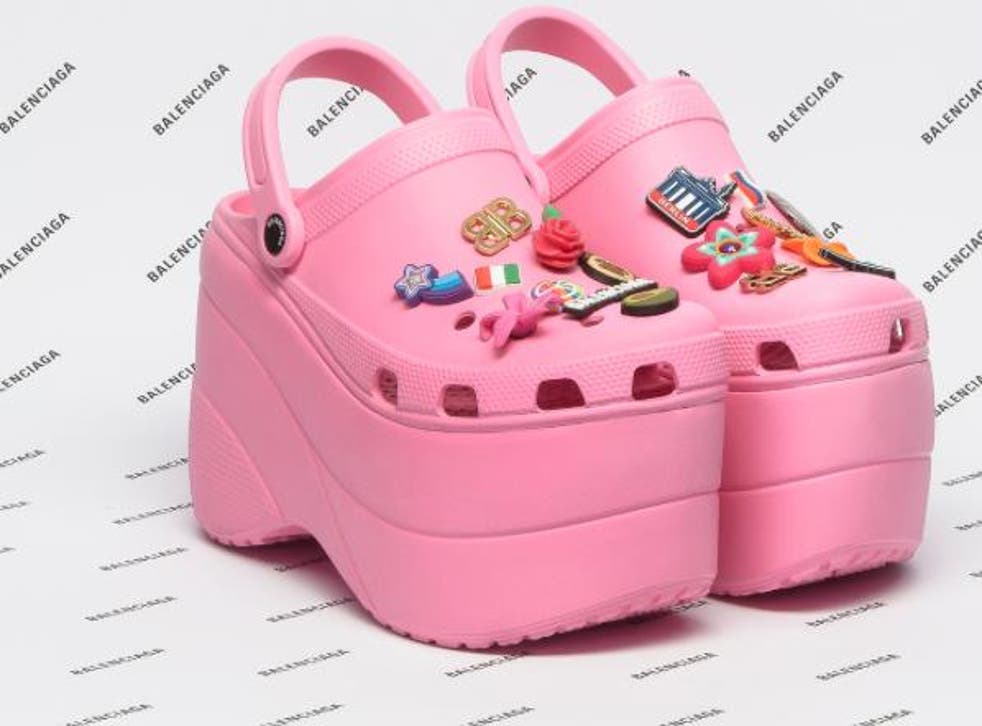 Lifestyle barometer: your guide to what's hot and what's not this week from colour-changing gin to Crocs
From Elon Musk to vegan cheese and ethical shopping, this is our guide to what's hot and what's not
Going up:
Morrisons
This week, Morrisons announced it is launching a "Quieter Hour" across all of its stores to cater for autistic customers.
The new initiative will take place every Saturday from 9am to 10am and will see the in-store lights dimmed, the background music turned off and checkout beeps turned down. The National Autistic Society has praised the move as a "step in the right direction for autistic people and their families".
Colour-changing gin
Just when you thought gin couldn't get any more gratifying, Aldi is now selling a new version of the tipple that has the ability to change colour.
Produced by McQueen Gin, the limited-edition drink appears blue in colour at first but after adding tonic it changes to appear pink instead.
You can buy a 50cl bottle of the Forest Fruits Colour Changing Gin for £19.99 from all 81 Aldi stores in Scotland.
Ethical shopping
It can be hard to know whether or not the clothes we're buying are ethically made but that's where new app Good On You comes in. Having recently launched in Europe, the app stores data for more than 2,000 brands and allows users to instantly see a rating out of five, as well as a summary of just how ethical the company is.
Among the brands that score well are Stella McCartney and Adidas, while Maje and Louis Vuitton achieved ratings of just one or two.
Vegan cheese
With veganism on the rise – a recent survey conducted by Compare the Market revealed that 3.5 million Britons now follow a plant-based diet – a vegan pizza restaurant has announced plans to launch a dairy-free cheese factory.
Purezza, the UK's first vegan pizzeria, says the cheese factory will enable it to craft its plant-based alternative to mozzarella, which will be made from completely natural ingredients, won't include preservatives and will also be free from modified starch and lactic acid.
Model diversity
It's been a good week for diversity in the fashion world with lingerie brand Aerie winning praise for its latest campaign that features female models with disabilities and chronic illnesses.
This year's Sports Illustrated swimsuit show also made waves in the industry by featuring a bikini clad model, Mara Martin, breastfeeding her baby daughter as she walked down the runway.
Going down:
Elon Musk
Entrepreneur Elon Musk was hit by a barrage of criticism this week after posting a number of bizarre tweets about the Thai cave rescue.
He made a series of allegations towards Vern Unsworth, the diver who helped rescue the schoolboys, including referring to him as "pedo guy". The Space X and Tesla boss has since apologised to Unsworth as well as his own companies.
Burberry
British heritage brand Burberry has revealed that it destroyed £28.6m of clothing and cosmetics last year.
According to its latest annual accounts, the luxury label incinerated the equivalent of 81,000 of its signature plaid scarves as part of efforts to protect itself from counterfeiting. According to insiders, destroying stock has become common practice across the industry.
Chafing
The current heatwave might be doing wonders for your mood and your glowing tan but, for many, the warmer weather means one thing only: chafing.
Thankfully though, Wowcher has come up with a solution in the form of anti-chafing bands, which it says are proving to be a massive hit. So much so, that they're selling as many as one pair per minute and have already sold 88 per cent more bands in the first half of July than the whole of June.
You can buy a set of Anti-Chafing Thigh Bands for £4.99 here.
Healthy eating fads
Eating a balanced diet plays an essential part in overall good health but this week TV chef Nigella Lawson warned that some fads could be disguising eating disorders.
Speaking to a group of catering students at a college in Toronto, Lawson claimed that people's eating habits had become "extreme" and that cutting out whole food groups, such as carbohydrates, "doesn't seem to make sense".
Crocs
Just when you thought Crocs couldn't get any worse, the wipe-clean sandal has now been made with a high heel.
Despite a number of raised eyebrows, the controversial brand insists that its new 9cm high heel versions will provide all-day cushion and comfort.
While the shoe has surprisingly sold out on the Crocs website, they're still available to buy from Amazon for £40.
Register for free to continue reading
Registration is a free and easy way to support our truly independent journalism
By registering, you will also enjoy limited access to Premium articles, exclusive newsletters, commenting, and virtual events with our leading journalists
Already have an account? sign in
Register for free to continue reading
Registration is a free and easy way to support our truly independent journalism
By registering, you will also enjoy limited access to Premium articles, exclusive newsletters, commenting, and virtual events with our leading journalists
Already have an account? sign in
Join our new commenting forum
Join thought-provoking conversations, follow other Independent readers and see their replies