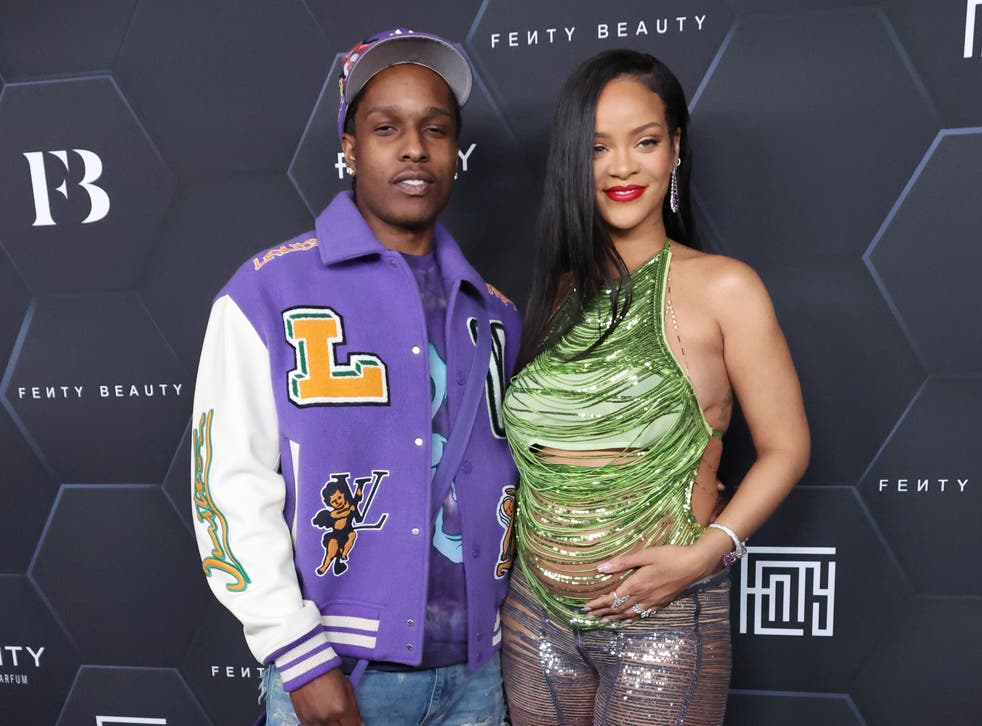 Rihanna has given birth to first child with A$AP Rocky, according to report
Rihanna revealed in January she was pregnant with first child
Leer en Español
Rihanna and A$AP Rocky have reportedly welcomed their first child together, a son.
The Fenty Beauty founder gave birth on 13 May, according to a TMZ report published on Thursday. The outlet states that the couple welcomed their first child in Los Angeles.
As of now, neither Rihanna nor the rapper have confirmed the news of the baby's arrival, nor have they shared their son's name.
The couple revealed they were expecting a child together in January during a photoshoot in Harlem, New York City. During the outing, the singer wore a long pink puffer jacket, which was unbuttoned to show off her pregnant stomach.
Rihanna, who was widely praised for her maternity style during the pregnancy, revealed in March during an interview with Elle that she was in her third trimester. At the time, the billionaire business mogul said that she'd been advised to "sleep now," as she wouldn't be getting much after the baby arrived. "Probably the best advice is to sleep now because I won't get much later," she said. "I need to work on that before it's a thing of the past."
Reports that the couple welcomed a son come after the Diamonds singer toldVogue in April that she did not plan to throw a gender-reveal party. "When we're ready to tell the world, we'll just tell them," she said, adding that she'd questioned whether she was a "bad mom" for not wanting to announce the baby's sex with a party.
During the interview, Rihanna also discussed her preparation for the baby's arrival, with the singer claiming that she was "so behind on everything" as she hadn't purchased a "single thing".
Rihanna and Rocky began dating in 2020. According to the singer, their relationship grew serious during the Covid lockdown in March 2020, at which point she told Vogue that her longtime friend "became my family".
As for whether the pregnancy was planned, Rihanna told the outlet that she "wouldn't say planning," but that the pair were "certainly not planning against it".
"I don't know when I ovulate or any of that type of sh*t. We just had fun," she said. "And then it was just there on the test. I didn't waste any time. I called [Rocky] inside and showed him.
"Then I was in the doctor's office the next morning and our journey began."
Register for free to continue reading
Registration is a free and easy way to support our truly independent journalism
By registering, you will also enjoy limited access to Premium articles, exclusive newsletters, commenting, and virtual events with our leading journalists
Already have an account? sign in
Register for free to continue reading
Registration is a free and easy way to support our truly independent journalism
By registering, you will also enjoy limited access to Premium articles, exclusive newsletters, commenting, and virtual events with our leading journalists
Already have an account? sign in
Join our new commenting forum
Join thought-provoking conversations, follow other Independent readers and see their replies