LIFESTYLE FEATURES
Budget 2021: Why it is more important for women than ever – what it got right and what it missed
After a year when many people's finances have been squeezed to breaking point, Rebecca Goodman details what women need to know about the Budget for 2021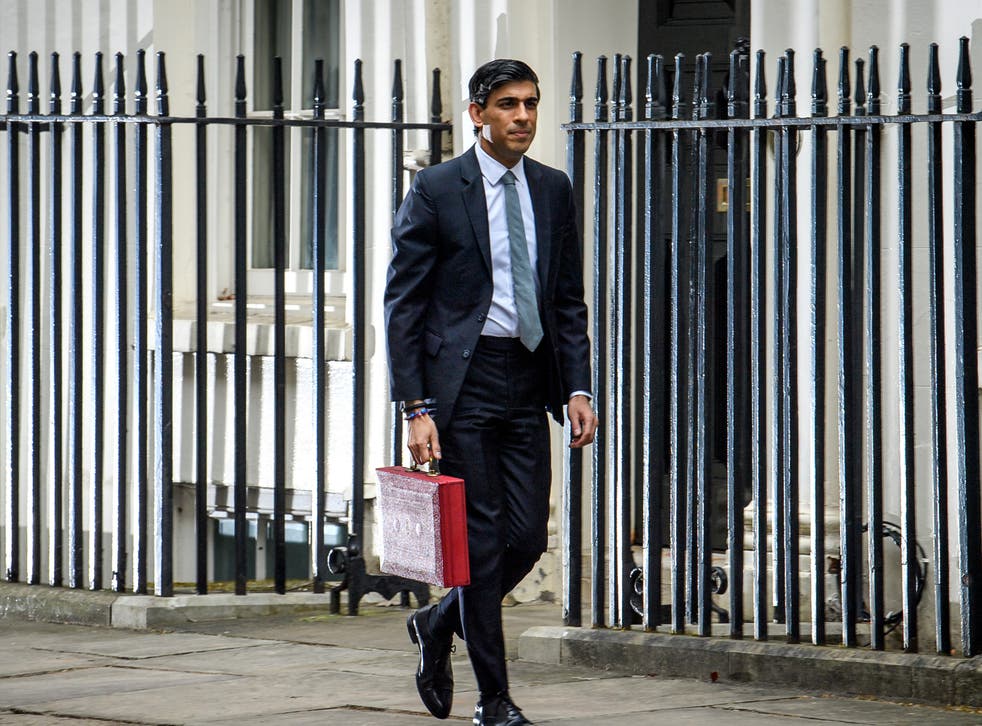 Chancellor Rishi Sunak's Budget on Wednesday was geared around reform of the economy, marking a year since the start of the coronavirus pandemic and furlough scheme.
The government's bill for borrowing is expected to hit £355bn this year (April 20-21) after it already spent £271bn in the first nine months of the pandemic – the highest borrowing the country has seen outside of wartime, up against the largest fall in economic output in 300 years.
Despite the vaccine rollout being well underway and the roadmap out of lockdown having been announced, millions still need support, including the 4 million workers on furlough and the 700,000 who have already lost their jobs.
The Budget was expected to address these huge issues, and it did indeed include a raft of measures: the extension of furlough and of the £20-a-week increase to Universal Credit, and a freeze in the personal tax allowance.
However, the elephants in the room were health, social care, and childcare. Despite these sectors, which traditionally affect women more than men, being hard hit by the pandemic, there was no mention of them by Mr Sunak in his speech.
How has the last year made things worse for women?
The past year has heightened the differences between men and women's personal finances in many ways. Women are more likely to work in industries hit hardest by the pandemic, such as hospitality, retail, leisure, tourism, and the arts. In the first wave of the virus, women were twice as likely as men to have lost their job, according to a study by the University of Exeter.
Gender pay gap reporting – which has only been in place for a couple of years for companies with more than 250 employees – was completely cancelled in 2020, and has been delayed again in 2021, with the Equality and Human Rights Commission announcing it will not start enforcement action against companies until October.
Marsha de Cordova, the shadow women and equalities secretary, warned that the delay could have a long-lasting effect on women and said all available evidence demonstrated that the pandemic is having "awful consequences" for women's representation in the workforce.
We also don't need to look very far for examples of how women have carried out more childcare duties in the past year and how this has increased gender inequality.
Research from the Office for National Statistics (ONS), for example, showed that women were carrying out on average two-thirds more childcare duties per day than men. Even young women are doing more housework than their male counterparts, according to a study published on 3 March.
And when schools were kept closed after Christmas, a study by the Fawcett Society and the Women's Budget Group said that women were twice as likely to need time off work with no pay to look after children because of school closures. Additionally, women are more likely to be the ones homeschooling their children, according to the ONS.  
How has the budget addressed this?
While even the chancellor specifically thanked "mums" for juggling childcare, schoolwork, and working from home, the absence of information in the Budget on issues including gender pay reporting, help for working mothers, and help for the childcare and health and social care sectors was noticeable.
Of course many of the measures focused around economic recovery, and those related to furlough, the self-employed, and universal credit, will be of benefit to some women, as well as men, but there are gaping holes remaining in targeted assistance.
Self-employed women
In December 2020, there were 1.5 million self-employed women in the UK.
Mr Sunak confirmed the self-employed income support (SEIS) scheme is to be extended to a further 600,000 people who were previously excluded from claiming under it. Previously workers could only apply if they had filed a 2018/19 tax return, but now it will also cover those who have filed a 2019/20 tax return by midnight on Tuesday 2 March.
There have been four grants available so far, and a fifth grant will also be available, with applications opening in July.
However, many self-employed workers are still excluded from the scheme or unable to benefit fully. This includes tens of thousands of mothers, who were on maternity leave and therefore earning less in the past year, who haven't been entitled to the full amount of money they are due. But when the charity Pregnant Then Screwed took the issue to the high court claiming indirect discrimination, it was rejected.
Workers on furlough
The furlough support scheme is to be extended until the end of September, with employees receiving 80 per cent of their salary for the hours they aren't working because of lockdown. 
Employers are expected to contribute 10 per cent to wages, increasing to 20 per cent in August and September. Employees on furlough can work part-time and be furloughed for the hours they don't work, which is significant for women who are doing the majority of childcare and homeschooling.
But furlough still raises its own problems for women: according to the government's own research, more women than men have been furloughed, partially because women were more likely to be working in a sector shut down by Covid, and the decision to put an employee on furlough remains with the employer. 71 per cent of working mothers had their request for furlough denied, according to the Trades Union congress (TUC).   
Benefits boost
The temporary uplift to Universal Credit of £20 per week is to be extended for six months to help support those on lower incomes who receive the benefit. The extra money was made available to help those suffering financially because of the pandemic. 
The economic impact of the coronavirus has pushed millions more people into the benefits system, such as those who are self-employed or on zero-hour contracts who aren't able to claim statutory sick pay.
While the increase is positive, what would give more stability to those receiving the benefit would be to make the uplift permanent.
Thomas Lawson, chief executive at charity Turn2us, said: "Our social security system has endured years of cuts, freezes and austerity. The £20 uplift went some way to making up this shortfall, but [the amount] is still significantly less than people received a decade ago."
Income boost
Anyone earning the national living wage will see a rise of 2.2 per cent in their salary from April, as the hourly rate rises to £8.91 per hour from £8.20. For the first time, employees who are aged 23 and 24 will also be able to earn this rate, having previously been put in the lower wage bracket.
The national living wage is the hourly rate for anyone aged 25 and over in the UK. However, the 19p rise today isn't as much as the 49p per hour increase promised last March.
The minimum wage, which applies to anyone aged 16 or over, is also increasing.
Tax break freeze
There will be no increase to the personal allowance, the amount of money people can earn before paying tax, which usually rises in line with inflation.
When this tax break increases, it allows workers to earn more before paying tax, but Mr Sunak confirmed it will be frozen at the current level of £12,000.
In April 2022 it will increase to £12,570 and it will remain at this rate until April 2026.
Domestic abuse and rape victims
Domestic abuse surged in lockdown as victims were trapped at home with their abusers.
In response, the government today committed an extra £19m for programmes tackling domestic violence. There will also be a pilot scheme launched between 2022 and 2023 with a network of "respite rooms" for homeless women facing severe disadvantage.
No support for working parents
Despite the well-reported struggle women have faced in the past year juggling childcare, homeschooling and working, there was no mention of any measures to do with childcare or to help working mothers.
Many groups had called for support for the childcare sector to be announced, including the charity Employers for Childcare, which said that as the economy opens up again it is vital that parents are able to access affordable childcare so they can remain in employment.
It said: "Covid-19 has been a challenging time for the childcare sector with reduced demand for childcare in many areas, the increased demands of social distancing and enhanced cleaning, as well as difficulties around staffing levels due to the need for staff to self-isolate.
"The sector therefore needs continued support in order to be sustainable and to continue delivering the high-quality service parents need, and that the economy relies on."
Health and social care measures missing
Despite the Budget documents referring to analysis carried out by the Department of Health and Social Care – which shows that the fall in economic activity and increase in unemployment from the pandemic, including the restrictions put in place to contain it, could have substantial mortality and morbidity impacts – there was no mention of new social care, health, or wellbeing measures.
Also missing from today's Budget was any mention of the social care crisis, which has been worsened by the pandemic.
This sector is largely served by women, and they are more likely to be unpaid carers – either for children or for elderly relatives. Of the 6.5 million unpaid carers in the UK, 58 per cent – or 3.34 million – are women, according to the charity Carers UK.
Join our new commenting forum
Join thought-provoking conversations, follow other Independent readers and see their replies