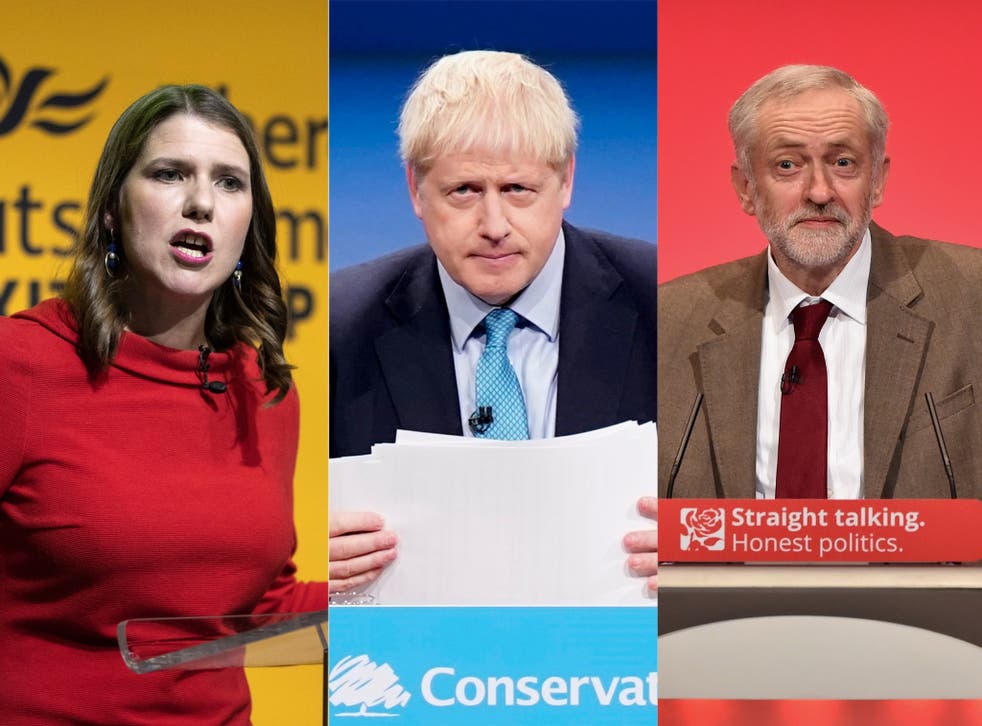 What do the Conservative, Labour and Lib Dem manifestos promise on women's issues?
We delve into the manifestos' promises on treatment of women in the workplace, survivors of abuse and the gender pay gap
Boris Johnson's Conservative Party, Jeremy Corbyn's Labour Party and Jo Swinson's Liberal Democrats have disclosed what they are promising the nation should they win power following the General Election.
The parties' manifestos cover various significant areas, including the environment, health, education, Brexit and issues pertaining to women.
As the nation heads to the polls on Thursday 12 December on what is being called the "Brexit election", we delve into the parties' promises on treatment of women in the workplace support for survivors of abuse and plans for the gender pay gap.
Here is what the Conservative, Labour and Liberal Democrat manifestos promise with regards to women's issues:
Conservatives
The Conservative Party has promised in its manifesto to provide better support for women who are the primary carers in their household, to combat gender-based violence and to help female business owners achieve success.
Here's what the Conservatives are promising in their manifesto to improve women's welfare.
Violence against girls and women
The political party reaffirmed that it will pass the Domestic Abuse Bill, which was first introduced by former prime minister Theresa May's government in July.
The Domestic Abuse Bill, Johnson stated in September, would legally require councils to provide secure homes for those who are fleeing domestic violence.
The Conservative Party also says it plans on passing and implementing a Victims' Law, which would "guarantee victim's rights and the level of support they can expert".
If the Conservative Party achieves a majority in the election, it pledges to "increase support for refuges and community support for victims of rape and sexual abuse" and will "pilot integrated domestic abuse courts that address criminal and family matters in parallel".
The Conservatives promise to fight violence against girls and women by supporting survivors of rape, Female Genital Mutilation and forced marriage.
The NHS outlines that there were more than 1,000 newly recorded cases of girls and women in the UK between January and March 2019 who underwent FGM procedures.
In 2018, the Forced Marriage Unit (FMU) provided advice or support in 1,764 possible cases of forced marriage in the UK, the government states.
Supporting families with flexible working
The party states that it is aiming to "look at more radical ways to support working families in the UK", one measure being to provide better flexibility in the workplace.
The manifesto outlines that in families where two parents are "juggling work and other responsibilities" they often have to "stretch themselves daily" in order to look after children, elderly members of the family and relatives who have disabilities.
"For women, who still tend to be the main carers in households, this can have a big impact on their careers and limit their participation in the workplace," the Conservative Party says.
"The party states that it wants to consult firms on making flexible working a default option "unless employers have good reasons not to".
"We have reformed redundancy law so companies cannot discriminate against women immediately after returning from maternity leave," the manifesto says.
The document adds that unpaid carers, "the majority of whom are women", would be entitled to a week of leave.
The Conservatives also promise to "fund more high-quality childcare before and after school and during the holidays" so that no working parents need to feel obliged to decide between dedicating more time to their careers or home life.
Women in business
One of the ways in which the Conservative Party says it plans on providing better support for female entrepreneurs is by helping them to cultivate new or growing business ventures.
"We understand the challenge of increasing running costs, especially for smaller firms, and are committed to reducing them," the party states in its election manifesto.
"We will expand start-up loans, which have particularly high take-up from women and BAME​ entrepreneurs. The British Business Bank has supported 90,000 smaller businesses with over £7 billion in investment or loans, and will continue to grow."
The party also says it aims to launch a review exploring how self-employed workers can be better supported, many of whom are women.
The manifesto explains that numerous workers who earn between £10,000 and £12,500 per year are missing out on pensions benefits due to a "loophole affecting people with net pay pension schemes", adding that the majority of workers affected are women.
"We will conduct a comprehensive review to look at how to fix this issue," the Conservatives pledge.
Liberal Democrats
The election manifesto for the Lib Dems stresses that greater representation is needed for women in public life and in the workplace.
However, "deep-seated" and "unconscious biases" mean that numerous work environments are still lacking on the equality front.
"We will tackle institutional biases, promote equality and hold power to account through applying values of openness, transparency and accountability," the political party states.
Here is what the Lib Dems are promising in their manifesto for the welfare of women:
Women in business
In an effort to improve representation of women in business, the Lib Dems state that they will push for at least 40 per cent of board members in FTSE (Financial Times Stock Exchange) 350 companies to be women.
The Lib Dems also state they would like to encourage employers to refrain from showing bias when hiring new workers by extending the use of name-blind recruitment methods in the public sector and encouraging its increased use in the private sector.
In addition, the party promises to develop a "free, comprehensive unconscious bias training toolkit and make the provision of unconscious bias training to all members of staff a condition of the receipt of public funds".
Period poverty
In the UK, around one in 10 girls aged between 14 and 21 are unable to afford sanitary products, charity Compassion UK states.
The Lib Dems say in their manifesto they are aiming to end period poverty by removing VAT from sanitary products, making them more affordable.
The party also says it will provide free sanitary products in public buildings including schools, hospitals, shelters, libraries, GP surgeries, food banks and universities.
Gender price gap
The party states it wants to end the gender price gap by eliminating the "pink tax", which is when products advertised towards women cost more than similar products targeted at men.
Earlier this year, razor brand Gillette was accused of sexism and hypocrisy by selling razors for women that cost $3 (£2.34) more than similar razors for men, while promoting campaigns to combat toxic masculinity.
Approach to gender in schools
The Lib Dems would like all schools in the UK to enforce gender-neutral uniform policies, while also breaking down "outdated perceptions of gender appropriateness of certain subjects".
Several schools have recently made headlines for introducing gender-neutral uniform regulations.
While one school in Ireland said that their new uniform policy means that girls can wear trousers and boys can wear skirts, another school in Lewes, East Sussex banned all pupils from wearing skirts as part of its new uniform guidelines, a decision that sparked frustration among some students' parents.
Violence against girls and women
The Lib Dems include several initiatives in their manifesto for supporting girls and women who have survived violent attacks.
These include ratifying and bringing the Istanbul Convention (Council of Europe Convention on preventing and combating violence against women and domestic violence) into law, bringing about a change to the statutory definition of domestic abuse so that it includes the impact it can have on children and increasing the number of refuges and rape crisis centres available for girls and women.
#MeToo movement – In pictures

Show all 24
The party would also like to launch a national rape crisis helpline (the existing national Rape Crisis helpline can be contacted on 0808 802 9999), in addition to supporting local authorities so they can better support survivors of abuse.
Furthermore, the manifesto states that survivors of violence in court should be granted access to "special measures", while the "direct cross-examination of survivors by their abusers" must be not be allowed.
Labour
The Labour Party states in its election manifesto that it wants to "put women at the heart" of its government.
"Next year marks the 50th anniversary of the Equal Pay Act, yet women still earn 13 per cent less than men," the party states, adding that Labour will "take action to close the gender pay gap by 2030".
Here is what Labour is promising in its manifesto for the welfare of women:
Support for mothers
Labour's election manifesto states that it wants to make sure that new mothers are able to receive breastfeeding support, in addition to mental health assessments six weeks after giving birth.
Approximately a tenth of pregnant women and 13 per cent of women who have just given birth experience mental health issues such as depression, the World Health Organisation (WHO) states.
The Labour Party also wants to "revolutionise parents' rights" by increasing paid maternity leave from nine to 12 months, while also increasing paternity leave from two to four weeks and statutory paternity pay.
The manifesto promises to extend "pregnancy protection", which would prohibit the dismissal of pregnant women from their work "without prior approval of the inspectorate".
Labour would also like to introduce "statutory bereavement leave", which would allow employees to take time off from work following the loss of loved ones, including in the event of pregnancy loss.
Violence against girls and women
The political party says that if it comes into power following the General Election, it will "set new standards for tackling domestic and sexual abuse and violence".
One measure would be to appoint a commissioner for violence against women and girls, Labour outlines in its manifesto.
Another would be to "establish an independent review into shamefully low rape prosecution rates".
The party would also like to introduce 10 days of paid leave for survivors of domestic abuse and ensure refuges for women receive "the long-term sustainable funding they need".
In April, Home Office statistics revealed that only 1.7 per cent of reported rapes in England and Wales result in prosecution.
Labour also says it will prevent abusers from cross-examining their victims in court, and introduce new protections for victims of revenge porn.
In June, it was reported that revenge porn victims may be granted anonymity as part of a review of the laws surrounding the form of online abuse.
Women's reproductive rights
The manifesto states that Labour will pledge to "uphold women's reproductive rights and decriminalise abortions" if the party is victorious in next month's election.
In accordance with the 1967 Abortion Act, women can legally have an abortion when they are up to 24 weeks pregnant, with each procedure involved requiring a sign-off from two doctors.
When the Act was introduced, the previous 19th-century law was not repealed, meaning that any breach of the Act is still technically a criminal offence.
If abortions are decriminalised, as per Labour's promise, this would bring abortion legislation in England and Wales in line with Northern Ireland, where abortion was decriminalised in October.
Women in the workplace
Labour's election manifesto promises to enforce fines on employers who do not put measures into place to tackle the gender pay gap.
The gender pay gap is the average difference between hourly wages for men and women.
Since changes to the Equality Act came into force in April 2017, companies with more than 250 employees have been legally required to report their gender pay gap figures by the end of the financial year.
The party claims it will "deliver gender pay equality by making the state responsible for enforcing equal pay legislation for the first time".
"The new Workers' Protection Agency working with HMRC [Her Majesty's Revenue and Customs] will ensure that employers take equal pay seriously and take positive action to close the gender pay gap," the manifesto outlines.
The party adds that it will ensure all employers with more than 250 employees "obtain government certification on gender equality or face further auditing and fines", with plans to lower this threshold to 50 employees by the end of 2020.
Labour states that all employers will be required to ensure that no form of harassment takes place in their workplaces, both internally and by third parties.
The manifesto also mentions the introduction of a "menopause policy", which would provide greater flexibility for women in work who are going through the menopause and require health-related time off.
The party states it will provide strengthened protection for women who are going through the menopause who have been unjustly dismissed from employment.
New department for Women and Equalities
The Labour Party states that if it comes into power, it will launch a new governmental department for Women and Equalities.
This department would feature a full-time secretary of state whose responsibility would entail making sure that all of Labour's policies are "equality-impact assessed in order to deliver a fairer society for women and all under-represented groups".
The political party also promises to launch a "modernised National Women's Commission", which would be an independent advisory body for a Labour government.
In 1969, a Women's National Commission (WNC) was set up as a non-government advisory for the government.
In 2010, it was announced that the WNC was to be dissolved by the end of the year.
Lily Allen cries over Jeremy Corbyn's Labour manifesto
For all the latest news on women's issues, click here.
Join our new commenting forum
Join thought-provoking conversations, follow other Independent readers and see their replies