Brexit vote will make plane tickets 15% cheaper, says Ryanair boss
Michael O'Leary also slams Government's negotiation strategy, says 'they haven't an idea what the hell they're doing' and tells Theresa May to stop 'faffing around' in India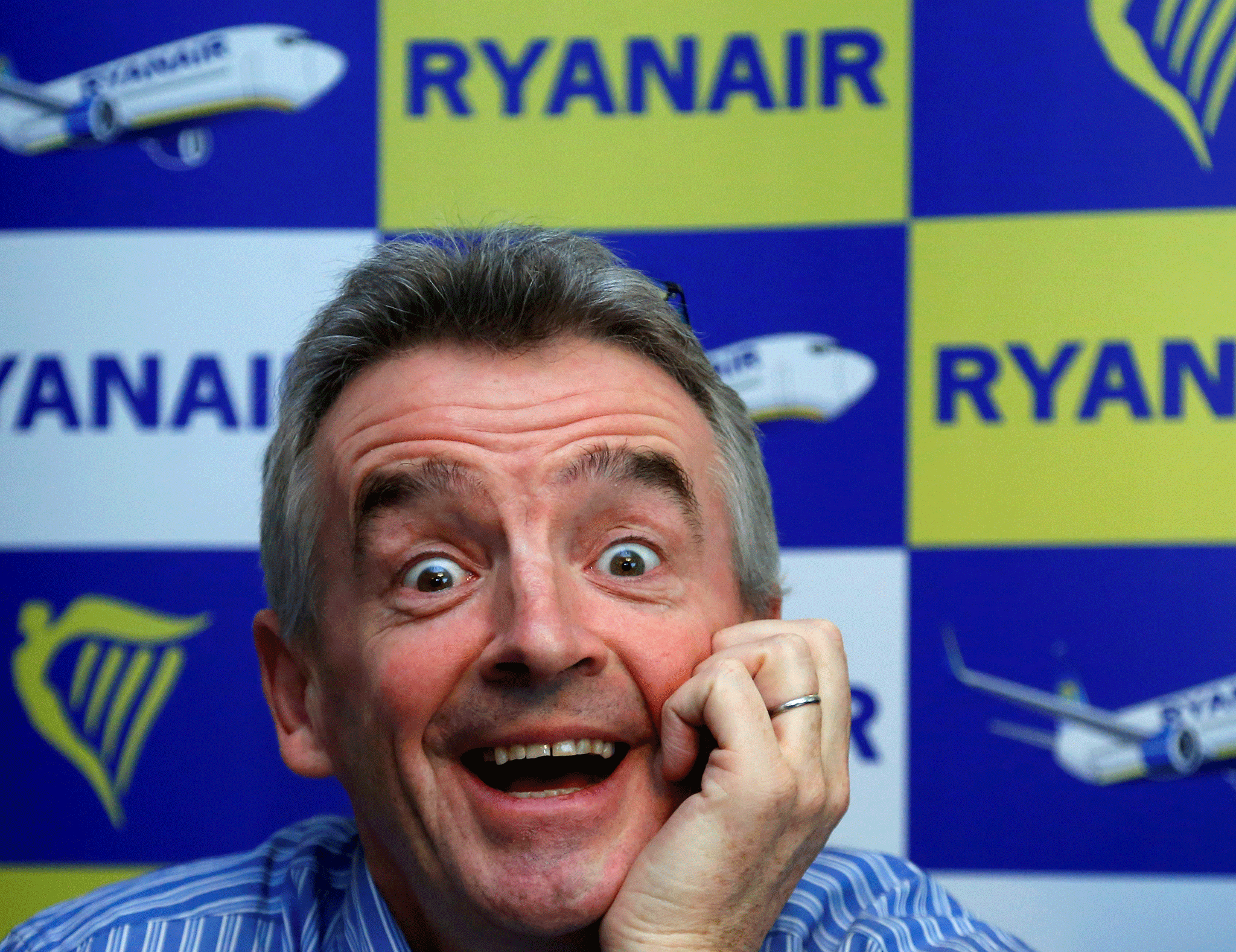 Ryanair boss Michael O'Leary said coninuing uncertainty over Brexit negotiations would cause the airline's fares to fall by up to 15 per cent this winter.
The cost of the budget airline's average seat has already fallen 10 per cent to £44.61 in the past year.
But the chief executive warned there will be a reduction in the number of UK flights once the UK actually leaves the EU, leading to price rises.
Mr O'Leary described this as "good news for customers, not so good news for shareholders", but added that the latter would have to "learn to live with it for the foreseeable future".
He added: "For passengers what is inevitable is in the next 12 to 18 months you benefit by having lower fares.
"But over the medium term if there is a hard Brexit there will be less capacity here in the UK and less capacity means higher prices, once the hell we know what Brexit looks like."
Mr O'Leary said uncertainty over Brexit has led the airline to reduce its planned growth in the UK next year from 12 per cent to 5 per cent.
The airline boss, who campaigned for Remain in the referendum, described the politicians negotiating Brexit as "puddings" and claimed the UK economy is in "real trouble".
Business news: In pictures

Show all 13
He said: "It's hard to believe that the UK Government could be more uncertain or it's going to get any less certain as to what the hell they're doing about Brexit. Given that they haven't an idea what the hell they're doing about Brexit in the first place.
"Mrs May is out in India about to give free movement to Indian citizens now. But at least you're controlling your borders here.
"You're going to prevent the Europeans coming here but at the cost of giving the Indians free visas and God knows what else. It's a shambles but long may it continue to be such a shambles until they realise they're better off staying in the single market."
He went on: "It looks like these puddings are heading for a hard Brexit simply because of their own incompetence. The UK has no negotiating position."
Mr O'Leary warned that the aviation industry faces uncertainty over what ownership restrictions would be in place after a hard Bexit and what routes could be flown if the UK leaves the EU's Open Skies aviation free market.
He claimed this could lead to the break-up of British Airways' parent company IAG, as it also owns three European airlines, and UK holidaymakers having to travel by boat to Spain.
"There are a whole series of potential outcomes here that are fantastical and unimaginable," he said.
Ryanair profits increased 7 per cent to €1.17billion (£1.04 billion) in the first six months of 2016 and it also increased its passenger numbers forecast.
The trading update comes after Ryanair slashed its earnings forecasts in October, blaming the tumbling pound.
Additional reporting by PA
Register for free to continue reading
Registration is a free and easy way to support our truly independent journalism
By registering, you will also enjoy limited access to Premium articles, exclusive newsletters, commenting, and virtual events with our leading journalists
Already have an account? sign in
Register for free to continue reading
Registration is a free and easy way to support our truly independent journalism
By registering, you will also enjoy limited access to Premium articles, exclusive newsletters, commenting, and virtual events with our leading journalists
Already have an account? sign in
Join our new commenting forum
Join thought-provoking conversations, follow other Independent readers and see their replies