British Hindus express disappointment over Bank of England £5 pound note animal fat decision
Last year, a number of Hindu temples banned the new £5 note after it emerged they contain the tallow
Zlata Rodionova
Wednesday 15 February 2017 13:58 Comments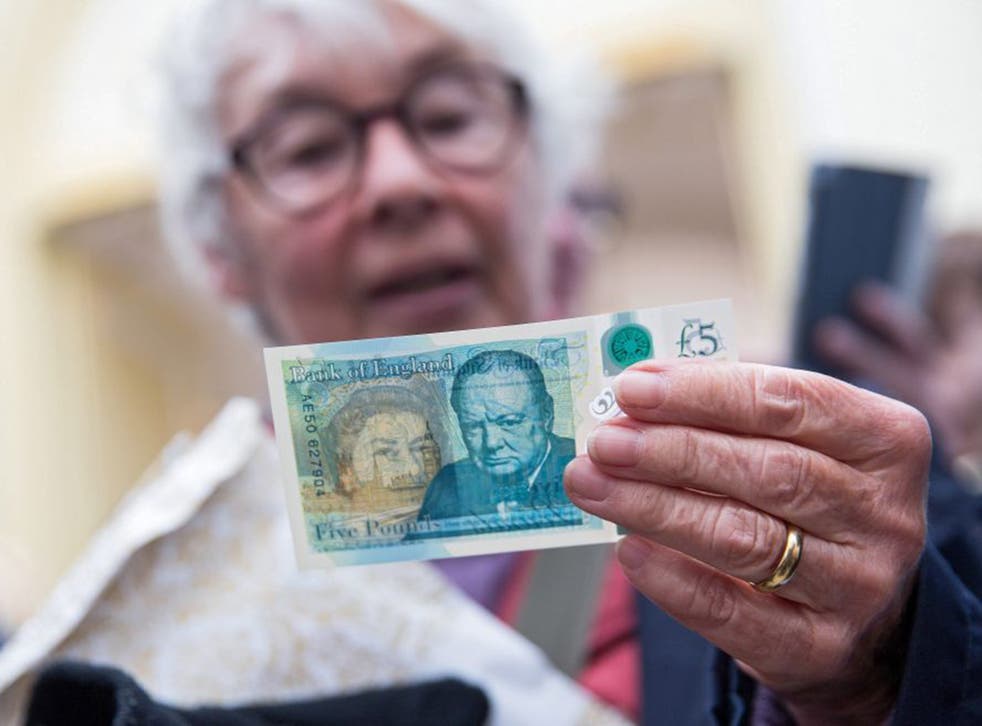 Members of the British Hindu community expressed deep disappointment on Wednesday after the Bank of England confirmed it will keep its £5 with traces of animal fat in circulation.
Last year, a number of Hindu temples banned the new £5 note after it emerged they contain the tallow.
Satish Sharma, the general secretary of the National Council of Hindu Temples, on Wednesday told the Independent that the Bank "completely ignored" the community's concerns despite an encouraging meeting with the chief cashier of the Bank of England.
Mr Sharma said that members of his community will now be hit with a "crisis of conscious" as they will have to choose between taking a "financial hit" from not using the notes or going against their moral and religious beliefs.
He said that the organisation will now be seeking legal advice over the Bank's decision.
According to the Council's website "producing currency and casually incorporating substances which are derived from acts of violence upon vulnerable non-aggressive creatures is not the behaviour of civilised beings".
"The £5 note ceases to be a simple medium of exchange but becomes a medium for communicating pain and suffering and we would not want to come into contact with it," the organisation states.
In a statement sent to the Independent, a spokesperson for the Vegan Society said it was "unfortunate" that the new £10, due to launch in September, will also contain tallow. However, it praised the Bank for being transparent in their response to what it considers an important in issue.
"We look forward to the consultation around the £20 note and hope that any future bank notes will be free from ingredients produced through harming animals. We hope that other companies will follow this positive example and review the use of animals in their products," the Vegan Society said. The new £20 note is expected to be launched in 2020.
Since the banknotes were introduced into circulation in September last year, more than 120,000 people have signed a petition calling for the tallow to be removed.
But the Bank refused to yield to pressure from protest group and on Wednesday said it will not pull any of the existing £5 notes from circulation and will print the £10 notes as planned.
The 2016 banknote beauty pageant

Show all 6
"The Bank was not aware of the presence of animal-derived products when it signed the contract with its supplier for the £5 and £10 banknote polymer," the Bank said in a statement on Wednesday.
It said that after careful consideration it has concluded "that it would be appropriate to keep the £5 polymer note in circulation and to issue the £10 polymer note as planned, in September".
Register for free to continue reading
Registration is a free and easy way to support our truly independent journalism
By registering, you will also enjoy limited access to Premium articles, exclusive newsletters, commenting, and virtual events with our leading journalists
Already have an account? sign in
Register for free to continue reading
Registration is a free and easy way to support our truly independent journalism
By registering, you will also enjoy limited access to Premium articles, exclusive newsletters, commenting, and virtual events with our leading journalists
Already have an account? sign in
Join our new commenting forum
Join thought-provoking conversations, follow other Independent readers and see their replies