Uber to deny it is part of the 'gig economy' while challenging landmark order to give drivers employment rights
Wednesday's Employment Appeal Tribunal hearing will come as Uber also battles to overturn Transport for London's ban on it operating in the capital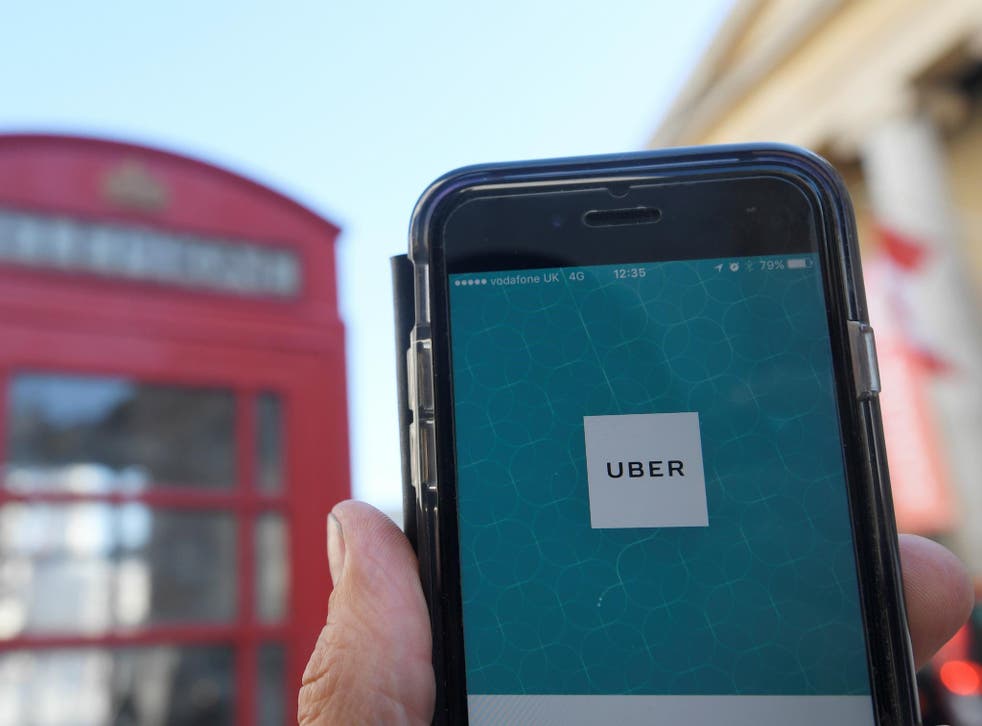 Uber is seeking to overturn a landmark ruling ordering it to give drivers basic employee rights by claiming it is not part of the "gig economy" and the judges who found against it were "factually perverse".
Written submissions seen by The Independent show that at Wednesday's Employment Appeal Tribunal hearing, Uber will also exploit the precedent set by Stringfellows when it won a court case against one of its lap dancers.
The tribunal appeal comes as Uber also battles cab regulator Transport for London (TfL) over the authority's decision to strip it of its right to operate in London on the grounds it is "not fit and proper".
The TfL dispute has led more than 760,000 people to sign a petition in Uber's defence.
But after London Mayor Sadiq Khan spoke of Uber's "army" of lawyers and "agressive threats" of court action, its new chief executive Dara Khosrowshahi promised the company would work with "humility and integrity", and apologised "for the mistakes we've made".
The tribunal submissions seen by The Independent, however, suggest that these acknowledged mistakes do not include Uber's insistence it merely acts as the agent, not employer, of drivers, meaning it doesn't have to provide basic employee rights like paid holidays and the minimum wage.
In seeking to overturn the employment tribunal ruling won by drivers James Farrar and Yaseen Aslam in October, Uber will accuse judges of failing to understand "basic" law and instead engaging in "legally irrelevant" and unfair criticism.
In the skeleton argument submitted ahead of Wednesday's hearing, lawyers for Uber insist that contrary to what the judges thought: "The driver is in no sense in an employment relationship.
"Rather, Uber acts as the driver's agent, in referring passengers to him … for [which] it receives payment [for] each trip."
The appeal also disputes "the suggestion that the present case is one of unequal bargaining power leading to unreal contracts".
Uber, the lawyers insist, is not part of the much-criticised 'gig economy', whatever hundreds of news reports might have said.
"The Tribunal will be aware of the public, press and political attention recently attracted by concerns over the 'gig economy'," the appeal submission states. "Uber's business model has often been held out as an example of this phenomenon.
"In fact the position of drivers is materially identical to the familiar and long-established position of self-employed private hire drivers who operate under the auspices of traditional minicab firms."
Seeking to overturn some of the original ruling's most scathing criticism, Uber's lawyers attack the judges' finding that: "The notion that Uber in London is a mosaic of 30,000 small [driving] businesses linked by a common 'platform' is faintly ridiculous."
Uber's lawyers insist: "That conclusion was wrong in law as well as factually perverse. There are many thousands of such businesses throughout the UK."
Uber's lawyers also seem unhappy with the finding that "the supposed driver/passenger contract is a pure fiction which bears no relation to the real dealings and relationships between the parties".
Uber's lawyers insist the judges only came to this conclusion because they "misunderstood and failed to apply basic principles of agency law."
"The point is elementary," Uber's lawyers add, before a lengthy quotation from a legal textbook.
The lawyers seek to defend the wording of contracts once condemned by Labour MP Frank Field as "utter gibberish" and described out of court by Mr Farrar as "absolutely impenetrable and brutally exploitative".
Uber's submission insists: "Commercial parties are entitled to use contractual language that might strike some as complex or technical."
Uber controversies

Show all 4
"The concept of a private hire operator acting as an agent for drivers was not invented by Uber in response to these proceedings," the lawyers add. "It is not only the obvious analysis, but the subject of extensive case law."
One case cited is that of lap dancer Nadine Quashie who sought to establish that she was a Stringfellows employee, rather than self-employed, so she could bring an unfair dismissal claim against the business empire of Peter Stringfellow.
Stringfellows succeeded in having the case dismissed on appeal in 2012, on the grounds that Ms Quashie was self-employed.
The original tribunal judges in the Uber case interpreted the Stringfellows ruling as hinging on Ms Quashie having provided services "ancillary" to the main services provided by Stringfellows Restaurants Ltd.
Uber's lawyers are now arguing: "It is difficult to view the services of dancers as merely 'ancillary' to an unspecified 'principal service or facility' offered by Stringfellows."
Even if Ms Quashie's services really had been 'ancillary', Uber's lawyers add, the way the tribunal judges interpreted her case was "legally misconceived" because in fact it had never hinged on "the extent to which end-users were also receiving other services from the putative employer".
All the arguments in Uber's 23-page submission have been rejected by Mr Farrar and Mr Aslam's lawyers.
They state: "The insuperable difficulty faced by Uber is that it cannot point to any document in which, [drivers] expressly appoint and authorise Uber to act as their agent, other than for the limited purpose of collecting payment."
Instead, the drivers' lawyers add, rather than acting as an agent serving a client, "It is plain that Uber does not act in the best interests of [drivers] when, for example, resolving passenger complaints.
"Uber can and does agree with passengers to discount fares without even making reference to drivers … Inequality of bargaining power is plain and obvious."
Paul Jennings, of law firm Bates Wells Braithwaite, representing Mr Farrar and Mr Aslam, told The Independent that the tribunal and TfL cases both involved safety concerns about Uber.
Mr Jennings argued that if Uber's appeal denied drivers the right to paid holiday, they might not be able to afford to take time off and end up so tired they were a danger to themselves and their passengers.
Mr Jennings said: "TfL expressed concern regarding Uber, quoting 'potential public safety and security implications'.
"The case advanced on behalf of the drivers raises equally important health and safety issues.
"A key element of the case relates to whether drivers are entitled to paid annual leave, a basic health and safety entitlement under UK and European law.
"Given the sheer scale of Uber's fleet, this protection is vital not just for drivers but for the public at large."
Register for free to continue reading
Registration is a free and easy way to support our truly independent journalism
By registering, you will also enjoy limited access to Premium articles, exclusive newsletters, commenting, and virtual events with our leading journalists
Already have an account? sign in
Register for free to continue reading
Registration is a free and easy way to support our truly independent journalism
By registering, you will also enjoy limited access to Premium articles, exclusive newsletters, commenting, and virtual events with our leading journalists
Already have an account? sign in