Scrap extra fees for international students and use foreign aid budget to bring them to UK, professor urges
Academic claims Government should be paying international students to come to the UK rather than charging 'extortionate' fees if it wants to remain open post-Brexit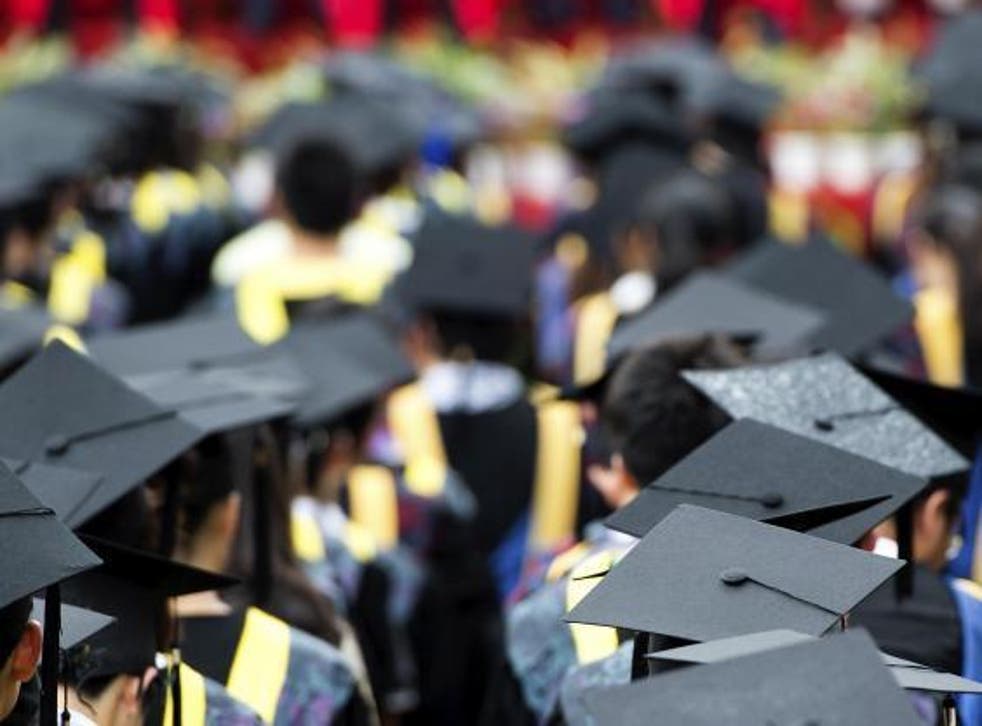 International aid money set aside to help impoverished and war-torn countries should be used to bring overseas students to the UK post-Brexit, a university academic has suggested.
Len Shackleton, a professor of Economics at the University of Buckingham, said the higher tuition fees currently asked of foreign students is "extortionate" and should be scrapped altogether to encourage applicants.
Instead, the Government should take money from the Department for International Development (Dfid) to recruit candidates and enable student mobility.
Bright, underprivileged students from across the globe could be funded to study in the UK, and young Brits should also be given access to loans if they wish to study abroad.
Presenting the ideas at an education conference at the University of Buckingham, he said: "We've got Dfid sitting on huge sums of money – why not direct some of it towards bringing third world students to UK universities?"
In order to "plug holes", any leftover funding should be available to promote research collaborations anywhere in the world, he added.
He later told The Independent: "We're committed to spending 0.7 per cent in GDP every year and we can't spend it.
"It ends up in corrupt payment, in schemes that don't do anything, in consultancy fees which run into the millions of pounds.
"Why not divert some of that money to perhaps having two-stage fee levels for different countries. Certainly it would compensate in a way for the things that are happening [to higher education] by opening out to the wider world the opportunity of studying in the UK."
His comments follow on from frequently voiced concerns among industry members about the future of the UK's reputation as a hub for higher education and research.
QS World University Rankings: top 10 UK institutions

Show all 10
Presenting evidence to MPs at a public hearing in Oxford earlier this year, university vice chancellors warned a hard Brexit could spell the "biggest disaster" for the industry for years to come.
Applications from EU candidates hoping to study at Cambridge University dropped by 14 per cent last year, the Commons Education Select Committee was told, before official figures revealed applications had fallen nationwide following the Brexit vote.
A survey undertaken by Times Higher Education last year also suggested as many as nine in 10 academics were in favour of remaining in the EU.
Prof Shackleton said that while the vast majority appeared to feel even more negatively towards Brexit as negotiations take place, the UK's separation from the EU should be seen as an opportunity rather than a threat.
Amid uncertainty over research funding and staff recruitment, he said there were "some things" to gain from Brexit.
The UK's Higher Education sector is "highly detached from the rest of the world", he argued, concentrating largely on European partnerships when there were better collaborations to be had with countries such as China and Japan.
Separation from the EU could help UK universities open up to the rest of the world, he added, but student mobility was key to ensuring top candidates from Europe were not lost to international competitors.
Government stance on Brexit 'nonsense' and Labour 'cowards', Anna Soubry says
"I've thought this for a very long time," said Prof Shackleton. "We've moved to a position for many years now where many universities are dependent on the flow of international students paying vastly [higher] fees.
Referencing his own institution, he said: "Just look at our fee list here – undergraduates are paying 35 to 40 per cent more. But for what? They have the same classes, same teaching.
"I think it's something the Competition and Markets Authority should have looked at long ago because it's a kind of cartel - all the universities do this and they take it for granted.
"We've got students from the EU who are used to paying the lower fees and now they're facing a dramatic mark-up.
"This is a moment where we could radically rethink this," he added, "it's an opportunity that doesn't come round very often."
EU citizens studying in the UK currently pay the same tuition fees as British residents.
Following the UK's separation from the EU, new candidates will be classed as international students, however, subject to the same tuition fees – which can reach more than £30,000 per year for some degree courses.
If the UK withdraws from existing agreements on freedom of movement, future EU students may also need to apply for a student visa or a short-term study visa in order to study in the UK.
"I could tell you awful stories of families who have put their entire lives' savings into sending a student from Pakistan or Bangladesh to the UK, only to have them fail the exams," said Prof Shackleton.
"We really ought to find ways in which we can open up education to the wider world. If it means a few less Germans or French getting in… well, they can go somewhere else."
A Dfid spokesperson said the department "has a zero-tolerance approach to fraud and corruption" and is "committed to providing the world's most vulnerable young people with access to school."
"By creating opportunities for people in developing countries we are encouraging the future leaders, entrepreneurs, teachers, doctors, lawmakers.
"This will allow developing countries to leave aid dependency behind in the future, which is firmly in the UK's national interest."
Join our new commenting forum
Join thought-provoking conversations, follow other Independent readers and see their replies