Half of graduates from first year of £9,000 tuition fees now back living with parents, damning NUS report reveals
The majority of are in debt, not just with student loan repayments, but they also owe money to banks, credit card companies and loan sharks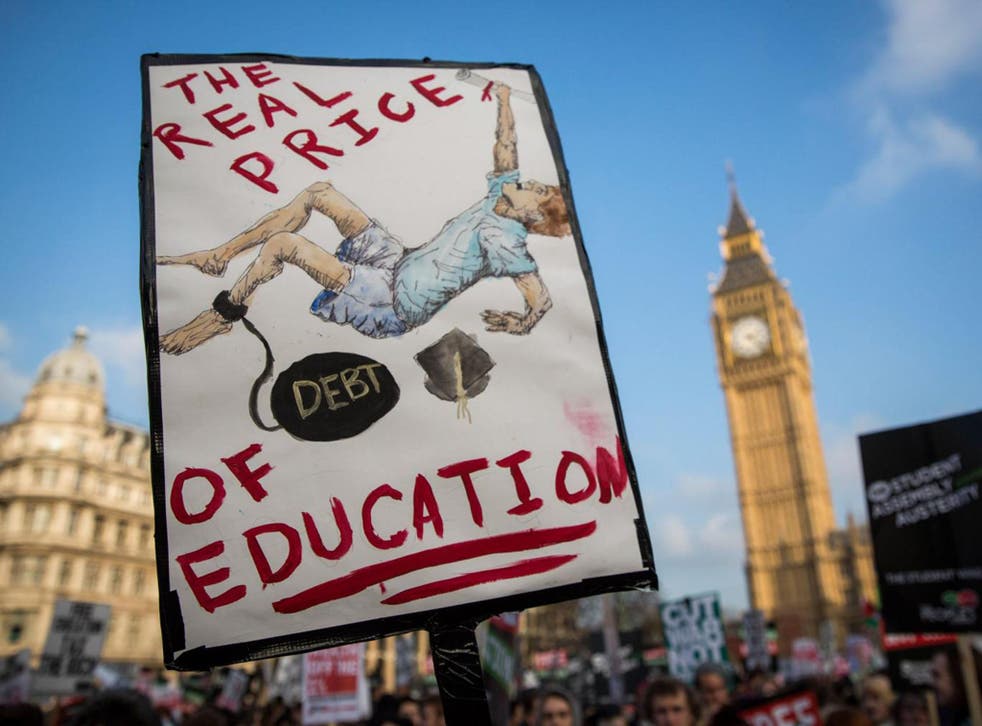 Crushing student debt, soaring living costs and dwindling support from the Government has created a stay-at-home generation of university graduates, a major report reveals.
The eye-opening document shows almost half of the first set of university-leavers who paid £9,000-a-year fees have moved back in with parents.
It paints a grim picture of a modern post-student life, that stands in stark contrast to Government claims that the country's higher-education system will "set you up for life".
On the day before sixth-formers discover if they have the A-level grades to win their dream university place, half the graduates surveyed said their degree was not worth the vast sums of money they paid for it.
It follows other data showing young people trying to buy a home face the highest year-on-year house price rises since late 2014, while the cost of rail tickets, a crucial mode of transport for graduates, is rising far faster than wages.
The report from the National Union of Students particularly highlighted how female graduates were not securing higher earning graduate jobs.
NUS Vice-President Sorana Vieru said: "This research shows many graduates are without work, badly paid or in precarious and casualised employment, especially women.
"The majority are in debt, not just with student loan repayments, but they also owe money to banks, credit card companies and loan sharks.
Will your degree make you a lot of money?

Show all 16
"The graduates face a double jeopardy – they enter the world of work having paid far more for their education, with the debts hanging over them. Yet they receive far less benefit from this education in the labour market compared to previous generations, while living costs keep rising and the welfare safety net is shrinking."
In June 2015 the NUS launched its research project exploring experiences of full-time students graduating under the post-2012 fees system, which sees most English students hit with the £9,000 fees.
The most recent initiative, a survey conducted seven months after graduation during February and March 2016, found a staggering 47 per cent of graduates were living back with their parents or guardians.
The proportion heading back to their parents' home climbed even higher, to 52 per cent when looking specifically at graduates aged 25 or under.
Less than three per cent of graduates aged 25 or under had managed to get on the property ladder.
Official data revealed that the annual increase in house prices climbed to 8.7 per cent in June, the highest since October 2014.
The average UK house price was £214,000 – £17,000 higher than in 2015 and £2,100 higher than in May 2016.
The Government also confirmed that from January regulated rail fares will rise by 1.9 per cent, while a TUC report said fares were rising twice as fast as wages.
The NUS research, which surveyed almost 600 students, found 71 per cent of graduates remained concerned about their level of student debt.
Meanwhile 60 per cent still had existing non-student consumer debt left over from their degree, the average amount being £2,600.
Some 46 per cent of graduates had accumulated further debt since leaving university.
More than three quarters were now worried the Government might change the terms of loans they had taken out to make them pay back more.
Last week Universities Minister Jo Johnson issued an open letter to all students to quell concerns over higher education reforms, insisting they would "set you up for life."
But the idea that the eventual financial benefits of a university education will offset its rising cost were questioned in the NUS report.
Graduates' experiences in the labour market in the first six months after graduation were mixed and heavily dependent on the subject they studied and institution they went to, it found.
The study said three times more full-time working men, than women graduates were earning over £30,000, while double the number of women than men were earning less than £15,000.
Half of the graduates thought their degree was not worth the fees they paid, while six per cent would not have gone into higher education at all if they could go back.
A Department for Education spokesperson said: "Graduates continue to enjoy higher employment rates and an average £9,500 annual earnings premium compared to non-graduates.
"As the OECD has recognised, our student funding system is sustainable, supporting our world-class universities while ensuring graduates only pay back when they are earning above £21,000.
"We know there is still more to be done to address variability in graduate earnings – which is exactly why we are reforming the system through measures such as our Teaching Excellence Framework, which will incentivise all universities to raise the quality of their teaching and focus on improving graduate outcomes."
Learn more about investing for children with our free guide from Independent partner, Hargreaves Lansdown
Join our new commenting forum
Join thought-provoking conversations, follow other Independent readers and see their replies