Endometriosis: Women spend years in 'crippling pain' waiting for diagnosis, warns health watchdog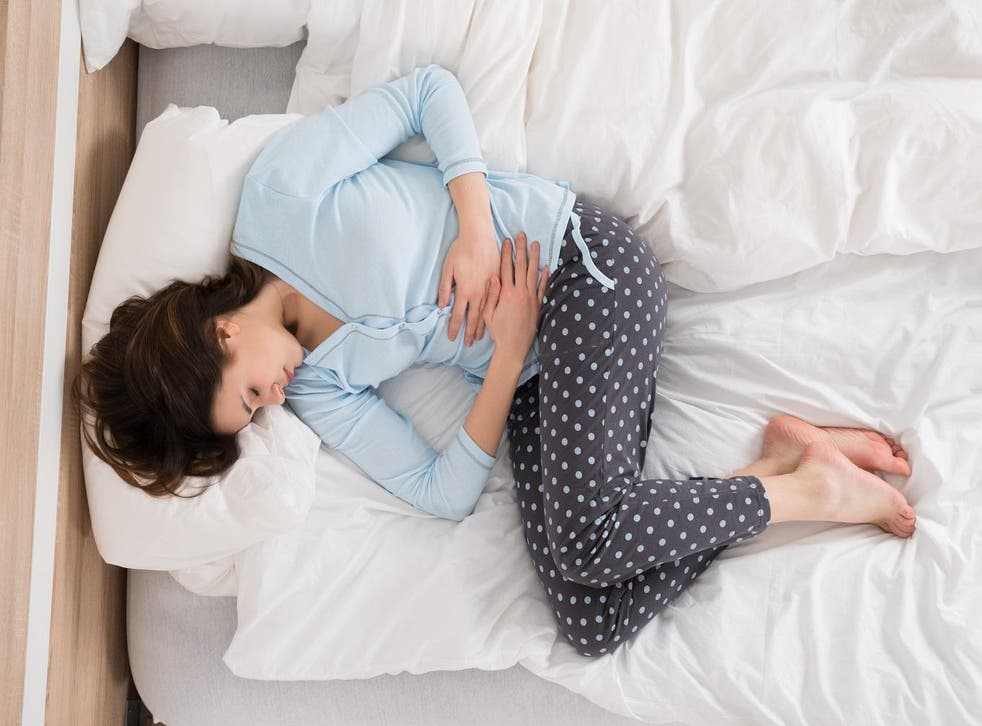 Women can spend years in crippling pain waiting for a diagnosis of endometriosis, a health watchdog has warned.
The National Institute for Health and Care Excellence (Nice) said women wait between four and 10 years after first seeing a doctor with symptoms of the condition, with an average of seven-and-a-half years.
It has issued new guidance to speed up diagnosis and is urging GPs not to overlook signs of the disorder.
Endometriosis affects an estimated one in 10 women of reproductive age, with 1.5 million women in the UK thought to be sufferers.
Symptoms include chronic pelvic pain, extremely painful periods that stop women taking part in normal activities, pain during or after sex and painful bowel movements.
Health news in pictures

Show all 40
Endometriosis occurs when tissue that behaves like the lining of the womb is found in other parts of the body.
This lining can start to cover the ovaries, fallopian tubes, parts of the stomach and bladder or bowel.
The condition can also affect fertility. High-profile sufferers include Strictly Come Dancing star Louise Redknapp, singer Halsey and actress Susan Sarandon.
In the new guidance, doctors are told to consider endometriosis in women reporting even just one symptom, such as pelvic pain or very painful periods.
It also suggests a number of ways of helping to diagnose the condition, such as ultrasound and keyhole surgery to look inside the body (laparoscopy).
The guidance says: "Delayed diagnosis is a significant problem for women with endometriosis.
"Patient self-help groups emphasise that healthcare professionals often do not recognise the importance of symptoms or consider endometriosis as a possibility.
"In addition, women can delay seeking help because of a perception that pelvic pain is normal.
"Delays of four to 10 years can occur between first reporting symptoms and confirming the diagnosis.
"Many women report that the delay in diagnosis leads to increased personal suffering, prolonged ill health and a disease state that is more difficult to treat."
The guidance warns that the possibility of endometriosis should not be excluded even if abdominal or pelvic examinations or ultrasound or MRI are normal.
GPs should also consider a three-month course of painkillers such as paracetamol or ibuprofen for pain and can advise women on taking the Pill to help relieve symptoms.
While there is no cure for endometriosis, surgery to remove excess tissue can help.
In March, the All Parliamentary Group on Women's Health said 40% of more than 2,600 women who gave evidence to it reported they had seen a doctor 10 times before being diagnosed.
Professor Mark Baker, director of the centre for guidelines at Nice, said: "Delayed diagnosis is a significant problem for many women with endometriosis leading them to years of unnecessary distress and suffering.
"The condition is difficult to diagnose as symptoms vary and are often unspecific.
"However, once it has been diagnosed, there are effective treatments available that can ease women's symptoms."
Emma Cox, chief executive of Endometriosis UK, said: "The new Nice guidance provides a welcome opportunity to raise the bar in endometriosis care by increasing awareness, and setting standards of skills, knowledge and experience for healthcare professionals."
Caroline Overton, chairwoman of the guideline committee and a consultant gynaecologist, said: "There is no cure for endometriosis, so helping affected women manage their symptoms is imperative."
PA
Register for free to continue reading
Registration is a free and easy way to support our truly independent journalism
By registering, you will also enjoy limited access to Premium articles, exclusive newsletters, commenting, and virtual events with our leading journalists
Already have an account? sign in
Register for free to continue reading
Registration is a free and easy way to support our truly independent journalism
By registering, you will also enjoy limited access to Premium articles, exclusive newsletters, commenting, and virtual events with our leading journalists
Already have an account? sign in
Join our new commenting forum
Join thought-provoking conversations, follow other Independent readers and see their replies