David Bowie to Carrie Fisher: All the celebrities who died in 2016
The year has been characterised by a long list of high-profile celebrity deaths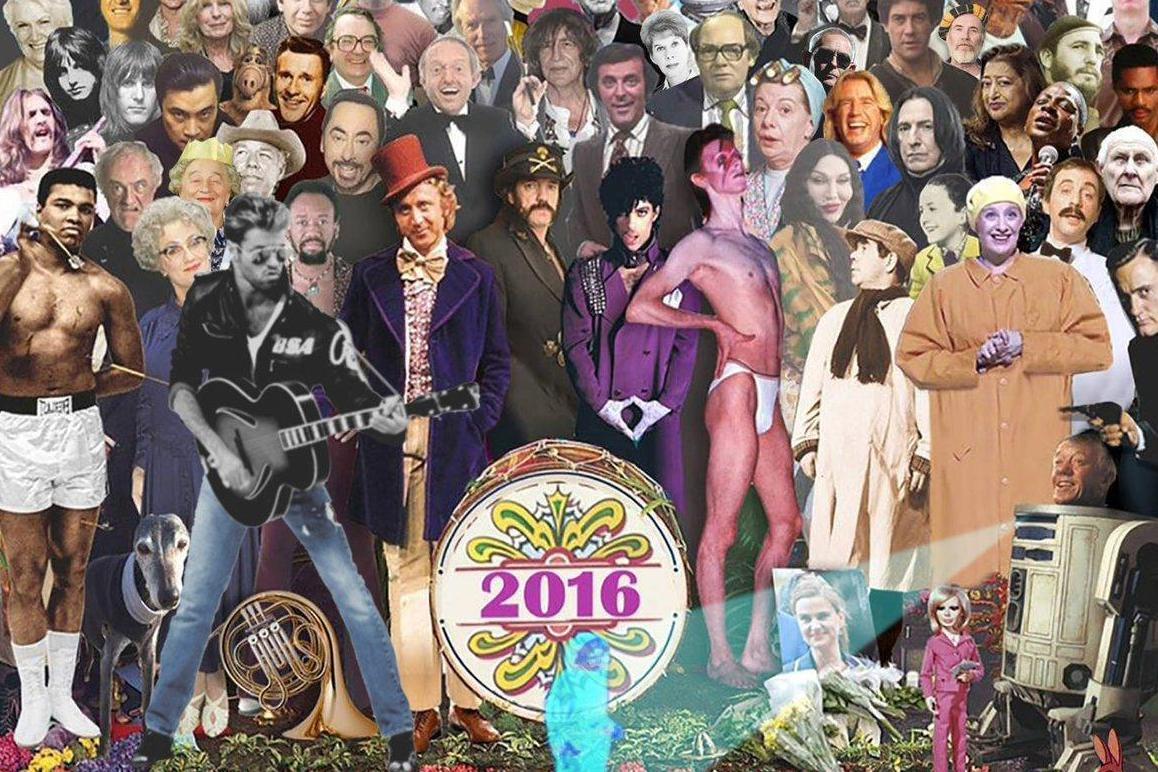 From David Bowie to Carrie Fisher, 2016 has seen the deaths of a long list of musicians, actors and celebrities.
The year has been characterised by a long list of high-profile celebrity deaths.
Here are some of the celebrities who died in 2016:
January
Pierre Boulez, died aged 90 on 5 January
Visionary composer and conductor Pierre Boulez died at his home after setting out to change the course of Western musical history.
Ed 'Stewpot' Stewart, died aged 74 on 9 January
Former BBC DJ and presenter Ed "Stewpot" Stewart died following a stroke in hospital in Bournemouth.
He served as one of Radio 1's first presenters, broadcasting from its launch in 1967.
All the deaths of beloved icons of 2016
David Bowie, died aged 69 on 10 January
Legendary pop musician David Bowie died surrounded by his family following a "courageous" 18-month battle with cancer, just two days after he released his 25th and final album '★' (Blackstar).
His unexpected death — he kept his illness secret — spurred thousands of fans to take to the streets in impromptu street party tributes.
Alan Rickman, died aged 69 on 14 January
Alan Rickman, the celebrated British film and stage actor best known for roles in Harry Potter, Robin Hood and Die Hard, died aged 69 after suffering from cancer, surrounded by family and friends.
Glenn Frey, died aged 67 on 18 January
Glenn Frey, the guitarist and founding member of The Eagles, died after succumbing to complications from rheumatoid arthritis, acute ulcerative colitis and pneumonia.
Terry Wogan, died aged 77 on 31 January
The death of veteran BBC broadcaster Terry Wogan was announced on-air in a statement by Bob Shennan, the controller of Radio 2, the station where Mr Wogan worked on-and-off since 1972.
Notable deaths in 2016
Show all 42
February
Maurice White, died aged 74 on 8 February
Maurice White, founder of one of the classic 1970s bands, Earth, Wind & Fire, died at his home in Los Angeles in his sleep.
Harper Lee, 89, died aged on 19 February
Harper Lee, celebrated author of To Kill A Mockingbird, died in her hometown in Alabama.
Her second book, Go Set A Watchman, was released last year.
Umberto Eco, died aged 84 on 19 February
Umberto Eco, Italian scholar, journalist and the author of The Name of the Rose, died after suffering from cancer.
Italian Prime Minister Matteo Renzi lead tributes, describing Eco as "an outstanding example of a European intellectual, a single intelligence with an untiring ability to anticipate the future". He said, "It's a huge loss for culture, which will miss his writing and his voice, sharp and vivid thought and his humanity."
George Kennedy, died aged 91 on 28 February
The star of the "Naked Gun" films and "Cool Hand Luke," George Kennedy died after suffering from deteriorating health for a little more than a year, ever since his wife Joan died.
Frank Kelly, died aged 77 on 28 February
Frank Kelly, the actor who played Father Jack in "Father Ted", will be particularly remembered the catchphrase of his rude, drunken and bellicose character: "Feck."
March
Tony Dyson, died aged 68 on 3 March
Tony Dyson was the animatronics expert behind one of the best known robotic film stars of all time, Star Wars's R2-D2.
Nancy Reagan, died aged 94 on 6 March
The former US first lady most famous for her "Just Say No" anti-drugs campaign died aged 94.
Sir George Martin, died aged 90 on 8 March
The "Fifth Beatle" and record producer died aged 90.
Beatles drummer Ringo Starr announced the news on Twitter, writing: "God bless George Martin peace and love to Judy and his family love Ringo and Barbara. George will be missed."
Keith Emerson, died aged 71 on 11 March
Keith Emerson, the co-founder of British prog-rock band Emerson, Lake & Palmer, died at his home in Santa Monica, California, aged 71.
Sylvia Anderson, died aged 88 on 15 March
Sylvia Anderson, voice of the The Thunderbirds' Lady Penelope, died aged 88 following a short illness.
Frank Sinatra Jr, died aged 72 on 16 March
The son of legendary singer Frank Sinatra died unexpectedly of cardiac arrest while on tour in Daytona Beach, Florida.
Paul Daniels, died aged 77 on 17 March
The magician Paul Daniels died weeks after it was announced he had been diagnosed with a brain tumour.
Britain's most famous magician, Daniels rose to international fame through his long-running BBC programme The Paul Daniels Magic Show, which ran from 1979 to 1994.
Cliff Michelmore, died aged 96 on 17 March
Cliff Michelmore, one of BBC television and radio's leading figures for decades, died aged 96.
Gary Shandling, died aged 66 on 24 March
Garry Shandling, the writer, actor and comedian who created The Larry Sanders Show, died at a hospital in Los Angeles aged 66.
His death is thought to have been sudden, and he was not known to have been suffering from any serious illness.
Johan Cruyff, died aged 68 on 24 March
Dutch footballing legend Johan Cruyff died in Barcelona after a "hard fought battle with cancer," a short statement on his official website read.
Denise Robertson, died aged 83 on 31 March
Denise Robertson, agony aunt on This Morning for over 30 years, died aged 83 after being diagnosed with pancreatic cancer.
Dame Zaha Hadid, died aged 65 on 31 March
Groundbreaking architect Dame Zaha Hadid died of a heartattack aged 65.
She is best known for designs such as the London Olympic Aquatic Centre and the Guanzhou Opera House.
Ronnie Corbett, died aged 85 on 31 March
Beloved entertainer Ronnie Corbett had been living with motor neurone disease before he passed away surrounded by his family aged 85.
Corbett is best remembered for appearing in comedic sketches such as "Fork Handles" in The Two Ronnies show alongside Ronnie Barker for 16 years.
April
Erik Bauersfeld, died aged 93 on 3 April
The actor who voiced fan favourite Star Wars character Admiral Ackbar died aged 93.
He spoke one of the most famous lines from the seven-film series: "It's a trap!"
Howard Marks, died aged 70 on 10 April
The former drugs smuggler known as "Mr Nice" died at the age of 70 after announcing he had inoperable bowel cancer last year.
David Gest, died aged 62 on 12 April
The entertainer David Gest died in unexplained circumstances at the Four Seasons hotel in Canary Wharf, London, at 62 years old.
Gareth Thomas, died aged 71 on 13 April
Welsh actor Gareth Thomas, star of the '70s BBC sci-fi series Blake's 7, died aged 71.
Victoria Wood, died aged 62 on 20 April
The five-time Bafta winning actress and comedian Victoria Wood died at her home after a short illness with cancer at 62.
Wood eventually established herself as one of the UK's most popular comedians in the 1980s with the BBC sketch show, Victoria Wood as Seen on TV, which featured Julie Walters.
She then wrote, produced and starred in Dinner Ladies in 1998, which won a number of awards including Best New TV Comedy at the 1999 British Comedy Awards.
Prince, died aged 57 on 21 April
The body of the celebrated musician – full name Prince Rogers Nelson – was found in a lift at his Paisley Park recording studio in Chanhassen, Minnesota.
Born in Minneapolis in June 1958, Prince grew up in a musical family: his mother sang in a local jazz band, which was led by his father. He was playing the piano by age seven, guitar and drums at 14, all without ever receiving lessons. His debut studio LP, 1978's For You, was not a huge commercial success, but he followed it up with his first hit single, "I Wanna Be Your Lover".
The subsequent, eponymous 1979 album Prince went to number four in the Billboard Soul LP charts. Drawing on a spectrum of musical influences, from funk to rock and from disco to jazz, Prince's instrumental talent, flamboyant stage presence and unabashed originality made him one of the most distinctive musicians of the past four decades.
May
Burt Kwouk, died aged 85 on 24 May
Pink Panther actor Burt Kwouk died age 85. He was best known for playing Inspector Clouseau's manservant Cato.
In a statement, his agent said: "Beloved actor Burt Kwouk has sadly passed peacefully away on 24 May. The family will be having a private funeral but there will be a memorial at a later date."
Carla Lane, died aged 87 on 31 May
Carla Lane, the television writer best known for her work on The Liver Birds and Bread, has died aged 87.
Lane, who was born Romana Barrack, became one of the best paid TV scriptwriters of her generation and was a household name during the seventies and eighties.
June
Muhammad Ali, died aged 74 on 3 June
Muhammad Ali, the most controversial boxer in the history of the sport, arguably the most gifted and certainly the best known, died of septic shock.
His ring glories and his life on the political and racial frontline combine to make him one of the most famous, infamous and discussed figures in modern history.
The three-time heavyweight champion of the world was much more than just a boxer. With his wit, eloquence and infectious bravado, he charmed the world and proved an inspiration to many. And, proving his courage was not just physical, he established himself as a significant figure in the civil rights movement.
Jo Cox, died aged 41 on 16 June
MP Jo Cox was tragically killed at the age of 41.
She made her mark as one of the brightest and best of the MPs elected for the first time at last year's general election.
She called repeatedly for Britain to do more to help the victims of Syria's civil war and staged Commons debates on the plight of refugees.
Anton Yelchin, died aged 27 on 19 June
Anton Yelchin, a gifted, rising actor best known for playing Chekov in the new Star Trek films, died at the age of 27.
He was killed in an accident as his Los Angeles home, his publicist said.
Yelchin started small with roles in indie films and various television shows, before breaking out in films like the crime thriller Alpha Dog and the teenage comedy Charlie Bartlett.
July
Caroline Aherne, died aged 52 on 2 July
The popular English comedian, who had cancer for a number of years, died at her home in Timperley in Greater Manchester.
Aherne was known for her role as Denise Royle in popular BBC comedy series The Royle Family, which she co-created. She also co-wrote ITV comedy drama The Fattest Man in Britain and provided the voiceover for Gogglebox between 2013 up until the months just before her death.
Aherne was born with a rare type of cancer in her retina which meant she was nearly blind in one eye. She later developed bladder cancer and was then diagnosed with lung cancer in 2014.
August
Kenny Baker, died aged 81 on 13 August
After beginning his life working as a circus clown - he was 3ft 8in tall - Kenny Baker became a household name in 1977 when he starred as R2-D2 in the first Star Wars film.
He would reprise the role five more times.
He died at 81 years old after becoming ill with cancer.
Gene Wilder, died aged 83 on 28 August
Gene Wilder, the star of Willy Wonka & The Chocolate Factory and Mel Brooks comedies, died late Sunday night, his family announced. He was 83.
Wilder passed away at his Samford, Connecticut home after suffering complications from Alzheimer's disease, his nephew Jordan Walker-Pearlman said in a statement. Wilder and his loved ones chose to keep his diagnosis within the family.
"It is with indescribable sadness and blues, but with spiritual gratitude for the life lived that I announce the passing of husband, parent, and universal artist Gene Wilder," Mr Walker-Pearlman said on Monday. "It is almost unbearable for us to contemplate our life without him."
September
Prince Buster, died aged 78 on 8 September
Ska pioneer Prince Buster died at the age of 78.
Arnold Palmer, died aged 87 on 25 September
Arnold Palmer, known as one of the greatest golfers in history, died at 87.
Palmer enjoyed a decade-long career winning four Masters and was named the Athlete of the Decade by The Associated Press for the 1960s.
He's credited for pushing the sport of golf into the mainstream and toward international audiences.
Shimon Peres, died aged 93 on 28 September
Former Israeli President and Prime Minister Shimon Peres, a founding father of the country celebrated around the world as a visionary for peace, has died at the age of 93.
US President Barack Obama led tributes to the Israeli statesman, whom he described as a friend and the "essence of Israel itself," saying: "A light has gone out, but the hope he gave us will burn forever".
October
Jean Alexander, died aged 90 on 14 October
Coronation street actress Jean Alexander, best known for playing Hilda Ogden, died at the age of 90.
She also played Auntie Wainwright in Last of the Summer Wine.
Sonia Hearld, Alexander's niece paid tribute to her aunt and said she had continued to enjoy a celebrity status long after her stints on the famous cobbled Street and the long-running sitcom Last Of The Summer Wine.
"People used to stop her just to say hello and how much they missed her," Mrs Hearld said.
"She was always very good to her fans - she said 'they put me where I am'."
Pete Burns, died aged 57 on 23 October
Singer and TV personality Pete Burns died of a "massive cardiac arrest" according to a post on his official page.
Burns became famous for his work with the band Dead or Alive, and particularly the song "You Spin Me Round". Later he would go on to be a part of Celebrity Big Brother and became known for his frequent cosmetic surgery.
November
Leonard Cohen, died aged 82 on 7 November
The influential Canadian singer and songwriter Leonard Cohen's career spanned five decades, a month before his death he released his fourteenth studio album.
Although he influenced many musicians and won many honours, including induction into the Rock & Roll Hall of Fame and the Order of Canada, Mr Cohen rarely made the pop music charts with his dark brand of folk-rock.
His most famous song, "Hallelujah," in which he invoked the biblical King David and drew parallels between physical love and a desire for spiritual connection, has been covered hundreds of times since he released it in 1984.
Sir Jimmy Young, died aged 95 on 7 November
Long-time Radio Two disc jockey and former singer, Sir Jimmy Young, died aged 95.
Sir Jimmy was one of the first Radio One DJs when the channel was launched in 1967 after working on pirate radio station Radio Luxembourg.
He joined Radio Two in 1973 presenting an early afternoon slot until his retirement in December 2002.
The Queen was said to be one of his millions of fans who tuned in to his show on BBC Radio 2.
Robert Vaughn, died aged 83 on 11 November
Robert Vaughn died aged 83 after a short battle with acute leukaemia.
The actor, best known for his roles in Man From UNCLE and Superman III, died 11 days before his 84th birthday with his family by his bedside, according to his manager, Matthew Sullivan.
Leon Russell, died aged 74 on 13 November
American musician and songwriter Leon Russell, best known for the songs "Shine a Light" and "A Song for You" died at the age of 74.
"His wife said that he passed away in his sleep," a statement posted on Russell's website read.
The artist, who performed his gospel-inflenced southern boogie piano rock, blues, and country music for over five decades, was inducted into both the Rock and Roll Hall Of Fame and the Songwriter's Hall of Fame in 2011.
Sharon Jones, died aged 60 on 18 November
The soul singer Sharon Jones died at the age of 60, a statement on her website said she passed away in a New York hospital after a "heroic battle against pancreatic cancer".
Jones was first diagnosed with cancer in 2013 but returned to the stage in 2015 when her cancer went into remission. She toured with the group as recently as this summer while undergoing chemotherapy.
Craig Gill, died aged 44 on 20 November
Inspiral Carpets drummer Craig Gill died aged 44.
The Manchester band said they were "absolutely devastated" by the loss of "our brother".
Andrew Sachs, died aged 86 on 23 November
Fauwlty Towers star Andrew Sachs died at the age of 86 following a four-year battle with dementia.
The actor, who was best known for his portrayal of put-upon Spanish waiter Manuel in the 1970s sitcom, died in a care home last week and was buried on Thursday.
His wife of 56 years who cared for him in his later years, Melody said he had first been diagnosed with dementia in 2012 but had continued to work for a further two years before his illness became too much.
She revealed she had suffered from acute stress while caring for him and was briefly admitted to hospital but said they remained happily married until the end.
Fidel Castro, died aged 90 on 25 November
Former Cuban president Fidel Castro dies
Former President Fidel Castro, who led a rebel army to improbable victory in Cuba, embraced Soviet-style communism and defied the power of 10 US presidents during his half century rule, died aged 90.
With a shaking voice, President Raul Castro said on state television that his older brother died, ending the announcement by shouting the revolutionary slogan: "Towards victory, always!"
Castro's reign over the island-nation 90 miles from Florida was marked by the US-backed Bay of Pigs invasion in 1961 and the Cuban Missile Crisis a year later that brought the world to the brink of nuclear war. The bearded revolutionary, who survived a crippling US trade embargo as well as dozens, possibly hundreds, of assassination plots, died eight years after ill health forced him to formally hand power over to Raul.
He overcame imprisonment at the hands of dictator Fulgencio Batista, exile in Mexico and a disastrous start to his rebellion before triumphantly riding into Havana in January 1959 to become, at age 32, as the youngest leader in Latin America. For decades, he served as an inspiration and source of support to revolutionaries from Latin America to Africa.
December
Peter Vaughan, died aged 93 on 6 December
The Game of Thrones and Porridge actor Peter Vaughan died aged 93.
His agent confirmed his death in a statement, saying: "This is to confirm, very sadly, Peter Vaughan passed away at approximately 10.30 this morning. He died peacefully with his family around him."
Vaughan was best known for playing Harry "Grouty" Grout in Porridge and, more recently, Maester Aemon in the hit HBO series Game of Thrones.
Ian McCaskill, died aged 87 on 7 December
Former BBC weather forecaster Ian McCaskill, who had been living with dementia, died aged 78.
Known for his Scottish accent, Mr McCaskill presented the weather on the BBC from 1978 to 1998.
The Glasgow-born star then retired and appeared on several TV shows, including Celebrity Fit Club in 2002.
Greg Lake, died aged 69 on 7 December
Greg Lake, the guitarist of King Crimson, passed away at the age of 69.
Considered a progressive rock pioneer, the British musician - who also fronted Emerson, Lake and Palmer - is also renowned for his solo work, the most popular track being Christmas song "I Believe in Father Christmas" which fans are sharing in tribute.
John Glenn, died aged 95 on 8 December
John Glenn, the American space pioneer and former US senator, died aged 95 years old.
He is survived by his wife of 73 years, Annie.
Glenn entered the annals of the great explorers when he became the first American to orbit the Earth in 1962, a moment of glory for US space exploration.
He was part of the first team of pilots, the Mercury Seven, to take part in the experimental programme as the country embarked on a frenzied race against the Soviet Union to escape the Earth's atmosphere.
Zsa Zsa Gabor, died aged 99 on 18 December
Zsa Zsa Gabor spent over 62 years acting on both film and television.
She was perhaps most well known for being married nine times to rich businessmen and actors, most notably Conrad Hilton, the founder of the Hilton hotel chain.
The Hungarian-born actress died following a heart attack at her home, her publicist Ed Lozzi announced.
Born Sari Gabor in Budapest in 1917 - she quickly given the nickname Zsa Zsa by her family.
Zsa Zsa made her Hollywood film debut in 1952 in Lovely to Look At with one of her few leading roles in Moulin Rouge directed by John Huston.
She made 70 appearances in film starting her acting career in 1934 only ending in 1996.
George Michael, died aged 53 on 25 December
Pop superstar George Michael died at the age of 53 from a suspected heart failure.
The singer songwriter, who was set to release a documentary in 2017, passed away peacefully at home.
Michael rose to fame as a member of Wham!, who are known for their hits Club Tropicana and Last Christmas.
The star whose real name is Georgios Kyriacos Panayiotou, sold more than 100 million albums throughout a career which spanned almost four decades.
Richard Adams, died aged 96 on 27 December
The author of Watership Down Richard Adams died at the age of 96.
A statement on the book's official website said: "Richard's much-loved family announce with sadness that their dear father, grandfather, and great-grandfather passed away peacefully at 10pm on Christmas Eve."
Born in 1920, Adams rose to prominence for the iconic adventure novel which follows a group of rabbits who escape the destruction of their warren. The 1972 novel was the English novelist's first book and won numerous book awards despite being initially rejected by several publishers before Collings accepted it. It was adapted into a 1978 animated film.
Adams, from Newbury in Berkshire, is also known for writing Shardik and The Plague Dogs.
Carrie Fisher, died aged 60 on 27 December
Actor Carrie Fisher died after suffering a heart attack on a flight from London to Los Angeles on Friday.
She had visited the UK to promote her new memoir, The Princess Diarist.
Fisher became a household name overnight after appearing as Princess Leia in the first Star Wars film at the age of just 19.
Two more Star Wars films followed and she then appeared in last year's sequel, The Force Awakens.
But she also became known as an accomplished writer, particularly for her memoirs.
Debbie Reynolds, died aged 84 on 28 December
Carrie Fisher's mother, the actress Debbie Reynolds, died at the age of 84 a day after her daughter.
Reynolds was a leading lady in Hollywood musicals and comedies in the 1950s and 1960s, starring in Singin' in the Rain.
"She wanted to be with Carrie," her son Todd Fisher said. "She's now with Carrie and we're all heartbroken."
The pair were reportedly planning Fisher's funeral when Reynolds was taken ill at her son's home in Beverley Hills, California.
The image at the top of this article was produced by artist Chris Barker, who has set up a gofundme page for the Jo Cox memorial fund
Join our commenting forum
Join thought-provoking conversations, follow other Independent readers and see their replies