David Threlfall interview: The actor takes a forensic approach in Code of a Killer as he leaves Shameless's Frank Gallagher behind
'Shameless' may have defined him, but David Threlfall is a chameleonic graduate from the school of Mike Leigh. Gerard Gilbert meets him on the eve of his latest leading role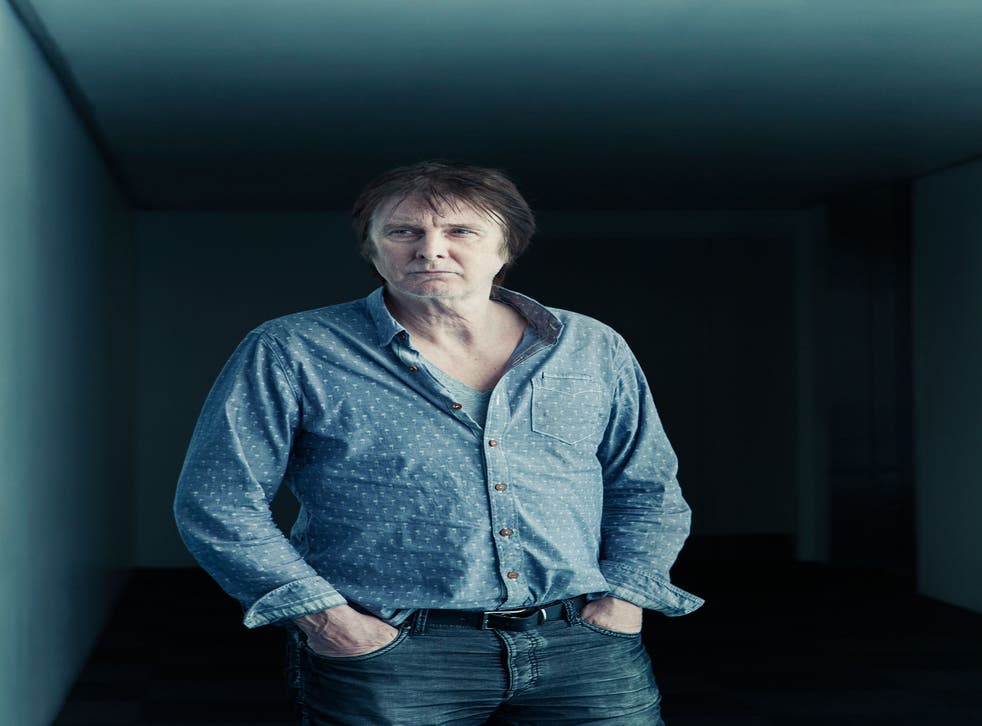 Actor David Threlfall, who is not to be confused with actor David Thewlis ("Ask him about Anna Friel," suggested one of my colleagues), doesn't grant many press interviews. That sense that he might be prickly with journalists, as well as the over-riding image of Threlfall as Shameless's lank-haired, permanently-caked, poet-of-the gutter Frank Gallagher, made me somewhat apprehensive about trundling along to ask him a load of personal questions – and didn't prepare me for the good-humoured man sitting in ITV's London offices. Mind you, it was a sunny Friday morning in early spring, enough to make anyone feel cheerful.
"Yes, I'm in decent fettle, really," says Threlfall, before adding with a mocking lilt. "Especially for The Independent." Does he mistrust journalists? "No, it's not that; it's more about having to listen to myself banging on," he says. "I don't think I've got anything interesting to say." Which is interesting enough in itself, you might think.
"I'm not sort of faux about that," he continues. "I just think there's so much that is trite around the business. I'm an accessible-enough chap, but I'm not really interested in people knowing my opinions and I certainly don't subscribe to Twitter or Facebook as a method of communicating."
Part of that may be to do with his age (Threlfall turned 61 last October), but an ever larger part stems from his desire to let his work speak for itself. "I always think that if people know your proclivities and your views about things, they might be less inclined to tune in, or come and see you in the theatre, or whatever. I just like to get on and do what I do."
Best new crime dramas

Show all 6
And what he's been doing recently is impersonating a police officer – Detective Chief Superintendent David Baker, the real head of CID with Leicestershire police in the 1980s, who was charged with finding the killer of two local teenage girls, Lynda Mann and Dawn Ashworth. The new two-part ITV drama, Code of a Killer, shows how Baker made the bold decision to join forces with Alec Jeffreys of the University of Leicester, who had recently developed DNA profiling. In the first ever use of this revolutionary technique in a criminal investigation, 5,000 local men were asked to volunteer blood and saliva samples and, in the process, 17-year-old Richard Buckland, who had confessed to Ashworth's murder, was found to be innocent, while the real culprit, Colin Pitchfork, was nabbed.
Threlfall met Baker in preparation for the role. "He was very kind and open and accessible – to the point – and not falsely modest but monosyllabic when he needed," he says, before adding mysteriously: "And things passed between us about the case and the job which obviously are off-the-record and confidential."
Code of a Killer is another fine example of Threlfall disappearing into a role, a technique he likens to Michelangelo chipping into a lump of marble to create a statue – albeit with an acute sense of how pretentious he might sound ("Let me not put myself up there with Michelangelo," he says, with what I am discovering is a characteristically ornate turn of phrase).
"The first thing I had to acquire was that Leicestershire accent, so I called a very fine dialect coach, Penny Dyer, who helped me with Tommy [last year's biopic Tommy Cooper: Not Like That, Like This] and Prince Charles [he played the heir to the throne in 1993's Diana: Her True Story]. A Leicestershire accent is interesting because it's not Brummie," Threlfall continues, illustrating his oft-remarked-upon attention to detail. "It's off to the right of the motorway, sort of, as an accent. Anyway, that's the surface thing to study, as well as the mind-set – the day-to-day things of being a policeman."
Threlfall mentions Tommy Cooper several times during the interview, and he's obviously (and justly) proud of the way he transformed himself into the lumbering comedian. Eyebrows were raised at the news of his casting, but those that know Threlfall for more than just his career-defining role in Shameless, understand just how talented and chameleon-like he can be. Dominic Dromgoole, who directed him, in 2005, in Frank McGuinness's play Someone Who'll Watch Over Me, described Threlfall as "the new Alec Guinness... he's a funny mixture of a star and a character actor".
"OK... I'll take that," says Threlfall. "But if I'm doing something, whether it's Tommy or whether it's David in Code of a Killer, I am the guardian of the reality keys. I think I drive directors nuts." Funny he should say that because Trevor Nunn, who directed Threlfall in the breakthrough role of Smike in the legendary eight-and-a-half-hour RSC production of The Life & Adventures of Nicholas Nickleby, and which transferred to Broadway (where Threlfall was nominated for a Tony award), called the actor "a bit of a handful". What did Nunn mean by that?
"You'll have to ask Trevor. I don't know. Maybe it's just because I'm curious," says Threlfall. "A bit of a handful... mmm... I don't know... I don't think he means it badly because he's a good, old friend; I was with him at Christmas, in fact. I think he means it affectionately, otherwise I wouldn't be invited round. I know Mike Leigh said I'm a surrealist – which is rich coming from him."
Threlfall was born in Burnage, Manchester, in 1953. His father, Tommy, a builder, hoped that young David would join the family trade, but Threfall was smitten with acting after being taken on theatre visits by two particularly inspirational teachers (he is still in touch with them both), and appearing in a school production of Arthur Miller's The Crucible. "But I didn't think about it as a career, because I was ready to go to art school," he says.
However, he dropped out of his art course at Sheffield Hallam University after one year. "Then there was a possibility that I could have started a rubbish removal business with my friend Kim," he says. "But I just remember saying to mum and dad, 'I can't do this; I need to give this acting thing a go'. And I set about trying to find out how to translate watching things on television... how do I get from here to there. I had no idea how you do it."
The answer turned out to be three years at Manchester Polytechnic (now Manchester Metropolitan University) theatre school, after which he fell straight into the lap of Mike Leigh, as I put it to him. "Straight into the lap of Mike Leigh, which is a lovely image," says Threlfall, who played bashful mortician's assistant Trevor in Leigh's 1977 television play Kiss of Death – a drama that Leigh has often cited as one of his favourites. Further work with the Hull Truck Theatre Company led eventually to the RSC, the aforementioned role of Smike in David Edgar's adaptation of Charles Dickens' Nicholas Nickleby. The following year he played Edgar to Laurence Olivier's King Lear on Granada TV.
"Larry – because he liked us to call him Larry – was the first person I met on the first day of production," says Threlfall. "We were out one night eating in the Midland Hotel in Manchester – Noël Coward liked to eat there – and I took great delight in walking in in my Wrangler jacket. You see these eyes come towards you... 'Can I help you sir?' 'Yup, Lord Olivier's table please...'
"We had several evenings of a convivial nature... I took the time to ask him things, and I kept in touch with him. When I did Hamlet at Elsinore, I wrote to him to say I was going to do it, and he said he had great memories of it; somewhere I've still got some letters from him which is very nice."
Which anecdote brings us to the hot topic of social mobility, or the lack of it, and the way that acting is said to be becoming a predominantly middle-class profession. Does Threlfall agree with fellow working-class Mancunian Christopher Eccleston, who recently doubted whether a would-be thespian of his background would have the same opportunities today?
"I think it's just a phase," says Threlfall. "If we were sat in 1958 with George Devine and Look Back in Anger you'd say, 'Oh, it's all gone working class'. Pshh. The point surely about the arts and acting is that it should come from anywhere; if you can get over Brian Sewell's way of talking, he's got some very straightforward things to say about art. You shouldn't pillory him for that. If acting's good, it's good whatever it is. For me, anyway, it's a great leveller.
"There's no question that Eddie Redmayne was good and worth a prize there. It [The Theory of Everything] was the best film apart from the dreadful omission of not nominating Selma and David Oyelowo. And I think Idris Elba is the best thing to come out of this country in ages. So there we have an upper-class – so called – person, and a black actor, and you have another black actor. I've just been reading something this morning where they're going to do a production in Sheffield of Jane Austen, and by God they've got black people in the cast – I mean great – they're taking a view on it."
Threlfall's own career slowly ground to a halt with the turn of the millennium. "Two years before Shameless I couldn't give it away," he says. Paul Abbott's ground-breaking underclass saga lasted for 11 seasons, and tends to over-shadow the fine work that went before. Does he mind? "It doesn't annoy me because I honestly did not spend much time thinking about it. I was aware in those years on Shameless that there were casting directors and producers who would have come into the business [after Shameless] and think perhaps that's what I do. But there were sufficient people who knew I had done other stuff and that there was a bit of reach in what I do."
Did he end up, after playing him for so long, in a schizophrenic relationship with Frank Gallagher? "Only when I was directing," he says, addressing, without my asking, a widespread criticism that the show dragged on for too long. "I stayed with it because I enjoyed it," he says. Was he sad or relieved when Channel 4 finally decided to call it a day? "No, something else really; the best antidote was that I'd finished directing what turned out to be the last episode on the Saturday and on Monday I was on the set of What Remains. So that kind of took care of that, really."
Tony Basgallop's BBC1 drama What Remains was a portent of the fine things to come – a refreshingly original tale in which Threlfall was cast against Shameless-type as a detective investigating the death of a young woman whose body had remained unnoticed in the attic of a boarding house for two years. His Tommy Cooper biopic followed, as well as a Jude Law maritime thriller, Black Sea, and then Tony Jordan's BBC1 bible story The Ark, which airs on Monday, with Threlfall as a gruffly northern Noah. For now, he's taking a holiday, going to Manchester City games with his aforementioned friend Kim – the one with whom he nearly started a rubbish removal firm – and spending time with his wife, the Serbian actress Brana Bajic, and their two children (a definite no-go area for an interviewer).
Threlfall isn't one of those City supporters who feels nostalgic for the days of yo-yoing between the divisions ("No, I'd take this any time," he says. "Of course Chelsea throw brickbats at us, but let's not forget that Chelsea bought their first title") and the club provides him with his parting metaphor when I ask him whether he preferred playing Prince Philip or Prince Charles (he has done both). "I prefer to work," he says. "As long as something's got a challenge I don't mind – it's why I've been a City supporter all my life".
'Code of a Killer' begins at 9pm on Sunday 5 April on ITV
Join our new commenting forum
Join thought-provoking conversations, follow other Independent readers and see their replies