Neo-Nazi propagandist jailed for encouraging terror attacks
Luke Hunter's prolific online presence made him an 'internationally recognised voice in the international extreme right'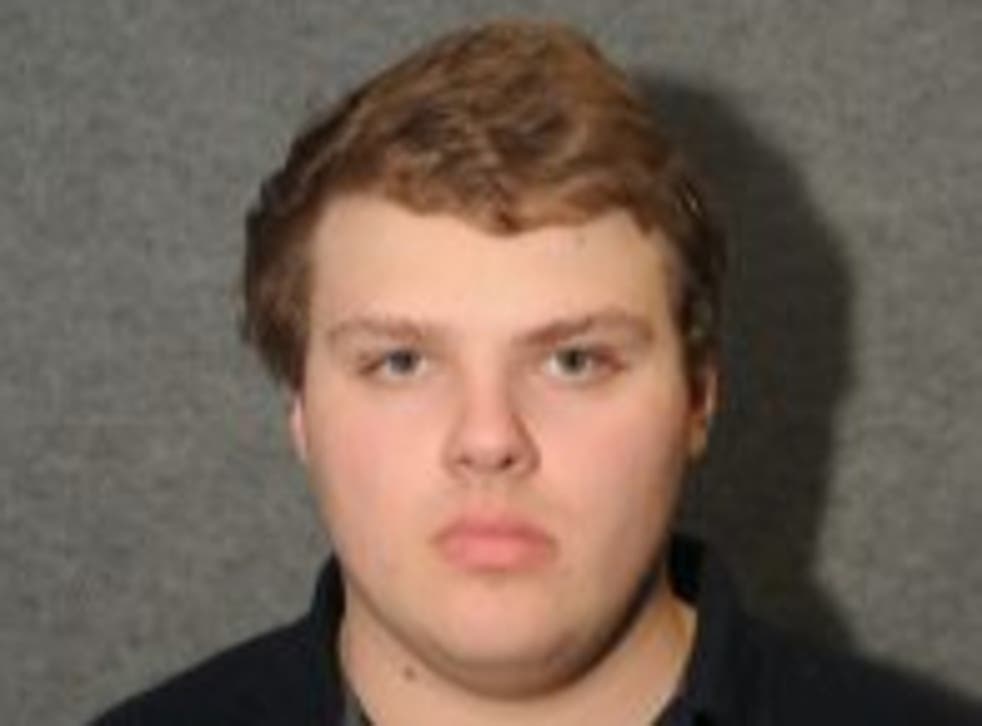 A neo-Nazi propagandist has been jailed for encouraging terror attacks and broadcasting violent material around the world.
Luke Hunter used websites, podcasts, posters, videos and accounts on Twitter, YouTube, Instagram, Telegram and Discord to spread his hate.
The 23-year-old, from Newcastle, celebrated far-right terrorists including the Christchurch shooter Brenton Tarrant, Jo Cox's killer Thomas Mair and bomber David Copeland.
Hunter, whose father is a former Metropolitan Police counter-terrorism officer, used his channels to support terrorist groups such as National Action, Feuerkrieg Division (FKD) and Atomwaffen Division, and hosted discussions on how best to carry out attacks.
The defendant, who was diagnosed with autism as a teenager, was jailed for four years and two months at Leeds Crown Court on Wednesday.
He had admitted seven charges of encouraging terrorism and disseminating terrorist publications, after being arrested in October 2019.
The offences related to posts on Telegram encouraging the killing of Jews, non-whites and gay people, as well as communications with the leader of FKD, who was a 13-year-old boy.
Hunter had also shared a video of the Christchurch shooting, where the attacker filmed himself massacring 51 people at mosques in New Zealand, and footage celebrating Copeland.
Detective Chief Superintendent Martin Snowden, the head of Counter Terrorism Policing North East, called Hunter a "threat to our society" through his mindset and recruitment efforts.
"Hunter invested a lot of effort in maintaining his website, his online presence and his status among like-minded individuals. He saw himself as an influencer and even sought to widen his following by speaking at a right wing conference in the UK," he added.
"These actions are not simply the result of a young person simply seeking to explore and express their social or political views. Hunter promoted neo-Nazism to the widest possible audience and was reckless about the consequences."
Searches of Hunter's home address in High Callerton revealed what police called "an obsession with Hitler and neo-Nazism".
They seized a large number of white supremacist texts, military training manuals and guides on surveillance, guerrilla warfare, weapons and explosives, alongside Nazi memorabilia and a machete.
Hunter's media devices were found to contain thousands of extremist documents, videos and audio files, as well as the manifestos of previous mass murderers and recordings of Hunter expressing "deeply disturbing views".
Police said he had a "significant online reach" particularly among young people, with more than 1,200 subscribers to his Telegram channel alone.
Investigators said he was "instrumental" in gathering followers for FKD, which had not been banned as a terrorist group at the time, by amplifying its propaganda.
Counter-extremism group Hope Not Hate said that by the time of his arrest, Hunter had become a "recognised voice in the international extreme right".
He is believed to have started as a supporter of the American alt-right, backing Donald Trump in 2016 and wearing a MAGA hat and swastika necklace to his college the following year.
He soon joined the neo-Nazi Iron March forum, extremist chats on the Discord app and became increasingly extreme, voicing violent and sexual racist fantasies.
In March 2018, Hunter launched his podcast, and later hosted National Action co-founder Alex Davies.
The pair encouraged listeners to send supportive letters and money to jailed far-right terror plotters, Hope Not Hate said.
Later that year, Hunter attended a conference held by the Traditional Britain Group in London, which was addressed by disgraced TV personality Katie Hopkins.
Hope Not Hate said he appeared to enter a "dark spiral" last year, embracing a mystical form of Nazism and discussing the need to prepare for societal collapse.
"The eradication of Jews is a moral and racial duty," he wrote. "The final solution is the final solution."
Hunter started issuing increasingly violent videos and propaganda, writing "KILL JEWS" 29 times in a private Telegram channel where members discussed terror attack methods and having "squads" of gunmen.
Researchers said Hunter had operated under online pseudonyms but they passed his true identity to police shortly before his arrest because of the "worrying changes in his behaviour".
They said Hunter was representative of a new generation of far-right extremists, who operate in "a decentralised collective of anonymous activists working towards similar goals" online rather than as formal members of groups.
"Hunter himself is not known to have been a member of an organisation in any traditional sense; rather he is a talented but deeply disturbed propagandist operating on poorly-moderated messaging apps and livestreamed videos," Hope Not Hate said.
"Hunter's output offers a disturbing insight into the new wave of terror-advocating extremists, and the paths through which young people can be radicalised online."
Register for free to continue reading
Registration is a free and easy way to support our truly independent journalism
By registering, you will also enjoy limited access to Premium articles, exclusive newsletters, commenting, and virtual events with our leading journalists
Already have an account? sign in
Register for free to continue reading
Registration is a free and easy way to support our truly independent journalism
By registering, you will also enjoy limited access to Premium articles, exclusive newsletters, commenting, and virtual events with our leading journalists
Already have an account? sign in