One in six care homes for elderly at risk of failure as sector is 'pushed to brink', research shows
Rising costs and funding cuts are causing problems for those who look after elderly pensioners, accountants report
May Bulman
Monday 14 August 2017 00:01 Comments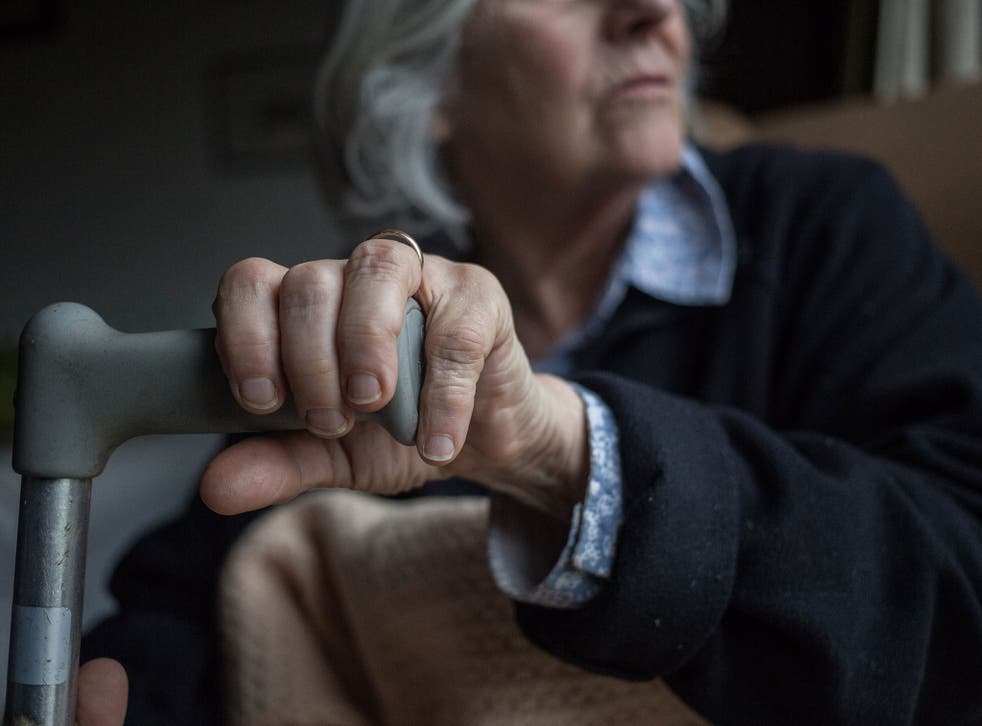 One in six care homes in the UK are showing signs they are at risk of failure, new research has revealed amid complaints about a lack of Government funding.
The percentage of nursing homes displaying the hallmarks of financial distress increased by about 5 per cent compared with the previous year, with the combination of rising costs, cuts to funding and an ageing population pushing businesses in the sector "back to the brink", according to accountancy firm Moore Stephens.
Analysis of data from a survey of 7,497 companies by the firm revealed that in the year to February 2017, 16 per cent of care home companies were financially stressed and exhibiting signs that they were at risk of failure, compared with 12 per cent the previous year.
The findings have prompted experts and opposition politicians to accuse the Tories of "repeatedly ignoring warnings" of an impending "crisis" in the sector, with calls for Health Secretary Jeremy Hunt to "wake up" and provide more adequate funding.
Moore Stephens said one of the drivers of the rise had been the increase in the National Living Wage to £7.50 an hour in April this year. It is due to increase to £9 an hour by 2020.
Added to this is the difficulty in retaining and recruiting skilled staff, which has led to growing use of agency personnel and therefore higher costs. Figures show that this has led to staff costs in care homes reaching an estimated all-time high of 55 per cent of turnover.
A "persistent" lack of funding from local authorities to the sector has added to these pressures, the firm said, with councils having been forced to make cuts in their social care budgets despite the rising demand.
The Association of Directors of Adult Social Services (Adass) recently revealed that English councils planned to make £824m of savings in their social care budgets in 2017/18, despite an extra £2bn over the next three years in social care funding being promised by the Chancellor in the March budget.
The latest figures come after it emerged last month that one in four pensioners who are entitled to free care – amounting to 48,400 elderly people – were being wrongly charged fees of up to £100 a week to subsidise gaps in care home funding from councils, according to a report by charity Age UK.
There have also been concerns over poor conditions in care homes, with consumer watchdog Healthwatch England recently warning that too many homes are under so much pressure that they are not "getting the basics right every time", leading to elderly people being dressed in each other's clothes and living among dead plants and rotting window sills.
Barbara Keeley MP, Labour's Shadow Social Care Minister, said in response to the findings: "Tory Ministers have repeatedly ignored warnings that under-funding is causing a crisis in the care sector and now one in six care homes are under threat.
"This lack of funding damages the quality and safety of care and makes the care sector fragile and more prone to risk of failure.
"It is time Jeremy Hunt finally woke up to this deepening crisis in care and the Chancellor committed to the £1bn of extra funding needed to stabilise the care sector and fund a decent living wage for care staff."
Lee Causer, a restructuring partner at Moore Stephens, warned that too many businesses in the care home sector were "heading back to the brink" with the combination of rising costs, cuts in funding and an ageing population creating a "volatile" situation, leading to many companies showing signs of significant financial stress.
He said that staffing levels weren't high enough, saying: "Due to the ageing population, extra staff are needed at care homes in order to keep up with the demand, but many care homes just don't have the budget for extra staff.
"This has made it increasingly difficult for care home companies to offer a high standard of care – while remaining solvent.
"Concerns have also been raised that private care home providers unable to make a profit will hand back contracts to local authorities. It's critical that care home companies receive the funding they require in order to offer the highest standard of care possible.
UK news in pictures

Show all 50
"Commentators have also speculated that the debate over the post-Brexit free market of labour has already reduced the number of EU staff willing to relocate to the UK to work in the sector."
A study seen exclusively by The Independent earlier this year revealed that elderly and disabled people could "slide back" into nursing homes if Brexit restricts the numbers of care staff coming from the EU, which would increase demand further.
A Department of Health spokesperson said: "Everyone deserves to receive high-quality care in older age – that is why we have introduced tougher inspections of care services to drive up standards, provided an additional £2bn for social care, and have committed to consult on the future of social care to ensure sustainability in the long term."
Register for free to continue reading
Registration is a free and easy way to support our truly independent journalism
By registering, you will also enjoy limited access to Premium articles, exclusive newsletters, commenting, and virtual events with our leading journalists
Already have an account? sign in
Join our new commenting forum
Join thought-provoking conversations, follow other Independent readers and see their replies