More than 100 child refugees missing in UK after being smuggled from Calais
Exclusive: At least 104 unaccompanied minors known to have crossed illegally in past year remain unaccounted for, amid growing concerns of opportunistic child exploitation by smugglers in Britain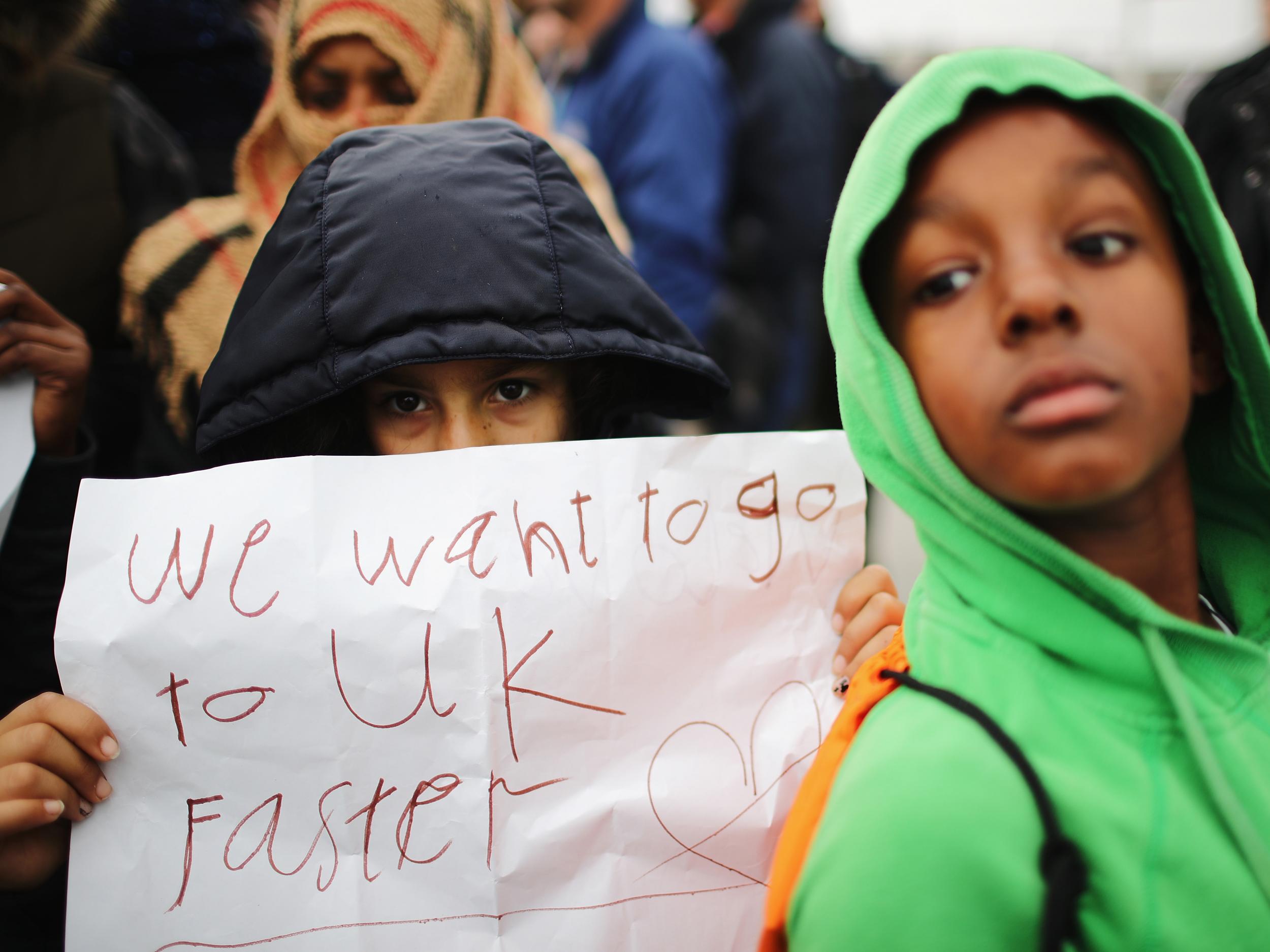 Scores of child refugees as young as 13 have gone missing in the UK over the past year after being brought to the country by people smugglers operating in Calais, The Independent has learnt.
More than 100 unaccompanied minors known to have crossed from northern France via unauthorised routes since last August remain unaccounted for by British authorities. Of 167 children referred to UK agencies as potential victims of human trafficking after making the crossing, 104 are missing.
The true figure is estimated to be far higher – possibly in the hundreds – with many unaccompanied minors said to be "hidden" from child protection agencies in both France and the UK, often ordered by traffickers not to engage with authorities.
Charities and campaigners have warned that missing youngsters are at risk of sexual and labour exploitation by trafficking and smuggling gangs, with adults ordering them to fulfil demands in order to pay the sum for their facilitated crossing, thought to be in the region of £9,000.
It comes as the Scottish and Welsh governments accused the UK immigration minister of a "lack of planning" in the resettlement of unaccompanied minors through the Dubs scheme, saying "more need to be included" to avoid children being left without "safe and legal options" and at greater risk of being trafficked.
The Independent heard of one case in which a boy was referred to UK agencies following his unauthorised arrival from Calais, and found to be living with his "uncle". But authorities later discovered following a home assessment that he was not living with his uncle but among dangerous adults and ensured he was removed immediately.
Tory MP Pauline Latham says people should 'stop being so sentimental' about child refugees
Another child told a charity in Calais that an adult man had told him if he does some "work" he would be "taken to the UK". In another case, an 11-year-old boy who is now documented in the UK was discovered to be addicted to heroin after having been "looked after" by a group of men during his time in northern France.
The figures were provided to The Independent by the Refugee Youth Service (RYS), a Calais-based charity that keeps records of children known to have reached the UK and refers them to the NSPCC's Child Trafficking Advice Centre (CTAC), providing it with information such as names, photographs and dates of birth to help locate them.
Any unaccompanied child who arrives in the UK should under law be referred by immigration or border staff to the local authority who is responsible for their welfare, but minors from Calais increasingly appear to be falling through the net and bypassing the protection systems in place.
Michael McHugh, the RYS coordination and child protection officer, warned that smugglers and traffickers operating across Calais and the UK were exploiting the closure of legal routes to Britain by facilitating alternative illegal crossings on lorries, with the exploitation continuing once children reach British shores.
"Now that the Dubs scheme has closed down and family reunification referrals are extremely delayed, these kids' only real option is to jump on lorries," he said. "There are people here now who are doing business facilitating this, and they speak the children's language.
"Young people are becoming more and more emboldened in their pursuit to cross, with many considering 'work' as a way to do it. One child here recently told me he was told by an adult male that if he could do some work he would be taken to the UK."
Calais Refugee Children arrive in UK
Show all 9
Mr McHugh added that the true number of unaccounted for minors is probably far higher than 104, with many children ordered by traffickers and smugglers to avoid speaking to volunteers and authorities in order to avoid state interference.
"This is the tip of the iceberg," he said. "We can only do so much. There are children here who are trying not to be seen, manipulated by people who don't want them to be seen by us, worried about the state interfering. The true numbers will be far higher."
The British Government announced in early February that it was to close the Dubs scheme – intended to grant 3,000 vulnerable unaccompanied minors a safe passage to Britain – after accepting just 350, as well as ending an accelerated scheme to assess direct family ties through the Dublin regulation.
In April, the then-immigration minister Robert Goodwill admitted that an "administrative error" had led to 130 places for child refugees offered by UK local councils not being taken into consideration as part of the Dubs scheme, but no additional children are known to have been brought to the UK to fill these places as of yet.
An inquiry by the All-Party Parliamentary Group on Trafficking and Modern Slavery published last week found no evidence that providing a safe route for children to travel to the UK acted as a "pull factor".
The findings found that the decision by the Government and others to create a "hostile environment" has led to young people in northern France, many of whom have relatives living in Britain, being forced into the hands of criminal gangs.
Christine Beddoe, an adviser on tackling child trafficking who co-authored the report, said children and young people in Calais are turning to smugglers "in desperation" to help them get out of their current situation, which she said "can very quickly turn into a trafficking situation".
"Both in Calais and once they reach the UK, children and young people are falling victim to sexual exploitation, labour exploitation, criminal exploitation – it can be all three," she said.
"Very high prices are demanded and if they don't have families who can pay, then those young people are expected to do something to pay back that money, and then that turns into an exploitation situation.
"You can either pay your way if you've got money, or if you haven't got money, the very same opportunistic criminals will still try to get you there. But then these children are locked into having to repay that debt."
Ms Beddoe highlighted that one of the most concerning yet underreported forms of exploitation regarding children brought from Calais to the UK is the sexual exploitation of young boys, which she pointed out was "not even mentioned" in the vulnerability criteria of the Dubs scheme.
"One of the biggest problems that is hidden in the UK with victims of trafficking is the sexual exploitation of young boys," she said. "Because in a lot of the countries they come from there is so much stigma about sexual abuse of males, victims are very reluctant to talk.
"But rampant sexual abuse that goes on, not only on the journey, but also here in the UK. This level of abuse is so hidden here that when the British Government under the Dubs scheme talked about the vulnerability criteria, they didn't even mention about sexual abuse of male children.
"It's hidden on a policy level. The whole political framework overlooks the vulnerability of boys from all sorts of different backgrounds being sexually abused, and that is one of the crises in this situation."
Swati Pande, assistant team manager of CTAC, which is central to identifying the missing children, said: "Many of these children, through no choice of their own, will have been forced to leave dangerous situations and now find themselves in a strange country without any support.
"They are vulnerable to being trafficked or moved for physical labour or sexual sexually exploitation and may not know how to seek help. Once a child is hidden from authorities and safe adults, it is extremely difficult to trace them and get access to the right support.
"If we are to protect children then organisations must act swiftly when they spot the warning signs and adults who are worried about a child contact the right authorities. We're helping professionals to spot the signs to prevent children being abused through child trafficking."
Once unaccompanied minors are reported to CTAC by the RYS after reaching the UK, they are immediately referred to the National Referral Mechanism (NRM) – the official framework for identifying victims of human trafficking. Earlier this year, the the number of child trafficking victim referrals to the NRM rose by 30 per cent, marking a record high.
More than a third of all potential victims of trafficking were children aged 18 and under, with a majority of children drawn into exploitative labour, including forced criminality and sexual exploitation. Children from Afghanistan and Eritrea — two of the most common nationalities of minors in northern France — were among the top four most likely to be referred.
Kevin Hyland, the UK's Anti-Slavery Commissioner, said not enough was being done to prevent children from being exploited as they pursue "dangerous" migration routes, and urged that without international action the child trafficking dangers will only increase.
He told The Independent: "Unaccompanied children are especially vulnerable to human trafficking and modern slavery, and protecting these young people is one of my top priorities. Children who are seeking sanctuary need safety, not slave-like conditions.
"Often, children will not wait for authorities to support them. Opportunistic criminals target young people who lack the security of parents or guardians, leaving them at risk of exploitation even before they arrive in the UK. This risk will continue to be heightened unless we improve protection's internationally and address issues in source countries.
Refugees welcome here: Protesters demand UK resettle more migrants in response to refugee crisis
Show all 7
"Many children are exploited, and there have even been lives lost, as a result of entering into dangerous migration routes. For too long criminals have operated along these routes with impunity. The global community must do more by enforcing laws, disrupting criminal networks and identifying victims.
"We need to stop playing the blame game. It's time to move from a culture of condemnation to one of responsibility. We have UN global goals – now is the time to put them into action."
Beth Gardiner-Smith, senior campaigns organiser for Safe Passage, a charity assisting unaccompanied minors eligible to come to the UK, said: "Currently it takes months for children in Calais to be reunited safely with family here in Britain, and only after the intervention of projects like Safe Passage.
"When children are sleeping rough, often surrounded by smugglers, this is simply too long to be waiting. Britain and France need to urgently agree a process to give all unaccompanied children immediate access to safe accommodation and fast family reunion if eligible."
A Home Office spokesperson said in response to the figures: "It is vital that children in care are protected from harm. That's why we have already strengthened regulations on children's homes and placed a duty on local authorities to tell us about all incidents of young people going missing.
"However, we know trafficked and unaccompanied asylum-seeking children can be particularly vulnerable. Our focus will continue to be on transferring all eligible minors to the UK as soon as possible and ensuring they arrive safely.
"Our strategy is clear – we believe the most vulnerable children are in the conflict zone around Syria and best way to help them is by resettling refugees directly from the region. This is how we can stop traffickers and smugglers from exploiting vulnerable people and children."
Join our commenting forum
Join thought-provoking conversations, follow other Independent readers and see their replies