Number of far-right referrals to counter-extremism programme hits record high
The number of suspected Islamists and far-right extremists being flagged to the Prevent programme are now equal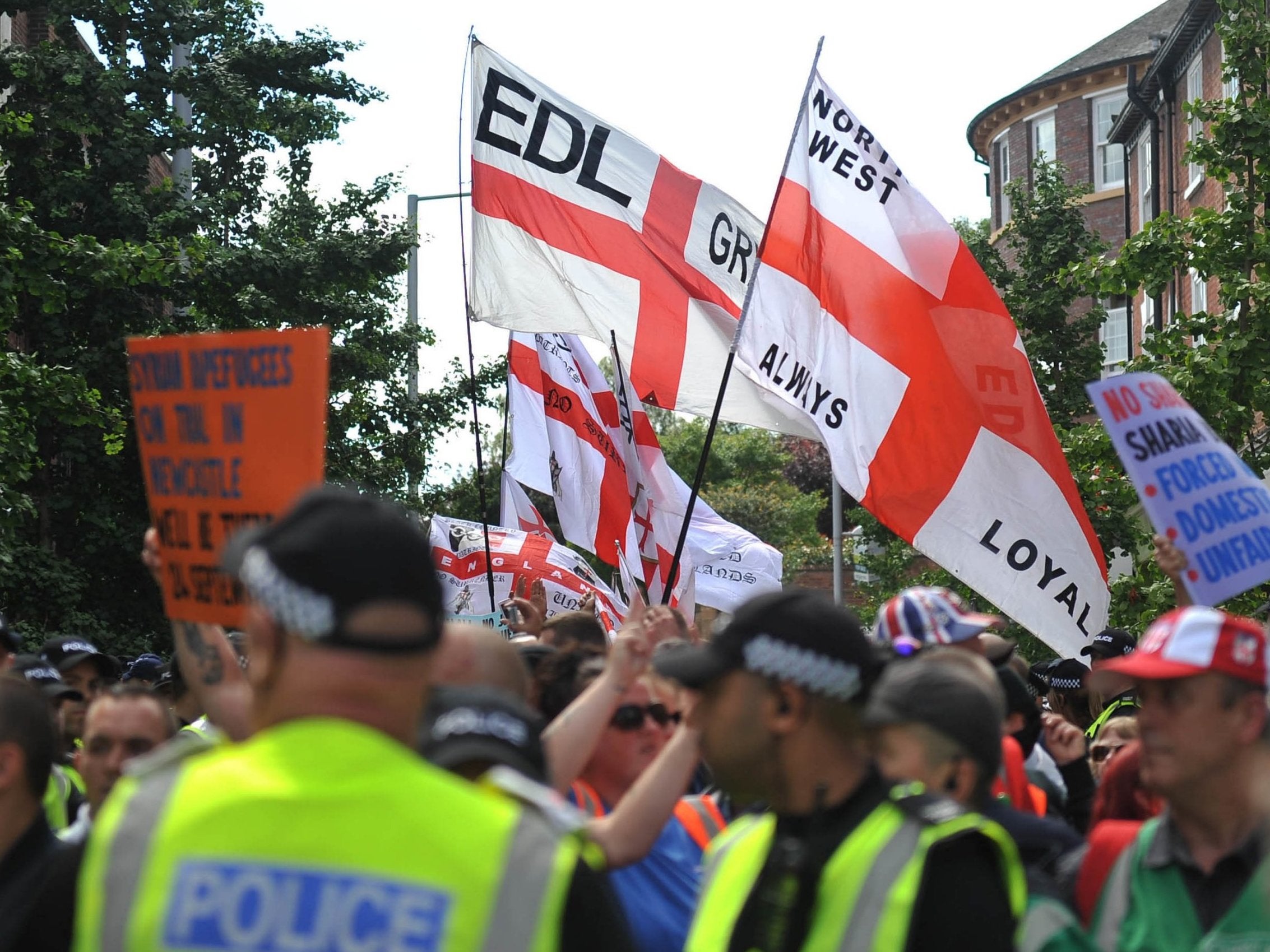 A record number of people have been referred to a counter-radicalisation programme over suspected far-right extremism, bringing the figure to the same level as Islamists for the first time.
A total of 1,389 people were referred to Prevent over right-wing concerns in 2018-19, up 6 per cent in a year.
The number of suspected Islamists was slightly higher, at 1,404, after falling by more than half in the previous 12 months.
Concerns over far-right radicalisation have been rocketing in the past four years, rising from 759 cases to almost double in the year to March.
Prevent cases over Islamist extremism, by contrast, have fallen rapidly from almost 5,000 referrals in 2015-16.
Police have been arresting more right-wing terror suspects in the period, making white people the largest ethnic group detained.
The statistics were published as police announced the prosecution of an alleged far-right extremist.
George Fowle, a 19-year-old from Kent, has been charged possessing material useful to a person planning an attack, after being arrested at Heathrow airport.
Counter-terror police named far-right terrorism as the fastest-growing threat to the UK earlier this year, but said the greatest danger still comes from jihadis.
Awareness of the risk has been rising globally after a series of right-wing terror attacks including those that occured in Finsbury Park, Christchurch, El Paso and Halle.
Of the 24 attack plots foiled by security services in Britain since March 2017, 16 were Islamist and eight were far-right.
MI5 has been brought into tackle the phenomenon for the first time, after the government abolished a historical division that classed neo-Nazism as "domestic extremism" and jihadism as "international".
Prevent, which is currently being reviewed after years of criticism, aims to stop people from being drawn into extremism before they present a security risk or commit offences.
The total number of referrals – 5,738 – was down by a fifth on the previous year, which saw five-terror attacks strike London and Manchester.
Suspected Islamists and far-right extremists each made up 24 per cent of the total, while 38 per cent were flagged over a "mixed, unstable or unclear ideology" and 14 per cent were referred over other types of radicalisation.
Facebook bans far-right groups such as BNP, EDL and Britain First
"Although numbers were comparatively low, this includes international radicalisation groups and left-wing radicalisation, for example," a Home Office document said.
The largest age group was children and young people aged 20 and under, because many referrals come from education workers who are bound to raise concerns formally under the controversial Prevent "duty".
The vast majority of people referred were male, and the largest number came from the north east of England, followed by London, the north west, south east and West Midlands.
"The figures clearly demonstrate that Prevent is about protecting vulnerable people from any and all toxic ideologies that seek to lure them towards terrorism," said chief superintendent Nik Adams, the national Prevent coordinator.
"The sheer volume of cases we see with mixed or unclear ideology demonstrates that complex behavioural needs and mental ill health can create a significant vulnerability to radicalisation."
A quarter of people referred to Prevent "required no further action" and half were passed on to other services, such as education, housing and mental health, for alternative support.
A further 23 per cent were considered by the Channel counter-radicalisation scheme, which sees people paired with "intervention providers", such as imams or former Nazis, to help combat the ideology as their progress is regularly reviewed.
Most people receiving Channel support in the year were right-wing extremists (45 per cent), followed by Islamists (37 per cent).
Ch Supt Adams said increased Channel cases indicated "that professionals, friends and families who make referrals better understand the risks of radicalisation and how Prevent can help".
"Early intervention is key," he added. "Experience has shown us that it is so much harder to pull somebody back once extremist views have become entrenched."
The statistics were published amid a review of the Prevent programme, which has faced longstanding accusations of driving discrimination and violations of free speech and religion.
A legal challenge has been launched against the structure of the probe and appointment of independent reviewer Lord Carlile, after he called the probe "completely unnecessary" and claimed it was based on a "complete lack of evidence".
Brandon Lewis, the security minister, said: "Today's Prevent figures show the threat from the far right continues, a problem seen across Europe, Australia, New Zealand and the US.
"We have already taken robust action in response including banning neo-Nazi terrorist group National Action in 2016, and there have been several successful prosecutions against its members.
"These statistics show that Prevent is improving, with education, health and social care staff increasingly recognising Prevent as part of their safeguarding responsibilities. However, we must continue to work closely with communities to build resilience to the poisonous ideologies of the far right and Islamist extremism, which have no place in Britain."
Join our commenting forum
Join thought-provoking conversations, follow other Independent readers and see their replies