'Who is even in charge?': Kensington's Labour MP on Grenfell's forgotten victims three months on
Exclusive: Emma Dent Coad won her Kensington seat just four days before the fire. Now 100 days on, she explains why the relief effort has been the 'second disaster' to face survivors since the blaze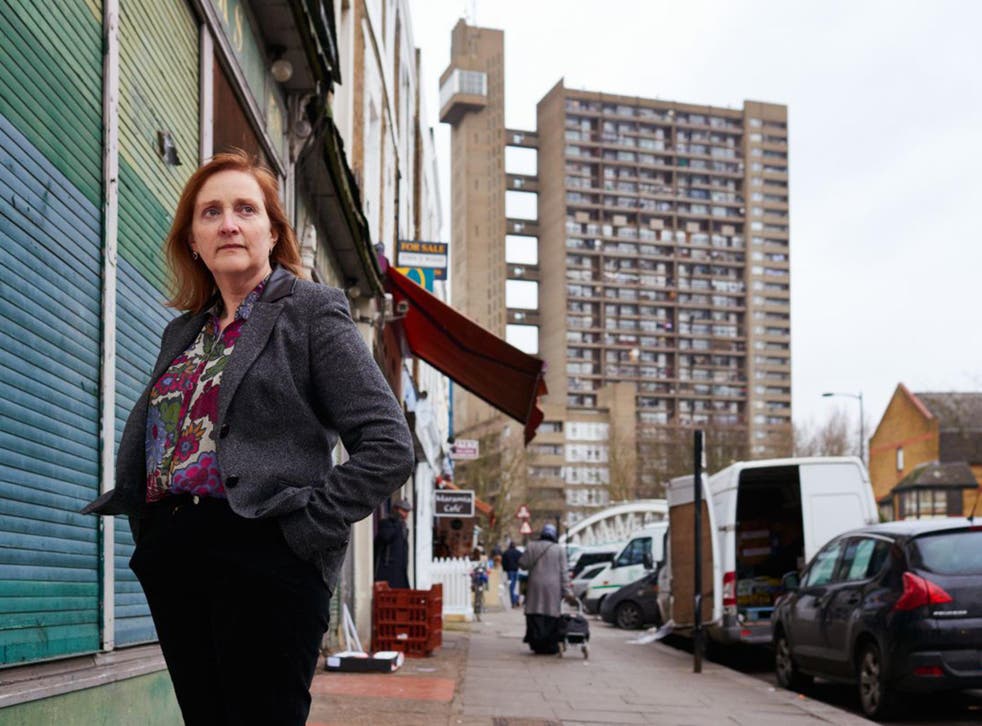 Grenfell Tower survivors are still being subjected to "appalling failings" three months on from the deadly blaze that claimed at least 80 lives, the area's MP has warned.
Emma Dent Coad described the relief effort as the "second disaster" survivors have faced since the tragedy on 14 June.
Speaking to The Independent, the Labour MP warned the trauma suffered by those involved will be life-changing and said many survivors were dealing with significant mental illness 12 weeks on.
"Some survivors will never ever be able to work again, they are ill now. PTSD (post-traumatic stress disorder) is a very, very serious problem. It's not just people being a bit upset," she said.
"People might have no idea, they might just be trying to get through the day or feeling like they are making progress, but in six months or a year or in five years it will hit them. I don't think people understand the effect of trauma."
Her comments mark the three-month anniversary of the deadliest tower block fire in modern history.
The blaze of "unprecedented" scale gutted the 24-storey block at lightning speed after a fridge freezer set alight in the early hours.
The fire left hundreds trapped in their homes as emergency service workers were forced to make intolerable decisions over who to save.
For many, the trauma of the night is compounded by a total lack of coordination on the ground. Ms Dent Coad said the chaotic relief effort is still resulting in "people being literally forgotten" and unable to access the right support.
"I spoke to somebody who had 26 different carers since the fire – a disabled person who had 26 different people coming to look after them. They have been moved six times. Every day they have to explain their needs to someone new, get used to being with a new person," she said.
"I still don't know who is in charge. Who is even in charge of the whole process? We have had interim directors from other councils doing bits of work and trying to control this and that but I don't know who is charge and whoever is in charge of coordinating the response is not doing it."
The fallout also extends to those in the surrounding community. She said many offering frontline support such as social workers, housing officers and carers were "really struggling" with the horrors of the situation.
The 62-year-old, who has lived in the borough for more than 30 years, said she – along with many other members of the surrounding community – finds it too difficult to look at the tower, and is supporting calls for it to be covered.
"Half the neighbourhood either knew people who were lost, as I did it, or know people who were involved – and we are all connected in that way," she said.
"I was there. You can't get something like that out of your mind – and why should we, actually. We have to remember that."
In Pictures: Grenfell Tower after the fire

Show all 51
Nearly 100 days on from the blaze, a staggering 80 per cent of survivors have not been rehoused.
Just three families are living in permanent new homes and a further 29 are now living in temporary accommodation.
But 165 households have not been provided with homes, although it was not immediately clear whether all of these households are still living in hotels.
Ms Dent Coad said she was asked to convince more survivors to accept temporary accommodation, but she refused, saying: "I'm not doing the Government's dirty work for them, that's not my job."
She added: "These people know the system. Probably half their neighbours know somebody who has been in temporary accommodation for five or 10 years and there is absolutely no way that a lot of people would accept temporary accommodation because they don't trust the system – and they are quite right not to."
Grenfell fire victims honoured at charity football match
She believes many of the problems survivors are facing stem from the council's lack of expertise in dealing with any disaster of this magnitude.
"They are completely out of their depth. They really are. They do not have the knowledge or expertise. It's way beyond their capacity and capability actually," she said.
"They need someone who has actually been in charge of major disasters, not local councillors – I wouldn't put myself forward to run that. That's not my expertise at all and yet they've got somebody like me but the opposite party running this whole disaster. It should be somebody with the expertise to mop up after a disaster like this."
Communities Secretary Sajid Javid announced the appointment of interim commissioners to oversee parts of the council at the end of June.
But Ms Dent Coad said "it's all been a mess", and accused the Government of "fiddling around from the edges".
She still maintains the council should be taken over, but holds out little hope that this will happen in the near future.
"They are still covering their backsides, they don't want to admit defeat," she said. "They are saying, 'oh it's getting better'. Well I don't see it getting better, I really don't. For some people it's getting a lot worse."
Grenfell survivor who took exam hours after fire achieves A grade
But while she accused the council of repeated failings, Ms Dent Coad said the buck ultimately stops with central government.
She said the Government's immigration amnesty is still creating huge problems for survivors in dire need of support.
The policy announced by the Home Office in July offered immigrants who survived the fire the chance to claim a 12-month period of limited leave to remain in the UK with access to state support and assistance.
But The Independent revealed in September just a minuscule number of survivors had come forward to access support.
"I know people who won't come forward because they are going to be sent home in a year; there are people who will not be getting the help they need because they won't declare themselves," she said.
"They feel marginalised. I've been told nobody slept in cars and parks but I personally know two families who have slept in a park for a week because they are so afraid of coming forward. The idea of traumatised people sleeping behind bushes is just terrifying."
A public inquiry, led by former judge Sir Martin Moore-Bick, will open on 14 September, which will aim to evaluate the cause and spread of the fire and the emergency service response in the aftermath.
But the probe will fall short of considering the wider questions raised by the fire, including the impact of Britain's social housing shortage.
Ms Dent Coad said she was doubtful the probe would satisfy many of the survivors' questions.
"It will achieve exactly what we feared, which is only a very thorough technical assessment of what happened," she said.
"Most of us know what happened, we saw it in front of our own eyes, but there will be the proof of what happened, which is one thing. And that's fine. But why it happened isn't going to be touched."
She believes there is a lack of political will to address the wider social housing crisis, something she knows would not be the case under a Labour Government.
"It would have to be different under a Labour government – of course it would be different," she said.
Ms Dent Coad won her West London seat just four days before the fire that has dominated her life since.
She admitted the aftermath had been "very, very hard", but still insists: "I'm just glad it was me."
When asked whether the role was what she had been expecting, she said: "I don't know what I expected really.
"I can't imagine anybody better placed in a way. Not because I'm fabulous, but because of where I'm from and where I live. The fact that I'm from this community makes a massive difference. I've had plenty of ups and downs in life and people in the neighbourhood know that so I think I'm very well qualified."
Join our new commenting forum
Join thought-provoking conversations, follow other Independent readers and see their replies