Case dropped against journalist arrested after taking photos of protest outside controversial asylum camp
Andy Aitchison, arrested for 'criminal damage' after photographing peaceful demonstration, says he is relieved but raises concern about press freedom
May Bulman
Social Affairs Correspondent
Friday 05 February 2021 19:54 Comments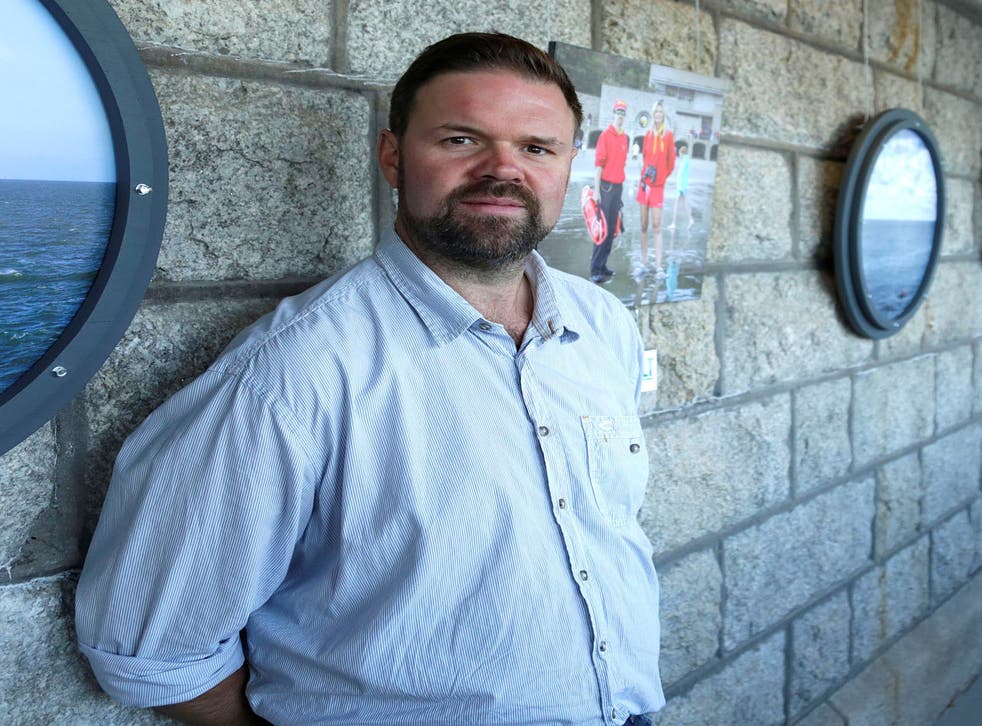 Leer en Español
A journalist who was arrested after taking and sharing photographs of a protest outside a controversial military camp will face no further action, police have said
Freelance photographer Andy Aitchison, 46, attended a demonstration outside Napier Barracks, in Folkestone, on 28 January and took photos as activists threw buckets of fake blood at the gates of the site in protest against the conditions there. The images were later used in press reports.
Concerns have been mounting about conditions at the Ministry of Defence site since it was repurposed for housing hundreds of asylum seekers in September. Residents have been banned from leaving the camp since mid-January due to a Covid outbreak, with more than 120 since testing positive.
Around six hours after the demonstration, five police officers arrived at the home of Mr Aitchison, who has worked as a photographer for 26 years, and arrested him under suspicion of criminal damage of a dwelling.
They seized his mobile phone and the memory card from his camera, and instructed him to accompany them to the local police station. The photographer, who had never been arrested before, was held in a police cell for over five hours before being released on bail at around 10pm.
He was granted bail until 22 February, and was instructed not to attend Napier Barracks until the case has been concluded.
A media freedom alert has been filed with the Council of Europe and submissions have been made to the UN special rapporteur on human rights over Mr Aitchison's treatment.
On Friday - a week on from his arrest - Mr Aitchison was informed by Kent Police that he had been refused charges as there was no evidence against him, and he was invited to the police station to retrieve the equipment that was seized from him.
A Kent Police spokesperson said: "As part of enquiries into the criminal damage and to establish the full circumstances, CCTV footage has been examined and he has subsequently been released without charge."
The journalist said he was relieved he was no longer suspected of a crime, but said the force had not apologised and that he was concerned his arrest could still have an impact on him in future.
The National Union of Journalists (NUJ), of which the photographer is a member, welcomed the return of his property but called for a full investigation into Kent Police's behaviour, saying its officers failed to recognise the legitimate role of the media.
Mr Aitchison, who lives a four-minute drive from the military site and has been documenting events there since asylum seekers were moved in last year, said the arrest and confiscation of his belongings had had a significant impact on his professional and personal life.
"Not having access to my phone has had a serious impact on my work this week as I have been uncontactable to clients. In addition, my family has been suffering from my mother's death, and not being able to contact friends and family to arrange the funeral has been distressing," he said.
"I have been documenting the situation at Napier Barracks since it opened in September. The bail conditions imposed on me meant that I was not able to continue the work and missed a significant event in the story, the fire that took place last Friday.
"I am a freelance journalist and document public interest stories. This arrest has put my future ability to work and gain access to such events in jeopardy and has put me in fear of further arrest when all I am doing is carrying out responsible journalism to raise important issues to the public's attention."
Seamus Dooley, assistant general secretary at the NUJ, said he welcomed the return of Mr Aitchison's property but remained "deeply disturbed" by the actions of the Kent police, adding: "Our member was treated in an unacceptable manner.
"The police force's behaviour must be fully investigated as it is at variance with the strong cooperation in many areas where the police recognise the legitimate role the media and the special status of journalists who present the UK press card," he added.
Kate Goold, partner at Bindmans, who is representing Mr Aitchison, said: "It is of great concern when the police arrest journalists and photographers for simply doing their job and has a chilling effect on press freedom.
"Public interest journalists are essential to our democracy to document and publicise events as they unfold, especially during Covid lockdown when the public cannot witness such protests themselves."
Register for free to continue reading
Registration is a free and easy way to support our truly independent journalism
By registering, you will also enjoy limited access to Premium articles, exclusive newsletters, commenting, and virtual events with our leading journalists
Already have an account? sign in
Join our new commenting forum
Join thought-provoking conversations, follow other Independent readers and see their replies