Journalist fined for Covid breach after photographing protest outside army barracks housing asylum seekers
Exclusive: Photographer whose arrest for documenting demo outside Napier Barracks prompted outcry then handed £200 fine for breaching Covid rules at same protest – before police admit it was issued 'in error'
May Bulman
Social Affairs Correspondent
Thursday 18 February 2021 18:50 Comments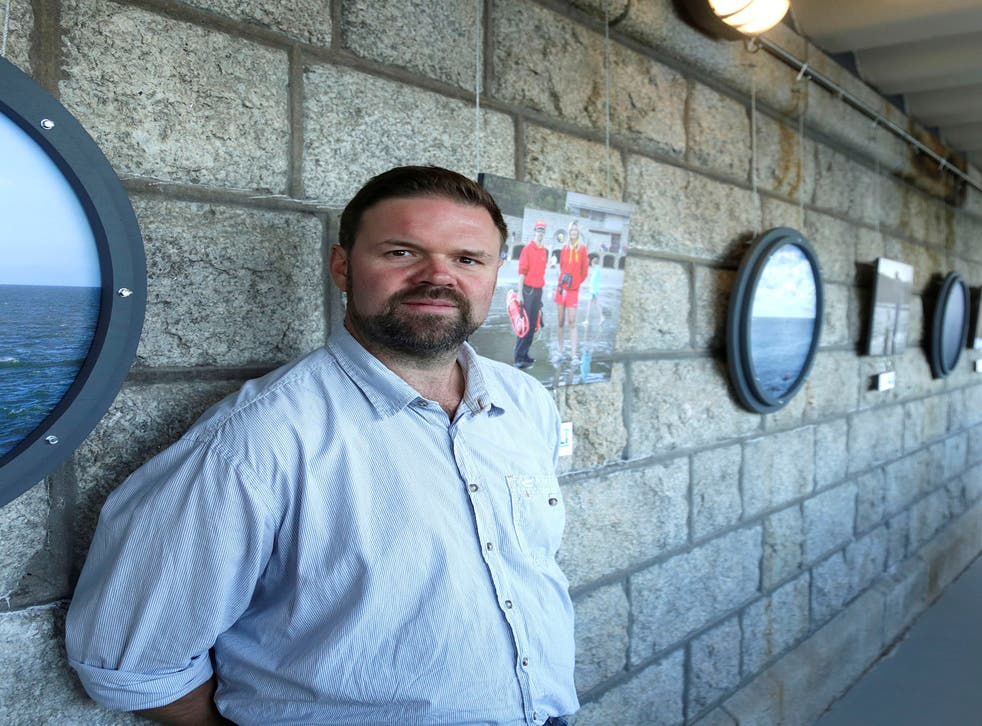 A journalist whose arrest while photographing a protest prompted an outcry was then handed a £200 fine for breaching Covid rules at the same demonstration.
Freelance photographer Andy Aitchison, 46, was arrested on 28 January under suspicion of criminal damage after taking and sharing photographs of a demonstration outside Napier Barracks, a controversial military site where asylum seekers are being held. The case was dropped a week later.
However, a week on, the journalist received a fixed penalty notice from Kent Police on the basis that he had acted in breach of Covid regulations when documenting the same protest.
The coronavirus regulations state that exceptions to the ban on gatherings of two or more people include "work purposes". Lawyers in the UK have argued that a journalist's right to report are also protected from these restrictions under the Human Right Act.
Following intervention from his lawyers and the National Union of Journalists (NUJ), and hours after being asked about the case by The Independent, Kent Police said it had reviewed and rescinded the fixed penalty notice, admitting that it was "clear" that it had been issued "erroneously".
During the protest that Mr Aitchison photographed, which lasted less than 10 minutes, activists threw buckets of fake blood at the gates of the site in protest against the conditions there. His images were later used in press reports.
The protest came amid mounting concern about conditions at the Ministry of Defence site, which was repurposed for housing asylum seekers in September 2020. Residents had been banned from leaving the camp due to a Covid outbreak.
Police officers arrived at Mr Aitchison's home hours after the demonstration and arrested him. They seized his mobile phone and the memory card from his camera and he was held in custody for over five hours before being released on bail. Under his bail conditions he was prohibited from going near Napier Barracks.
A week after his arrest, Mr Aitchison was informed that the case had been dropped and that he would face no further action, and his possessions were returned to him.
However, a week later – on 10 February – he received a document from Kent Police stating that he had been issued a fixed penalty notice under the coronavirus health protection regulations, fining him £200.
The document stated that on the morning that he was photographing the protest, he was found to have contravened the requirement under the Covid regulations "to not leave or be outside place of living" and to "not participate in gathering in an outdoor place of two or more people".
Mr Aitchison's lawyers wrote to Kent Police on Wednesday requesting that the force withdrew the fixed penalty notice "immediately" on the grounds that it was on its face "unlawful" and that there was "not sufficient evidence to provide a realistic prospect of conviction".
A response from a senior lawyer at the Kent Police on Thursday stated: "The matter has been reviewed and it is clear that the fixed penalty notice was issued erroneously. We have contacted Criminal Records Office requesting its immediate cancellation accordingly."
Mr Aitchison, who lives close to Napier Barracks and has photographed a number of demonstrations there since September, told The Independent: "I'm glad they've seen the mistake swiftly. It's definitely a relief, but this was an unnecessary stress and concern for myself and my family and cause for concern for all journalists.
"I am grateful to Bindmans and the NUJ for their support in getting this resolved quickly. I am still deeply concerned about the freedom of press during these unprecedented times and wonder how many other journalists have been incorrectly issued with these fines, especially as there was no clear mechanism to appeal the fine."
Rachel Harger, solicitor at Bindmans LLP, said Kent Police's conduct was "arbitrarily obstructive" of the "crucial work" carried out by journalists, and showed a "flagrant disregard" of journalists' ability to report on events which the wider public plainly benefit from being informed of.
"It is completely unacceptable that not only has our client been subject to the threat of criminal charges for simply attending a demonstration in his capacity as a journalist, Kent Police have now sought to criminalise him by issuing a fixed penalty notice days after refusing criminal charges against him," she added.
"I am relieved for our client that the fixed penalty notice has been withdrawn but he must be afforded a full and meaningful apology by Kent Police."
Michelle Stanistreet, NUJ general secretary, who had also contacted Kent Police about the case, said: "This has been a sorry story and very distressing for our member Andy Aitchison. We are still waiting for an apology for Andy from Kent Police and the force still has questions to answer.
"It needs to explain why Andy, who was acting completely within his rights and just doing his job, was wrongly arrested and wrongly had his journalistic material taken."
A Kent Police spokesperson said: "A fixed penalty notice was initially issued which has been reviewed and rescinded."
Register for free to continue reading
Registration is a free and easy way to support our truly independent journalism
By registering, you will also enjoy limited access to Premium articles, exclusive newsletters, commenting, and virtual events with our leading journalists
Already have an account? sign in
Join our new commenting forum
Join thought-provoking conversations, follow other Independent readers and see their replies