Khalid Masood: London attacker had no links to Isis or al-Qaeda, says Met Police
Revelations come on fifth full day of police investigation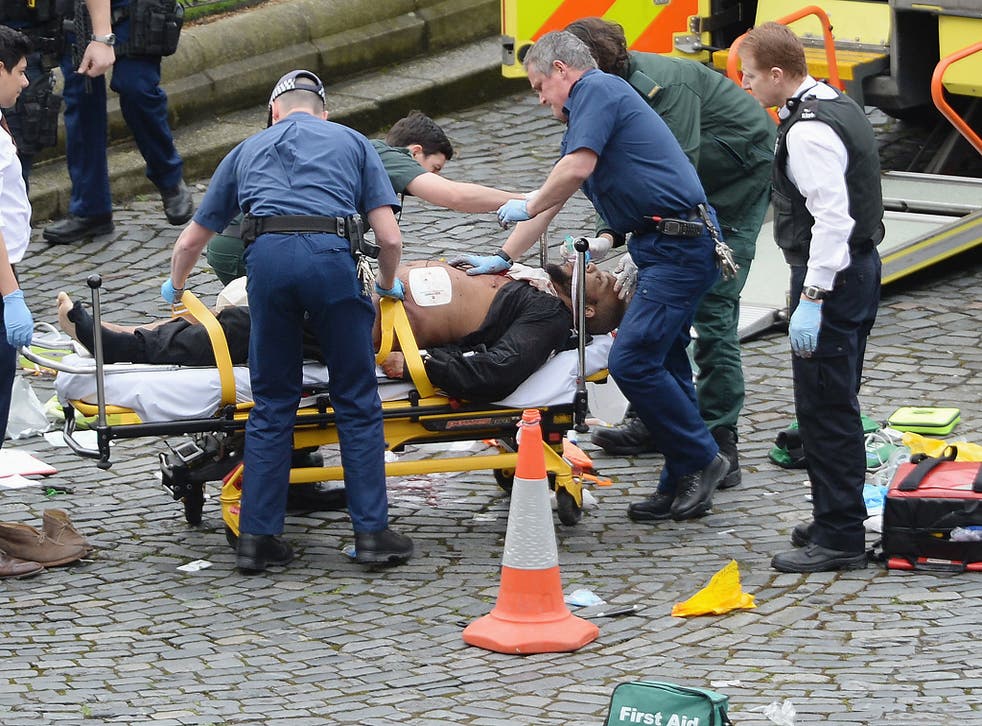 Police investigating the Westminster attack say they have found no evidence that killer Khalid Masood had links to radical Islamist groups such as Isis or al-Qaeda.
As more details of the fast-moving investigation emerged, Scotland Yard revealed a probe into his use of encrypted messaging service WhatsApp on the day of the attack now forms a "main line of enquiry".
Detectives also raised doubts over suggestions that Masood was radicalised during a spell in prison.
The revelations, which come on the fifth full day of the police investigation, appeared to contradict earlier reports that he was linked to Islamist terror groups, and that he had developed extremist views while in jail.
A day after the attack, Isis claimed responsibility and called Masood "a soldier of the Islamic State".
The claim was met with scepticism, given the group's record of claiming attacks without any proof of its involvement.
The Met's senior national coordinator for UK counter-terrorism policing did not rule out that Masood was inspired by the violent extremist groups responsible for massacres in other European cities, but quashed that they were directly involved in last Wednesday's attack.
Deputy assistant commissioner Neil Basu said: "His attack method appears to be based on low sophistication, low tech, low cost techniques copied from other attacks, and echo the rhetoric of Isis leaders in terms of methodology and attacking police and civilians, but at this stage I have no evidence he discussed this with others.
"Whilst I have found no evidence of an association with Isis or AQ [al-Qaeda], there is clearly an interest in Jihad."
In pictures: Westminster attack

Show all 9
Meanwhile, police believe the car used to mow down dozens of pedestrians on Westminster Bridge may have been travelling at speeds of up to 76mph.
The developments came as police repeated an appeal for those who may have been in contact with the killer to come forward.
Masood used a rented Hyundai as a weapon during his 82-second attack, mounting the pavement and driving the vehicle into tourists and Londoners as they crossed the bridge.
He then crashed it into the fence surrounding Parliament before running into the grounds of the Palace of Westminster and stabbing a police officer.
In all, four people were killed before 52-year-old Masood – also known as Adrian Ajao and before that Adrian Elms – was shot by police.
In her first comments since the attack, Masood's mother, Janet Ajao, of Carmarthenshire, said she was "shocked, saddened, and numbed" by his actions.
"I wish to make it absolutely clear, so there can be no doubt, I do not condone his actions nor support the beliefs he held that led to him committing this atrocity," she said.
"I wish to thank my friends, family and community from the bottom of my heart for the love and support given to us."
As investigators continue to pore over evidence, it also emerged that the car Masood used in the attack had been seen in the area before the attack.
The details remain patchy but the BBC reported it was spotted either on the day of the attack or at some point in the days leading up to it.
What the car was doing in the area is not yet known, but it will likely lead to speculation that Masood had carried out some form of scoping mission before he launched the fatal attack.
Amber Rudd says WhatsApp's encryption of messaging may come to an end after Westminster terror attack
Claims that Masood's phone connected with WhatsApp just before the atrocity triggered a debate at the weekend over authorities' ability to intercept communications as part of national security investigations.
At the weekend, Home Secretary Amber Rudd said there should be "no place for terrorists to hide".
Her call for more powers was given greater urgency today after police confirmed Masood's use of the messaging service is a key element of the investigation.
"There has been much speculation about who Masood was in contact with immediately prior to the attack," Mr Basu said.
"All I will say on this point is that Masood's communications that day are a main line of enquiry.
"If you heard from him on 22 March, please come forward now, the information you have may prove important to establishing his state of mind."
Confirming that Masood's last criminal offence was carried out in 2003, and that he was not "part of the current domestic or international threat picture", the counter-terror chief also spoke about claims the attacker was indoctrinated with extremist ideology while he was behind bars.
"There is no evidence that Masood was radicalised in prison in 2003, as has been suggested; this is pure speculation at this time," Mr Basu said, in a statement released on Monday afternoon.
"Whilst I have found no evidence of an association with Isis or AQ, there is clearly an interest in Jihad."
On Sunday, police arrested a 30-year-old man in Birmingham on suspicion of preparation of terrorist acts. He remains in custody along with a 58-year-old man arrested last Thursday.
A 32-year-old woman detained on Friday has been bailed until later this month, while a further nine people arrested last week have since been released without charge.
Register for free to continue reading
Registration is a free and easy way to support our truly independent journalism
By registering, you will also enjoy limited access to Premium articles, exclusive newsletters, commenting, and virtual events with our leading journalists
Already have an account? sign in