Khalid Masood: Suspected Isis supporter used WhatsApp two minutes before London attack
Police are investigating whether English teacher was 'directed' by terrorists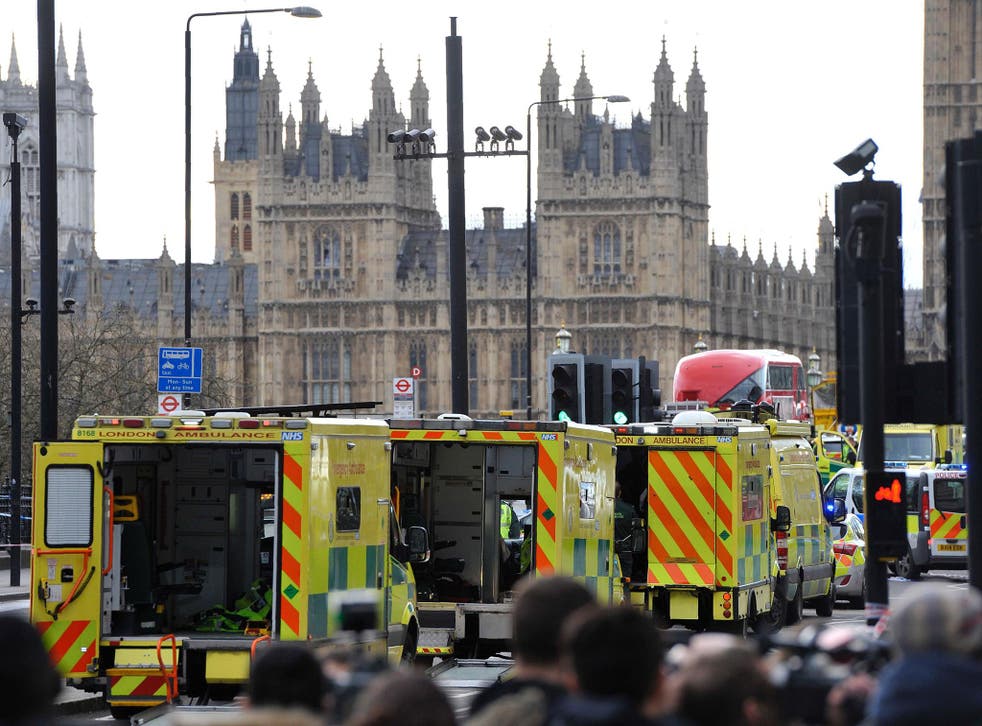 The London attacker used WhatsApp just two minutes before he ploughed his car into pedestrians on Westminster Bridge, it has emerged as police investigate a possible wider extremist network.
Khalid Masood was active on the encrypted messaging service at 2.37pm on Wednesday, although it remains unclear whether the 52-year-old was sending, receiving or simply viewing messages.
Investigators believe he was inspired by Islamist terrorism and Isis has claimed responsibility for the massacre that left four victims dead, although the extent of the group's involvement is not yet known.
Scotland Yard's acting deputy commissioner, Mark Rowley, said police were probing whether Masood acted completely alone after being inspired by terrorist propaganda or was "encouraged, supported or directed" by others.
Westminster terror attacker named as Khalid Masood
Nikita Malik, a senior researcher at Quilliam, said WhatsApp and social media has been used for a variety of purposes by Isis-inspired terrorists.
"In a lot of other incidents people have shared material," she told The Independent. "It can act as a sort of a modern suicide note to explain their justification."
The perpetrators of several terror attacks in Europe in the past year have sent messages immediately before or during their murders.
Anis Amri, the Berlin attacker, sent a selfie and message saying he was "ready" to a contact, asking him to pray for him from the cab of the lorry he would use to massacre 12 people.
Months before, Mohamed Lahouaiej-Bouhlel had sat behind the wheel of his truck in Nice and texted a contact asking for "more weapons" minutes before speeding into crowds celebrating Bastille Day last July, killing 86 people.
Other Isis supporters have sent messages declaring allegiance to the terrorist group, even broadcasting them during an attack, while the Orlando gunman Omar Mateen texted his wife while carrying out the massacre.
Ms Malik said that attackers are frequently part of a wider extremist network incorporating family members and friends, and that true "lone wolves" are rare.
"Radicalisation is very much a social phenomenon," she added, noting that the bulk of known British Isis fighters had travelled abroad in groups.
"You also have what we call 'remote-controlled' actors who will continue to receive instructions from someone based here or even in Syria or Iraq on what to do, but are not directly linked to the group.
"Isis is not training them – there's not the investment, not a physical location like al-Qaeda or the Taliban might have.
"It's a very easy way of carrying out attacks."
Isis hailed Masood as a "soldier of the Islamic State" in a propaganda statement released a day after he murdered four people and injured 50 more.
Brief remarks echoing those issued after previous attacks across Europe claimed the atrocity was carried out in "response to calls to target citizens of coalition countries".
Experts said the claim's lack of biographical information and specifics suggested Isis did not directly commission or facilitate the attack outside the Houses of Parliament.
But Jean-Marc Rickli, a research fellow at King's College London and the Geneva Centre for Security Policy, said the group's recruiters could have been in contact with Masood online.
In pictures: Westminster attack

Show all 9
"When Isis has not directly ordered an attack, it does some kind of vetting process and background check to see if the person has been in contact with Isis members in one way or another," he told The Independent.
Isis recruiters are known to target violent criminals and former gang members looking for redemption – and a licence to kill in the name of jihad.
More than half of known jihadis who have travelled from Europe to fight in Syria and Iraq have a criminal background, a trait shared with Masood.
The Kent-born Muslim convert was investigated for "violent extremism" by MI5 and served prison sentences for assault and weapons possession but was not convicted of terrorism.
Critics have questioned how Masood could have slipped through the net, with suggestions of a wider network arising with the arrest of at least 11 people on suspicion of terror offences in London, Birmingham and Manchester. Four remain in custody and one on bail.
Theresa May said Masood was "not part of the current intelligence picture", describing him as a "peripheral figure".
"There was no prior intelligence of his intent, or of the plot," she added.
The Prime Minister's speech to the House of Commons highlighted one of the key risks posed by the shifting tactics of Isis and its supporters, who have been forced to use it to increasingly low-tech methods of attack amid security crackdowns and huge territorial losses in Syria and Iraq.
Masood, a father-of-three, worked as an English teacher in Saudi Arabia and recently lived in London, Birmingham and Luton.
Register for free to continue reading
Registration is a free and easy way to support our truly independent journalism
By registering, you will also enjoy limited access to Premium articles, exclusive newsletters, commenting, and virtual events with our leading journalists
Already have an account? sign in
Register for free to continue reading
Registration is a free and easy way to support our truly independent journalism
By registering, you will also enjoy limited access to Premium articles, exclusive newsletters, commenting, and virtual events with our leading journalists
Already have an account? sign in
Join our new commenting forum
Join thought-provoking conversations, follow other Independent readers and see their replies