Khalid Masood: 'Shocked' wife of London terror attacker 'totally condemns his actions'
It comes after Masood's mother says she 'shed many tears' for her son's victims
Samuel Osborne
Tuesday 28 March 2017 07:37 Comments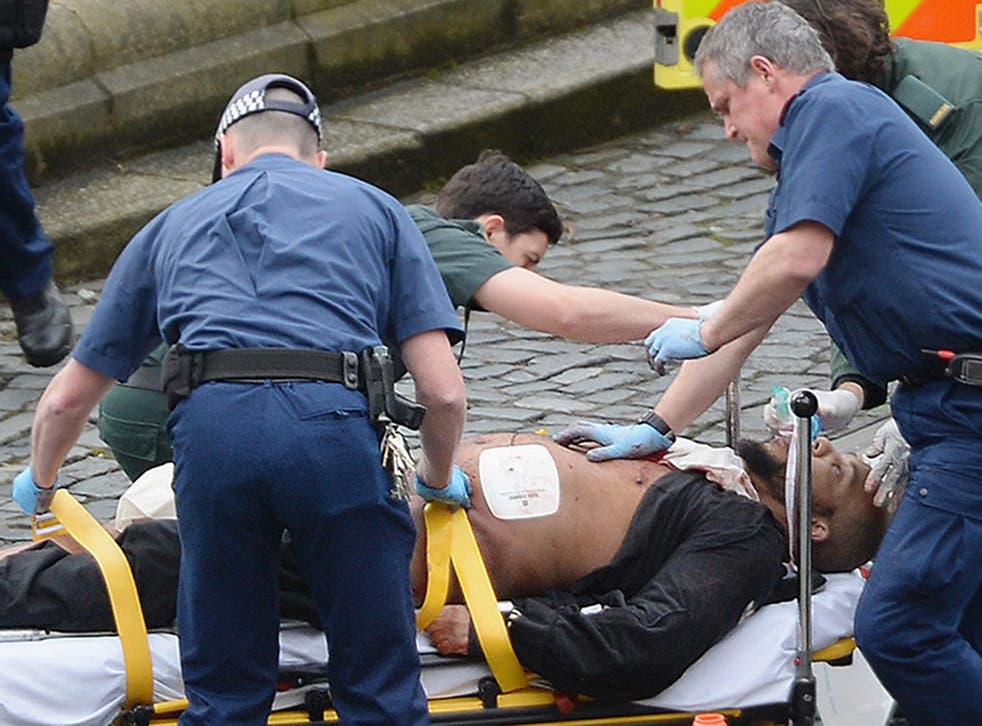 The wife of the Westminster attacker has said she is "saddened and shocked" by the terror attack and has condemned his actions.
Rohey Hydara spoke out after Khalid Masood's mother, Janet Ajao, said she had "shed many tears" for her son's victims.
In a statement released through the Metropolitan Police, Ms Hydara said: "I am saddened and shocked by what Khalid has done. I totally condemn his actions.
Met Police announce that terror perpetrator Khalid Masood was born Adrian Russell
"I express my condolences to the families of the victims that have died, and wish a speedy recovery to all the injured.
"I would like to request privacy for our family, especially the children, at this difficult time."
It comes after Masood's mother said she was "deeply shocked, saddened and numbed" by her son's actions.
Ms Ajao said she had "shed many tears" for the victims and did not condone the attack or the beliefs that led Masood to commit the atrocity.
Her statement, also released through the Metropolitan Police, said: "I am so deeply shocked, saddened and numbed by the actions my son has taken that have killed and injured innocent people in Westminster.
"Since discovering that it was my son that was responsible I have shed many tears for the people caught up in this horrendous incident.
"I wish to make it absolutely clear, so there can be no doubt, I do not condone his actions nor support the beliefs he held that led to him committing this atrocity.
"I wish to thank my friends, family and community from the bottom of my heart for the love and support given to us."
In pictures: Westminster attack

Show all 9
Meanwhile, Scotland Yard said while there was no evidence the Muslim convert was linked to Isis or Al-Qaeda, he "clearly" had an interest in jihad.
A day after the attack, Isis claimed responsibility and called Masood "a soldier of the Islamic State".
Deputy Assistant Commissioner Neil Basu, the senior national coordinator for UK counter-terrorism policing, said: "His attack method appears to be based on low-sophistication, low-tech, low-cost techniques copied from other attacks, and echo the rhetoric of [Isis] leaders in terms of methodology and attacking police and civilians, but at this stage I have no evidence he discussed this with others.
"Whilst I have found no evidence of an association with IS [Isis] or AQ [Al-Qaeda], there is clearly an interest in jihad."
Masood last Wednesday used a rented Hyundai to mount the pavement and drive at tourists and Londoners as they crossed Westminster Bridge before crashing into the railings surrounding Parliament.
He then ran into the grounds of the Palace of Westminster and fatally stabbed police officer Keith Palmer.
In total, four people were killed before Masood was shot dead by armed police in Parliament's cobbled forecourt.
Reports claimed Masood's phone connected with encrypted messaging service WhatsApp moments before the atrocity, sparking debate over authorities' capacity to intercept suspects' communications.
WhatsApp has said it is "cooperating with law enforcement as they continue their investigations".
Two men arrested in connection with the investigation remain in custody.
Register for free to continue reading
Registration is a free and easy way to support our truly independent journalism
By registering, you will also enjoy limited access to Premium articles, exclusive newsletters, commenting, and virtual events with our leading journalists
Already have an account? sign in
Join our new commenting forum
Join thought-provoking conversations, follow other Independent readers and see their replies