London attacker Youssef Zaghba's mother 'ashamed' to mourn her son
Mother says she tried to turn son away from extremism after he attempted to travel to Syria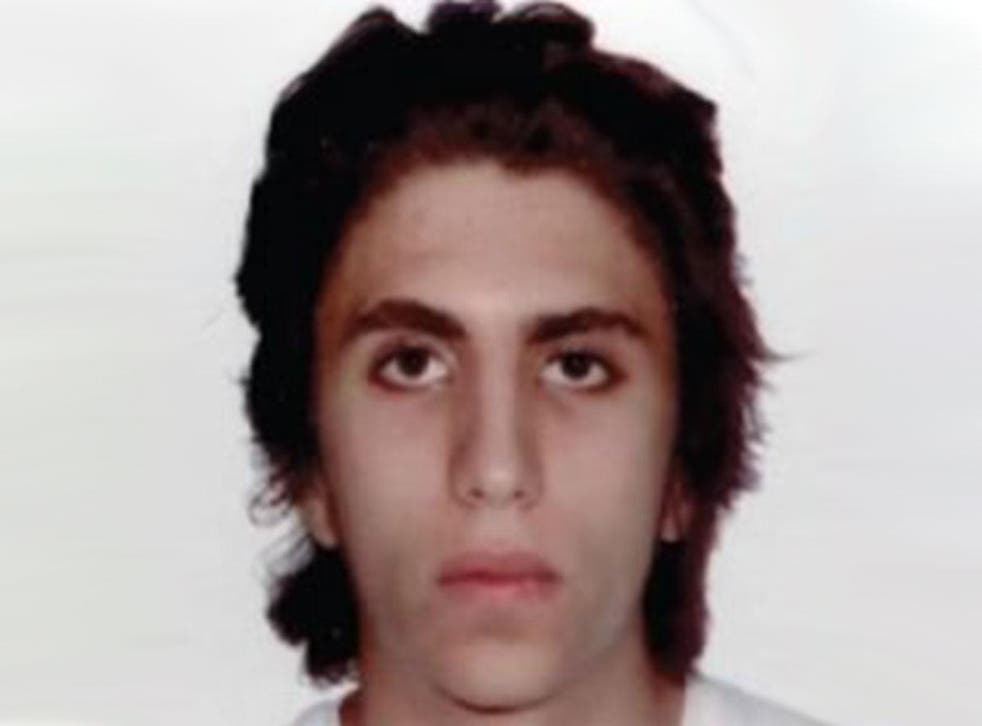 The mother of one of the London Bridge attackers has said she is "ashamed" to mourn her son after he took part in the massacre of at least eight people.
Valeria Khadija Collina, an Italian woman living in Bologna, said Youseff Zaghba had phoned her for what she later realised was a "goodbye" call on Thursday.
"Even though he didn't say anything in particular, I could hear it in his voice," she told L'Espresso.
"We joked about how he would greet me at the airport in London. I was due to go there in ten days to celebrate the end of the month of Ramadan."
But when Ms Collina contacted her son the next day he did not reply, then his father living in Morocco called to say Zaghba could not be reached.
On Tuesday morning, Italian counter-terror police knocked on Ms Collina's door and said her son was dead, among three suspected Isis reporters killed by police during a bloody rampage through Borough Market.
London Bridge terrorists: What we know so far
The mother said she was thinking of her son's victims, adding: "I can understand from my own personal tragedy.
"But I don't even have the courage to compare my pain to theirs. It's as if I were ashamed to say 'I'm also a mother, I'm also suffering.'"
Hundreds of imams have refused to say funeral prayers for the terrorists – a choice the mother says she supports to send a "strong political signal".
Zaghba, an Italian citizen, is believed to have lived in Ilford since 2015, but regularly returned to Italy.
There were suggestions he struggled financially while working at a restaurant in east London.
A crowdfunding account was set up in his name attempting to raise £200 for a "new pair of shoes", but no money had been donated by 26 January, when the page closed.
"I really need the shoes guys, trust me," said a message posed alongside a photo appearing to show Zaghba's feet in a pair of old black trainers.
In March last year, he was arrested at Bologna airport after attempting to travel to Syria, telling police he "wanted to be a terrorist".
Italian authorities who found him in possession of Isis propaganda said he was put on a Europe-wide terror watchlist after the incident, with information shared with MI5.
Ms Collina said she believed her son was radicalised in the UK, and was concerned about videos of Syria he showed her.
"He thought Syria was a place where you could live according to a pure Islam," she added.
"He said it was a dream they had sent to him through the internet. I always said there were horrible things that they didn't show him.
"Unfortunately I was not able to change his mind....when children make mistakes, parents always feel some guilt. But I did my best, and I think he was worn down on the inside."
London Bridge Terror Attack

Show all 16
Speaking to reporters from her home in the suburb of Fagnano, she said Zaghba had changed in the past year and she could "tell there had been a radicalisation".
The mother said the area of east London where he lived made her feel uncomfortable, adding: "I was there and didn't like it. He spent his time with the wrong kind of people."
She also blamed the internet in part for his radicalisation, believing Zaghba had watched Isis propaganda and other extremist material.
Ms Collina said she would dedicate her life to fighting jiahadi ideology by "teaching real Islam to people and trying to convince families to fill the void that they might find in their children".
"[The attack] was a horrible thing, something that should not happen," she added.
"It shouldn't have happened and it should not happen again."
Italy's police chief said his force has its "documents and conscience clear" after flagging Zaghba as a potential terrorist, but understood how he slipped through the cracks.
Franco Gabrielli added: "We can understand the concern, the suffering and the difficulty of those who are called to manage complicated situations."
Italian prosecutor Giuseppe Amato said there was not enough evidence to arrest or charge the 22-year-old when he was caught at Bologna airport.
He said Zaghba was always tracked by Italian intelligence officers while in the country and that UK authorities were informed.
"We did everything we could have done, but there weren't elements of proof that he was a terrorist," he added.
Investigators confiscated Zaghba's computer but did not contain proof of a crime, while the Metropolitan Police said he was not a "police or MI5 subject of interest".
The terrorist, born in the Moroccan city of Fez in 1995, was estranged from his father but lived in the country for much of his life.
Italian authorities said he only spent 10 days in Italy over the past 18 months.
Counter-terror agencies were already under intense scrutiny after it was revealed Khuram Butt, 27, and Rachid Redouane, 30, were also known to security services.
Butt had appeared in a television documentary on British jihadis, openly associated with a network of extremists surrounding Anjem Choudary and had been reported to authorities several times.
The trio killed eight and injured 48 in their rampage around London Bridge and Borough Market on Saturday night.
Additional reporting by agencies
Register for free to continue reading
Registration is a free and easy way to support our truly independent journalism
By registering, you will also enjoy limited access to Premium articles, exclusive newsletters, commenting, and virtual events with our leading journalists
Already have an account? sign in
Register for free to continue reading
Registration is a free and easy way to support our truly independent journalism
By registering, you will also enjoy limited access to Premium articles, exclusive newsletters, commenting, and virtual events with our leading journalists
Already have an account? sign in
Join our new commenting forum
Join thought-provoking conversations, follow other Independent readers and see their replies