Government says discrimination against black people and Travellers 'objectively justified' with new laws
Documents defend disproportionate impact of Police, Crime, Sentencing and Courts Bill
Lizzie Dearden
Home Affairs Correspondent
Monday 13 September 2021 20:10 Comments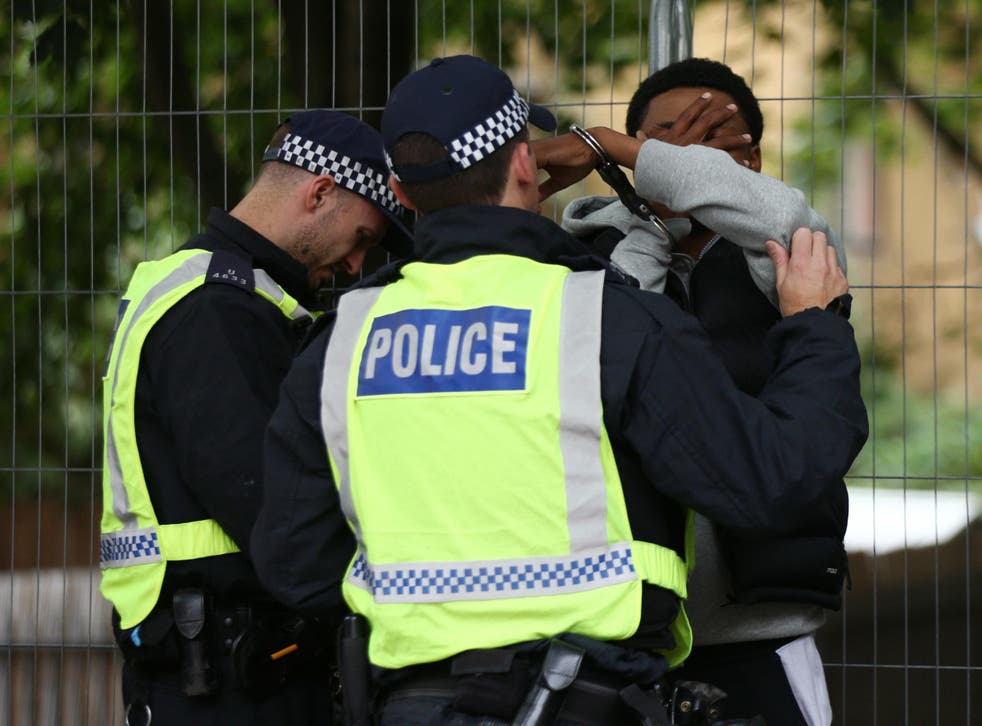 Discrimination against black people and Gypsy, Roma and Traveller communities in a controversial suite of new laws is "objectively justified", the government has claimed.
Home Office documents published on Monday admitted that different groups would be disproportionately impacted by measures in the Police, Crime, Sentencing and Courts (PCSC) Bill.
They include enhanced stop and search powers and the criminalisation of "residing on land without consent in a vehicle".
The Home Office admitted that proposed Serious Violence Reduction Orders (SVROs), which would allow police to stop and search people based on their previous offending history without the "reasonable grounds" currently required, would disproportionately affect black people.
But its equalities impact assessment added: "Any indirect difference on treatment on the grounds of race is anticipated to be potentially positive and objectively justified as a proportionate means of achieving our legitimate aim of reducing serious violence and preventing crime."
The Home Office cited 2018 statistics showing that murder rates were four times higher for black victims rather than white victims, and that the proposals aimed to reduce "violence amongst those most likely to be involved".
"If the benefits of the policy were to outweigh the costs, as currently estimated, this policy would have an overall positive impact and be objectively justified," the document added.
Several criminal justice organisations and charities raised concerns about SVROs in an official consultation, and police figures show that black people are already nine times more likely to be stopped and searched than white people.
Liberty said the law "effectively creates an individualised, suspicionless stop and search power, entirely untethered to a specific and objectively verifiable threat" and would "compound discrimination".
Government proposals state that courts will be able to impose SVROs after any offence "in which a knife or an offensive weapon has been involved", regardless of whether it was wielded by that person.
The Lammy Review drew attention to the racial impact of "joint enterprise" prosecutions, which can see several people jailed over a stabbing carried out by one attacker.
Labour MP David Lammy condemns controversial policing bill in impassioned speech
The Criminal Justice Alliance group said there was "inadequate evidence of effectiveness" of SVROs, warning that they could disrupt rehabilitation and damage trust in the police.
They are one of several measures in the PCSC Bill that have met widespread opposition on human rights and discrimination grounds, although it passed all stages in the House of Commons unamended and will be debated in the Lords on Tuesday.
Several clauses target Gypsy, Roma and Traveller communities, by creating a new criminal offence of "residing on land without consent in a vehicle", and broadening police powers to seize caravans and other property.
The government's equalities impact statement said: "There is no direct discrimination within the meaning of the Equality Act as the law will apply equally, regardless of any protected characteristic … any discriminatory impact for those of a particular race or ethnicity will be indirect."
The document admitted the policy "may place those from Gypsy, Roma and Traveller communities at a particular disadvantage", but added: "It is our view that any indirect discrimination towards the above communities can be objectively justified."
UK news in pictures

Show all 50
The government claimed it recognised the right to follow a nomadic way of life but said the proposed laws would "apply to anyone who resides or intends to reside on land illegally".
It said the plans were a "proportionate means of achieving the legitimate aims of prevention and investigation of crime and the protection of the rights of others, notably those of the occupier and the local community".
The document said the use of the powers would be "discretionary and an operational matter for the police".
Earlier this year Martin Hewitt, chair of the National Police Chiefs' Council (NPCC), said police leaders had not requested a change to the law and believed current powers to be sufficient.
He told a parliamentary committee: "The fundamental problem is that there is an insufficient provision of sites for Gypsy Travellers to occupy. That is what then causes the relatively small percentage where they end up in unlawful encampments."
Mr Hewitt said police leaders had concerns about the proposed powers, and how they could draw police further into "very difficult situations".
In response to the equalities impact statements, the Liberty charity said the government's plans would criminalise Gypsies and Travellers and cause the "harassment" of black people and other groups.
Jun Pang, policy and campaigns officer, told The Independent: "The government's attempt to justify proposals it admits are discriminatory is an insult to the millions of people who will be affected by the policing bill.
"The government admission that these proposals are discriminatory means they shouldn't see the light of day, let alone be made into law. With the bill in the House of Lords this week, Peers must protect our rights and reject this bill."
Register for free to continue reading
Registration is a free and easy way to support our truly independent journalism
By registering, you will also enjoy limited access to Premium articles, exclusive newsletters, commenting, and virtual events with our leading journalists
Already have an account? sign in
Join our new commenting forum
Join thought-provoking conversations, follow other Independent readers and see their replies