Plan to build new prisons questioned as watchdog reveals 'squalor in exceptionally violent' HMP Birmingham
Delinquency was rife and inmates lived in fear at 'fundamentally unsafe' jail, chief inspector reveals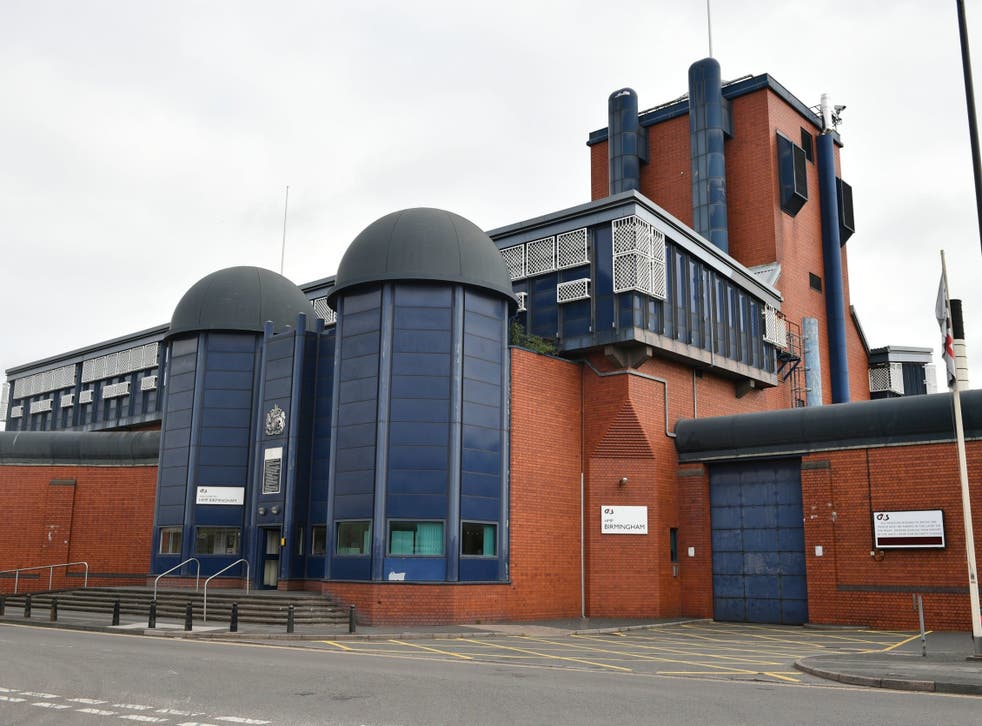 Plans to build two large prisons have been called into question after a watchdog issued a damning report on how one of Britain's biggest jails descended in just 18 months into "appalling, chaotic" conditions likened to "a war zone".
Penal-reform groups said the deterioration at HMP Birmingham demonstrated the fragile nature of big prisons after the chief inspector of prisons warned ministers against failing to learn lessons in their rush to improve conditions.
Inmates walked around "like zombies" while high on drugs or locked themselves in their cells out of fear, the report by watchdog Peter Clarke revealed.
This summer, the jail became the first privately run prison to be taken back under government control when Mr Clarke invoked a rarely used urgent notification demanding action when it was found to be "exceptionally violent and fundamentally unsafe".
Against all four tests of standards – safety, respect, purposeful activity and rehabilitation and release planning – outcomes were judged as poor, the lowest assessment.
"This is only the second time we have made such judgments. Conditions at Birmingham were among the worst we have seen in recent years," Mr Clarke found at the time.
Publishing his full report on August's unannounced inspection, he has now renewed his call for an independent review of how the prison had gone downhill so badly.
Inspectors said conditions were among the worst they had seen in recent years. Drug-taking was barely concealed, they found, and the prison was found to be failing in its responsibility to protect the public by preparing prisoners adequately for release.
Mr Clarke's report also stated levels of violence were the highest for any local jail in the UK, with some inmates saying they felt unsafe even behind locked cell doors.
After he gave ministers 28 days to improve it, they took back control of it from private contractor G4S.
The previous inspection, in February 2017, had found a prison "still reeling" from a riot in late 2016 that caused at least £2m worth of damage but with a "clear determination to recover and rebuild".
The contrast with findings of the inspection in August this year "could not have been starker", Mr Clarke said.
Since 2016, reports have emerged of soaring violence, hundreds of assaults, low staff morale, rat infestations, a flood of the "zombie drug" spice and dirty living conditions.
When the jail was taken back into public control, a new "super-governor" was appointed, 30 more officers were sent in and the jail population reduced by 300.
Frances Crook, chief executive of the Howard League for Penal Reform, said: "This is a prison that is failing to keep prisoners safe, failing to keep staff safe and failing to keep the public safe.
"Large prisons are fragile, and every one of the large prisons in this country has proven to be problematic. If you have a massive, failing institution with thousands of men going through it, the damage it can do is beyond imagination.
"This calls into question the government's decision to build two new big prisons, contrary to all the evidence.
"The right approach is to reduce the prison population and prevent more people being swept into deeper currents of crime, violence and despair."
Mr Clarke said in his full report that he hoped the importance of understanding the deterioration and learning from it are not overlooked.
He said that in his urgent notification to ministers in August, he had made clear that he lacked confidence in the prison to make improvements. He had warned of "the inertia that seemed to have gripped those responsible for monitoring and managing the contracts and those meant to be delivering action on the ground".
"Why was it that those with responsibility for Birmingham either did not see these problems unfolding or seemed incapable of acting decisively when they did?" Mr Clarke asked.
When they went in just four months ago, inspectors found:
the prison was "exceptionally violent and fundamentally unsafe, with many prisoners and staff living and working in fear"
many frightened and vulnerable prisoners "self-isolated" in locked cells but could not escape the bullying and intimidation as urine and faeces were thrown through their door panels
delinquency was rife and individuals could behave badly with near impunity
wings often felt chaotic and rowdy, and one prisoner described "a war zone, inmates walking around like zombies, high on Spice"
control in the prison was tenuous, with staff often not knowing where prisoners were
staff were poorly led and many lacked the confidence or the competence to set about retrieving this situation
many prisoners lived in squalor and little was done to adequately occupy them
Mr Clarke added: "The challenges facing this prison are huge. Managers and staff need support if they are to turn the establishment around."
Prisons minister Rory Stewart said: "We took decisive action at HMP Birmingham to urgently improve safety and living conditions, reducing the population and appointing governor Paul Newton, who is working tirelessly to drive up standards.
Support free-thinking journalism and attend Independent events
"We have conducted a full and thorough investigation of the situation at Birmingham to understand the causes, learn lessons and prevent it happening again.
"We will keep a close eye on progress to ensure Birmingham returns to being a place of stability and reform, and we won't hand the prison back until we consider it is safe to do so."
Join our new commenting forum
Join thought-provoking conversations, follow other Independent readers and see their replies