Rewarding, emotional, amazing food: what's it like to have a refugee come and live with you?
Gary Lineker is to welcome such a guest – and he should be prepared for a life-changing experience, other hosts reckon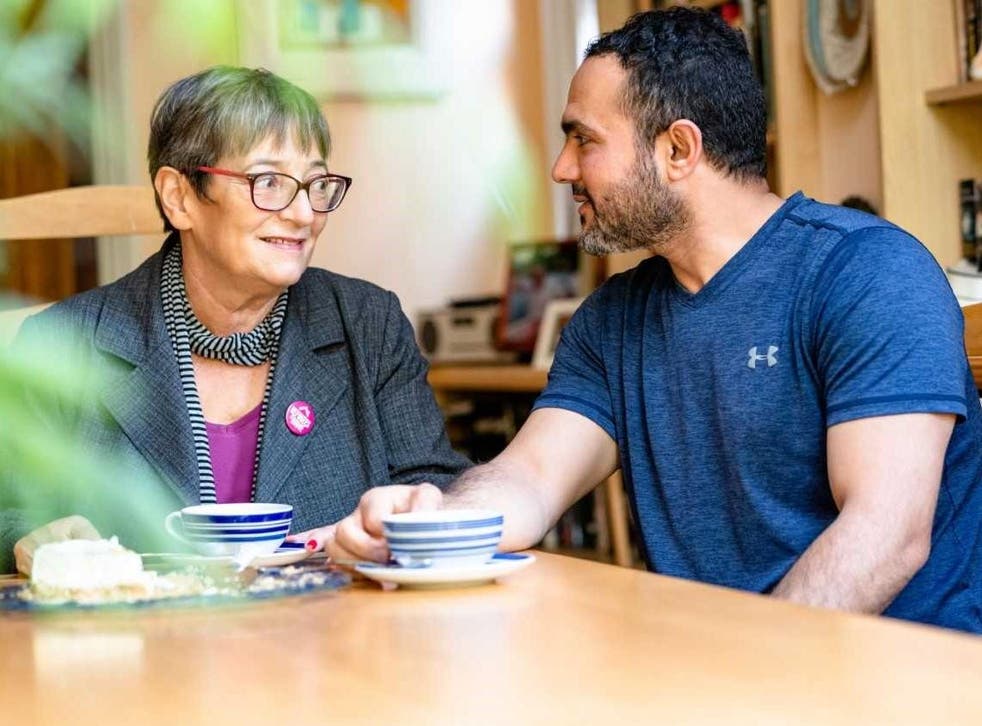 If Sara Nathan was to give Gary Lineker just one piece of advice, it would be to start off by offering a cup of tea.
"We are talking about people who have fled war or persecution," she says. "Just somebody being welcoming is a huge thing. A cup of tea can mean the world."
The Match Of The Day host and former England striker has revealed this week he plans to take a refugee into his own home.
And if anyone knows what that means in reality, it's Ms Nathan.
She and husband Malcolm Singer have hosted 24 such guests at their London house since they first founded the charity Refugees At Home in 2015.
"Let's see," she says, "we've had people from Somalia, Eritrea, Ethiopia, Iran, five Syrians, a Pakistani I believe, it's starting to get to the point where we've had so many I forget the geography."
Why do they do it? What motivates a couple – she a former broadcaster; he a composer – to open their doors to complete strangers from troubled parts of the world?
"Because there were so many people in need of help," says the mother-of-two. "There had been a big upsurge in refugees that year. It was so tragic, and we were empty-nesters with spare room. We just felt we could do something, so we did."
Her grandparents, she says, had hosted refuges from Nazi Germany under the famed Kindertransport scheme while the late mother of her sister-in-law, Nina Nathan, who is a co-founder of the charity, had fled occupied Vienna around the same time.
"As a family we have helped refugees and been refugees and that gives you a knowledge that this can happen to anyone at anytime through a situation beyond your control, and I think that gives you a sort of empathy that means you want to do something," she says.
In the five years since it started, Refugees At Home – which will set Lineker himself up with a guest – has arranged some 2,254 placements across the UK.
The people it helps have either been granted asylum here and are hunting for work and permanent accommodation or are applying to be allowed to remain legally. So far, they have come from 54 different countries with the main bulk being Syrians, Afghans, Iranians, Ethiopians and Eritreans. Hosts, meanwhile, are equally varied. They have included families, retirees, students and people living alone with a spare room to share – although Lineker would be the first world cup semi-finalist to get involved.
Everyone – on both sides – is vetted before a match up is made. A representative of the charity stays in touch throughout the arrangement, which, once started, can last for anything from a few days to several months.
"I have Mohammed with me here," says Ms Nathan down the phone. "He's been with us since May last year. He was supposed to stay until April but coronavirus has rather changed things. Do you want to speak to him? He has to dash for his Starbucks shift shortly."
Mohammed Elmowafi is 39 and from Egypt. He applied for political asylum in the UK amid fear his political views put his life in danger back home. After two years living in Home Office accommodation in Belfast, that application was finally granted last year.
Now, after being matched with the couple, he is working, taking English lessons and applying for teacher training courses.
"For me, living with strangers in their own home, it is not something I accept easily," he says today. "But I was really … in need to start from the beginning again. I left Home Office with nothing. I am not a young man but this has given me a chance to start here again. They have been so kind."
If the benefits are clear for the guests, they are also plentiful for the hosts, reckons Ms Nathan.
"Many, many," she says. "You meet people you would otherwise never meet, you discover things about where they have come from, you find out things about your own country that maybe you didn't know, about how people are treated and what they have to cope with it."
A pause.
"And quite often, the food is amazing," she adds. "I mean, Mohammed is the most brilliant cook. I don't know how I would have got through lockdown without some of his cooking. Egyptian food? Let me tell you about cauliflower – fabulous."
More pertinently perhaps is the knowledge that you are making the planet a better place.
"If you feel miserable about the state of the world, about what's going on, with this, you are doing something," she says. "You are doing something to help someone who needs help. Which is a huge thing."
There are drawbacks too, it should be said.
"Well, you can't walk round your house naked if that's your thing," comes the reply. "There are implications for your privacy, certainly — you are sharing your home with someone. Let me think, other negatives? Sometimes they might eat the last banana. My husband goes bonkers at that."
This may, in fact, underplay things slightly.
Twice hosts have reported thefts by guests — one was an alarm clock, the other a credit card (returned, apparently).
"But that is twice in 175,000 hosted nights in total," says Nathan. "If we were hosting any group of people – Conservative MPs, people off the street, anyone – you would expect that level of incident."
The need for hosts has never been more pressing, the charity reckons. While people crossing the Channel continues to suck up political energy — about 1,500 are thought to have attempted the journey in August — there remain refugees already living here, either legally or awaiting an application decision, who are in need of help.
And, while Ms Nathan makes clear hosts have no obligations to guests beyond providing a room and roof, many do go above and beyond.
Some help their new housemates learn English, others have sourced bikes. Many have assisted in navigating the bureaucracy of job applications and national insurance numbers. Plenty of the match-ups stay in touch long after they have finished living together.
"My advice to Gary Lineker?" muses one host, Nicholas Dumper, a retired teacher who has had six guests stay with him and wife Alison over the last three years. "Be aware your heartstrings will get pulled in every direction. There's joy, frustration, heartache, laughter. It is important to keep an emotional distance but you do end up becoming something of a surrogate family."
The couple took their first refugee in 2017 soon after their two daughters had left the family home, also in London.
While there has been the odd issue – one young Iraqi played computer games through the night and slept all day, which was not quite felt to be in the spirit of things – they have found it overwhelmingly rewarding.
"The only rule we have is we ask guests to try and have the evening meal with us," says Dumper. "The conversation isn't always easy because there can still be a language barrier when people have not been here long but, over time, you can hear it developing and sometimes see them really growing in confidence. It's a lovely feeling to know you have helped that."
Join our new commenting forum
Join thought-provoking conversations, follow other Independent readers and see their replies