Afghan asylum seeker who had deportation thwarted by pilot urges British Government to save his life
Exclusive: 'I just need a chance for the Home Office to save my life'
Lizzie Dearden
Home Affairs Correspondent
Wednesday 20 September 2017 11:58 Comments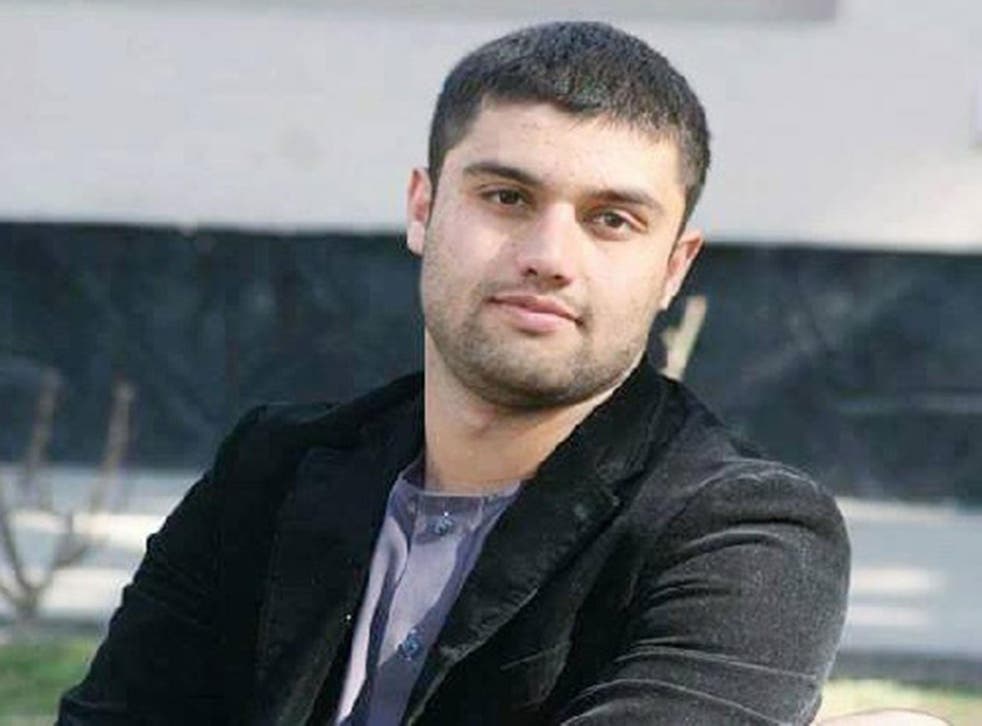 An Afghan man facing deportation to the city where the Taliban threatened to behead him has urged the British Government to save his life.
Samim Bigzad, 22, remains in custody at an immigration detention centre, after the first attempt to return him failed when the pilot of a passenger plane from Heathrow refused to take off with him on board.
In his first interview, Mr Bigzad said he wanted to thank the Turkish Airlines pilot who prevented G4S guards taking him on the flight.
"I just want to say thanks to the pilot – in a bad moment, he saved my life.
"He was such a kind man, an honest man, who knows the situation in Afghanistan."
Mr Bigzad said he cannot remember everything from that day, but relatives told The Independent he was crying and shouting, "I'm going to get killed in Afghanistan" as he was taken down a boarding tunnel on Saturday.
They were almost at the door when pilot emerged and reportedly told them: "You're not going to take him; I'm not flying. Someone's life is at risk."
Campaigners had travelled to Heathrow Airport to alert passengers boarding the flight to Istanbul that Mr Bigzad would be onboard, urging them to do "whatever they were comfortable with" to raise the issue with airline staff.
More than 3,600 people have signed a petition calling on the Home Office to stay the deportation process, to allow time for a new asylum claim to be lodged. Activists have also vowed to do everything they can to block any new attempt.
Mr Bigzad was returned to the Brook House removal centre, where he has been held since he was detained without warning during a routine appointment at an immigration office in London two months ago.
The G4S-run centre is the subject of a BBC Panorama investigation, that uncovered evidence of officers "mocking, abusing and assaulting" vulnerable people.
Undercover footage, to be aired on Monday, allegedly exposes "rife" drug use, as well as a "toxic mix [of] chaos, incompetence and abuse," seeing failed asylum seekers being forced to share rooms with foreign criminals who have finished prison sentences.
Mr Bigzad is among more than 500 inmates being held indefinitely at the facility, and the UK the only country in Europe enforcing indefinite immigration detention.
He thanked the relatives, friends and thousands of supporters who are battling to keep him in the UK.
"I keep myself strong from the people who are supporting me and I want to say thank you to everyone who has been helping with this," he added.
"I want to stay in the UK, to meet the wonderful people of the UK and to make a life."
Mr Bigzad said Kavel Rafferty, who has been hosting him at her home in Margate, had become like a "big sister".
"I will never forget what she has done for me. I will never, ever forget," he said.
If given the right to remain in the UK, he wants to go back to college to study English, get a job and return to playing cricket and his beloved cat, Teddy.
Mr Bigzad and his representatives are hoping to gather enough evidence to force a review of the Home Office's decision to deny him asylum.
He risked his life to reach Europe after receiving death threats from Taliban militants, who vowed to behead him because the construction company he worked for had contracts with the Afghan government and American firms.
Mr Bigzad ignored the first phone call and kept working, but fled Kabul after pleas from relatives following a second phone call from the same group.
"They said 'we know where you live, where you work and when we see you we'll chop your head off'," said his cousin, Arash.
"Once the Taliban know who you are, they're very clever people and they will assassinate you; they will kill you."
After being urged to flee by his mother, Mr Bigzad paid a smuggler to leave Afghanistan via Iran to Turkey, then crossed the Aegean Sea alongside thousands of migrants at the peak of the refugee crisis.
He journeyed onwards through Europe and to Calais, boarding a lorry where he told relatives he almost suffocated to reach Dover in 2015.
The family resorted to paying smugglers along the well-trodden route after exhausting legal options, with his father previously attempting to bring Mr Bigzad to join him in the UK in 2010 under asylum legislation.
He has been studying English while acting as the primary carer for his father, a British citizen and former Afghan national who suffers from mental illness after being imprisoned and tortured by the Taliban almost two decades ago.
A caseworker familiar with Mr Bigzad's case said his asylum application was turned down in March 2016, and that one appeal had been dismissed in court and two other attempts refused.
"The original refusal was based on 'credibility' and it's a classic kind of case," the man, who did not want to be named, told The Independent.
Kabul bomb blast kills at least 90 people

Show all 13
"In my experience, Afghans are more likely to be refused on issues of perceived credibility."
Mr Bigzad has not been able to provide the required evidence to prove the Taliban's threat to his life, and the Home Office has issued another letter saying he will be deported.
The asylum seeker said he needs more time to gather evidence, but fears he will be put on another plane before the legal challenge can be issued.
"I escaped from my country because I was targeted by the Taliban and I am scared to go back," he said. "I just need a chance for the Home Office to save my life."
The British Government is facing mounting calls to halve deportations to Afghanistan, where 284 people were forced back to last year despite increasing conflict and terror attacks linked to the Taliban, Isis and al-Qaeda.
Even after a series of deadly bombings, Kabul was controversially declared a "safe" location to return asylum seekers, following a Court of Appeal ruling last year.
A spokesperson for the Home Office said they could not comment on individual cases, adding: "All country policy and information is based on a careful and objective assessment of available evidence from a range of sources including media outlets, local, national and international organisations, and the Foreign and Commonwealth Office.
"We continually review our country policy and information to ensure it is up-to-date, accurate and relevant, so that staff can make fair and considered decisions."
Register for free to continue reading
Registration is a free and easy way to support our truly independent journalism
By registering, you will also enjoy limited access to Premium articles, exclusive newsletters, commenting, and virtual events with our leading journalists
Already have an account? sign in
Join our new commenting forum
Join thought-provoking conversations, follow other Independent readers and see their replies