Europe may offer 'soft Brexit' and let UK stay in Single Market, hints German Foreign Minister
Sigmar Gabriel has also said a deal is possible in the European Court of Justice's influence after Brexit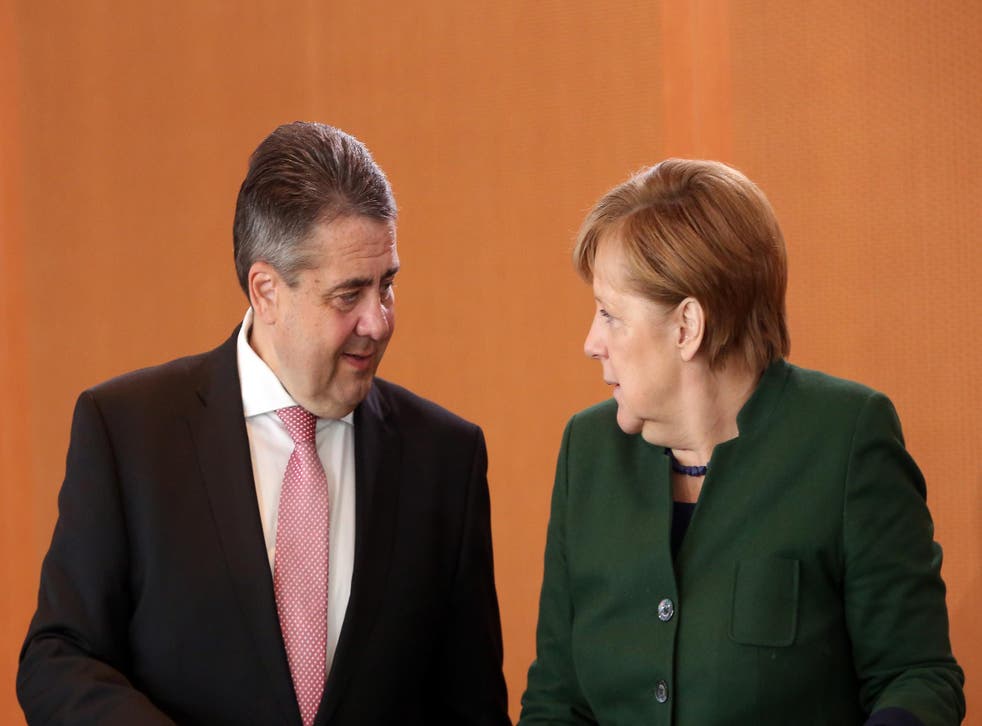 Germany's Foreign Minister has signalled that the UK may be able to secure a "soft Brexit" that keeps the UK in the single market after it has officially left the European Union.
Sigmar Gabriel also indicated a deal could be done on the jurisdiction of the European Court, allowing Theresa May to fulfil her pledge to end its jurisdiction while also meeting the EU's needs.
The German Foreign Minister made the comments as withdrawal negotiations begin in Brussels between Brexit Secretary David Davis and the EU's chief negotiator Michel Barnier.
Like French President Emmanuel Macron, Mr Gabriel said there is an "open door" to the British if they wish to change their mind about Brexit.
It comes as Ms May's cabinet threatened to split over whether to adopt a softer 'jobs-first' Brexit approach, or pursue the Prime Minister's tough immigration-centred strategy that failed to win the Conservatives a Commons majority.
Mr Gabriel told Sunday's Welt am Sonntag newspaper in Germany that "maybe there is now a chance to achieve a so-called 'soft Brexit.'"
But the social democrat politician said staying in the single market would require the UK to at least accept EU workers' freedom of movement.
He also raised the prospect of an agreement on the ECJ's jurisdiction, which Ms May has pledged to end as part of the Brexit negotiations.
How Brexit affected Britain's favourite foods from Weetabix to Marmite

Show all 8
The court's role has been viewed from Europe as one of the trickiest aspects of negotiations, with Brussels wanting it to remain post-Brexit with an oversight role of any agreement, as the guarantor of EU citizens' rights and with a part to play in future trade dispute resolution.
Mr Gabriel suggested there could instead be "a joint court that is staffed by Europeans and Britons" which in principle follows the ECJ's rulings.
He went on to say it would be best if Britain did not leave the EU at all, and while he admitted it did not seem likely "at the moment", he added: "But we want to keep the door open for the British."
Mr Gabriel strongly criticized the UK's Conservatives, saying that they "played with the emotions of citizens in Britain, told fake news about Europe and left people unclear about what consequences this would all have."
Referring to the "difficult, even impossible situation" created by the indecisive election, he added: "Here, those who created such chaos would have long since gone."
He said: "We will negotiate fairly, and fair means that we want to keep the British as close as possible to the EU — but never at the price that we divide the remaining 27 EU states."
It comes after Chancellor Philip Hammond made some signals towards a softer Brexit, hinting at a longer transition period to any new status after business groups demanded the UK stay in the customs union.
Theresa May says Brexit timetable still on track
Moving away from Ms May's "no deal is better than a bad deal" rhetoric, Mr Hammond said the failure of talks would be "very, very bad" for Britain.
Scottish Tory Leader Ruth Davidson has also called for a more economically minded Brexit deal in the wake of the election.
But two Sunday newspapers in the UK reported pressure on Ms May to turn her administration around or face a leadership challenge, with Brexiteer cabinet ministers reportedly threatening to quit if she dares soften her Brexit stance.
Join our new commenting forum
Join thought-provoking conversations, follow other Independent readers and see their replies