Britain First accuses Ukip of 'playing political game' with snub over Rochester photo
Ukip said campaigners posed for a picture with Britain First by 'mistake'
Britain First has accused Ukip of "playing the political game" after Nigel Farage's party reprimanded its campaigners for posing for a picture with members of the far-right group.
A spokesperson for Ukip said the picture, taken while both parties were campaigning for the Rochester by-election on Saturday, was a "mistake" would "not happen again".
Activists from Britain First had earlier talked of the welcome they had received from Ukip supporters backing former Tory MP Mark Reckless who sparked the by-election with his defection.
But after the party to sought to distance itself from the controversial group, known for its "mosque invasions", it struck back on Facebook.
A post on Britain First's official page said: "Britain First has nothing but the utmost respect for Ukip but we are our own movement.
"The media is desperately trying to cause friction between us but they won't succeed.
"We understand that Ukip has to play the 'political game' so they have to distance themselves from us.
"We advise our supporters to ignore Ukip's necessary political manoeuvres when they condemn Britain First – it's all bluster for the media's sake.
"We wish Mark Reckless all the best in Rochester. Ukip at the ballot box, Britain First on the streets – a winning combination!"
Ukip had claimed its campaigners had been duped and rejected "any association" with Britain First.
"A handful of our 200 campaigners on Saturday were photographed by Britain First without understanding the nature of the group and regret that very much," a spokesperson told The Independent.
"They were identified, contacted, advised, and accepted all the sensible undertakings we asked for. A mistake of this nature will not happen again.
"As we have discovered, this is a typical technique of Britain First, a form of political photobomb, to pretend that they have support elsewhere. They do not."
Ukip gaffes and controversies

Show all 18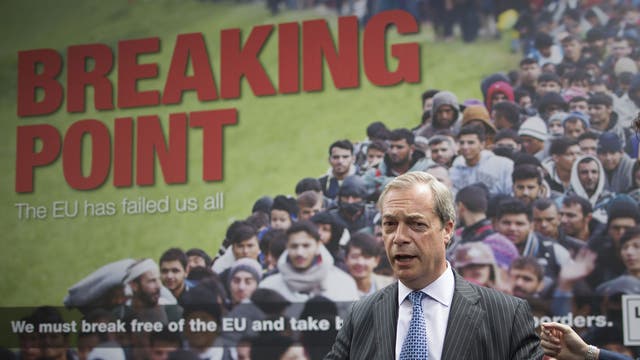 Britain First had posted the picture, taken on Saturday in Rochester, where both groups are campaigning for the upcoming by-election, on its website.
It showed three Ukip campaigners, wearing party T-shirts and rosettes, smiling with their arms around Britain First's candidate Jayda Fransen.
She said Nigel Farage's followers had "expressed support" and asked for the picture.
"We were just having a chat about how our policies are very similar to Ukip's, in fact they almost mirror them," she told Buzzfeed.
Join our new commenting forum
Join thought-provoking conversations, follow other Independent readers and see their replies