Government plans to tackle toxic air pollution called 'feeble' by Green Party
Proposals released after Conservatives lose fight to keep them secret during election campaign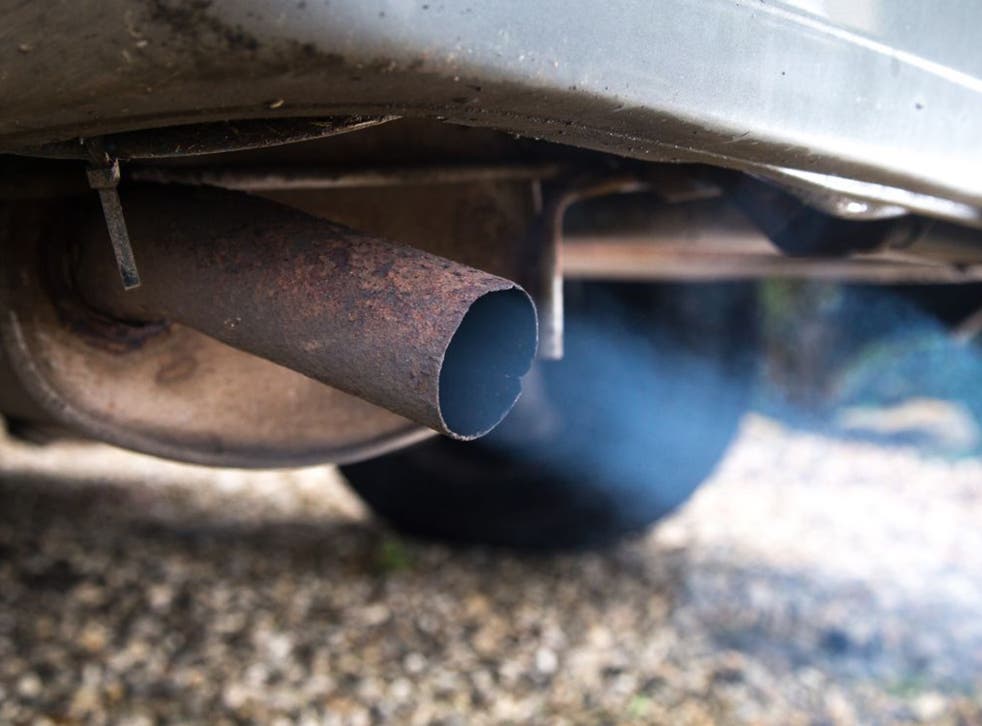 The Government has been accused of failing to adequately protect people from illegal levels of toxic air by not charging drivers in the UK's most polluted areas.
Plans to tackle harmful air pollution, published for consultation by the Conservatives, were called "feeble" by the Green Party.
The proposals admit that pollution targets could be hit if charging schemes are introduced in the UK's biggest cities – but under the plans, local authorities would not be required to introduce charging zones.
Owners of older cars could be offered a cash incentive to scrap their vehicles in the draft plans, released after the Conservatives lost a court battle to keep them under wraps during the election campaign.
Ministers first claimed making the plans public would breach "purdah" rules, but chose not to appeal the decision despite concerns over putting forward unpopular measures before 8 June.
The environmental lawyers whose challenge sparked the plan, ClientEarth, said the proposals were "much weaker than we had hoped for".
The Government was ordered to draw up the new clean air plans following a High Court ruling that existing government proposals to meet EU-mandated pollution limits were not sufficient.
Sadiq Khan calls air pollution in London a killer
The proposals state that councils may be encouraged to "retrofit" highly-polluting vehicles, and there could also be central funding for local measures ranging from redesigning roads to boosting infrastructure for walking, cycling and electric vehicles.
The draft UK plan to tackle levels of nitrogen dioxide in towns and cities says: "If local authorities adopt a charging scheme, the UK Government believes that local authorities could achieve statutory NO2 limit values in most cases by 2021."
But according to the plans, it will be the responsibility of each local authority to "develop innovative proposals" to improve air quality in their areas, which are "not required to include a charging zone".
The draft plans say: "The Government believes that charging zones should only be used where local authorities fail to identify equally effective alternatives."
Air pollution causes at least 40,000 deaths a year, according to the Royal College of Physicians, which also estimates the cost of the damage to be around £20bn.
Caroline Lucas, co-leader of the Green Party, said: "This feeble plan won't go anywhere near far enough in tackling this public health emergency.
"We needed a huge investment in public transport, serious taxation changes and a new Clean Air Act – but none of these solutions are in the plan."
"We've seen catastrophic failure on air pollution from a Government trying it's best to shirk its responsibilities.
"It's astonishing that today's plan had to be dragged out of the Government – as ministers tried their best to use the election as cover for their continuing refusal to take action."
Britain was given a "final warning" by the European Commission in February over its failure to address air quality after legal pollution limits were continually surpassed in 16 areas including London, Birmingham, Leeds and Glasgow.
The draft plan said the scrappage scheme "could be developed to contribute to the cost of purchasing a cleaner vehicle," adding: "Such a scheme would have to be targeted at those most in need of support and be limited in scope."
UK news in pictures

Show all 50
James Thornton, CEO of ClientEarth, said: "We are continuing to study the government's latest air quality plan, but on the face of it it looks much weaker than we had hoped for.
"The court ordered the Government to take this public health issue seriously and while the Government says that pollution is the largest environmental risk to public health, we will still be faced with illegal air quality for years to come under these proposals.
"There needs to be a national network of clean air zones which prevent the most polluting vehicles from entering the most illegally polluted streets in our towns and cities.
"We fail to see how the non-charging clean air zones, proposed by the Government, will be effective if they don't persuade motorists to stay out of those areas. The Government seems to be passing the buck to local authorities rather than taking responsibility for this public health emergency."
Chief scientist at Greenpeace UK, Doug Parr, said: "We have heard a lot about 'strong and stable leadership' from Theresa May, but there's none of it in a half-baked plan that puts poll ratings before people's health.
"This hodge-podge of vague proposals offers little help and no justice to drivers duped by car companies and people breathing toxic air pollution.
"The only real winners are the car makers who despite misleading customers about their cars' real emissions and causing this mess in the first place are getting off scot-free."
Register for free to continue reading
Registration is a free and easy way to support our truly independent journalism
By registering, you will also enjoy limited access to Premium articles, exclusive newsletters, commenting, and virtual events with our leading journalists
Already have an account? sign in
Register for free to continue reading
Registration is a free and easy way to support our truly independent journalism
By registering, you will also enjoy limited access to Premium articles, exclusive newsletters, commenting, and virtual events with our leading journalists
Already have an account? sign in
Join our new commenting forum
Join thought-provoking conversations, follow other Independent readers and see their replies