Ukip MEP Janice Atkinson suspended and axed as election candidate over 'serious financial allegations'
Nigel Farage's party said it was 'incredibly disappointed' with her 'poor judgement' but did not give further details of the claims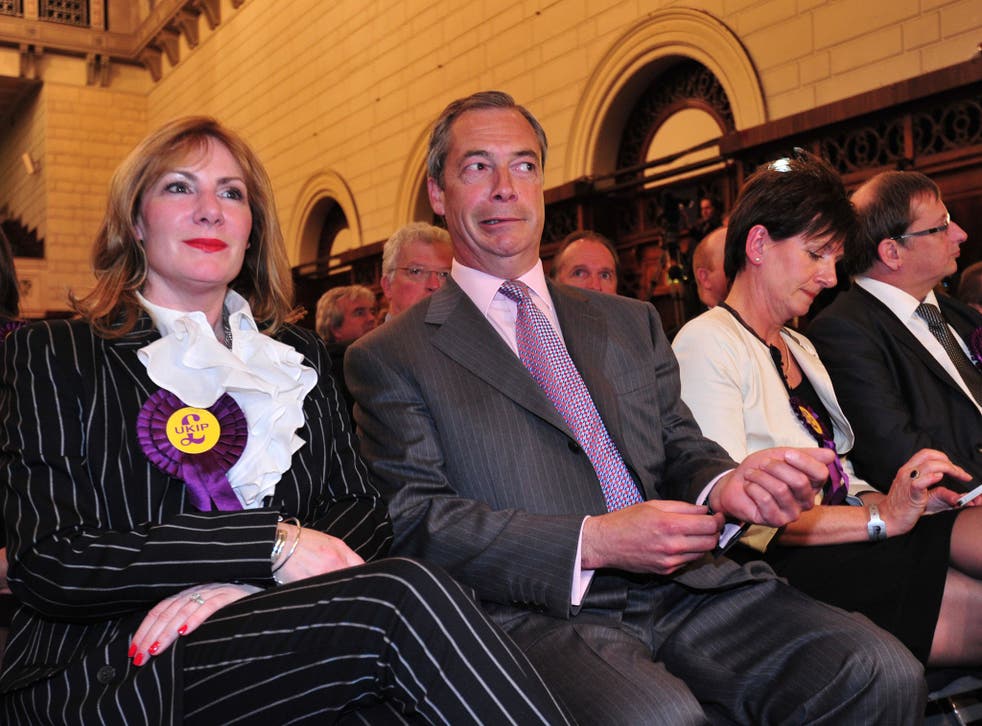 Ukip has removed the whip from MEP Janice Atkinson and axed her as a general election candidate following "allegations of a serious financial nature".
The party would not give further details on the claims, which relate to an investigation by The Sun following an event at The Hoy restaurant in Margate.
The newspaper said it had secretly filmed a member of Ms Atkinson's staff appearing to plot to make a "substantial bogus expenses claim", which reportedly more than tripled the original bill for a pre-conference Ukip function.
Ms Atkinson, 52, represents the South East in the European Parliament and was due to stand as MP for Folkestone and Hythe in May's general election.
A source close to party leader Nigel Farage they had not yet seen all the evidence of the alleged wrongdoing but were "satisfied the conditions are such that we have had to suspend her".
The invoice, obtained by one of Ms Atkinson's staff, was for £3,150 and related to the Women's Lunch for Ukip Spring Conference Event attended by MP Mark Reckless and Mr Farage's wife, Kirsten, in February.
Ukip gaffes and controversies

Show all 18
Asked about Ms Atkinson's reaction to the claims, he said she appeared "very, very surprised" that she was being criticised.
"She doesn't see what she's done wrong. I think she's genuinely dense enough not to realise this is not the way things happen," the insider said.
An official spokesperson for Ukip said the party was "incredibly disappointed with Ms Atkinson, who appears to have exercised extremely poor judgment in acting in a way that the party has never and would never condone".
"The party has acted swiftly and immediately and, just as we showed when we suspended another MEP for financial irregularities, we always maintain a zero-tolerance attitude towards acts of this nature," he added.
It gave no further details of the alleged behaviour that prompted the disciplinary action.
In his column for The Independent, Mr Farage said he was attempting to "restore some faith and dignity to British politics" in the wake of Ms Atkinson's suspension.
"I want Ukip to be the party that restores decency into our political sphere, and as such, I will do my level best to uphold those principles across the entire party," he wrote.
Ms Atkinson has not yet responded to The Independent's requests for comment.
She became embroiled in controversy last year after calling a Thai constituent a "ting tong" in comments recorded by the BBC.
"I deeply regret the words I used and am incredibly sorry," she said afterwards. "It was poor judgment and naivety on my part rather than words spoken with any malice."
Months before that incident, she was caught on camera swearing at a group of activists in Kent by holding her middle finger up.
Last month, Ms Atkinson said she would scrap the role of Equalities Minister dedicated to policies regarding women, ethnic minority and LGBT issues.
She joined Ukip in 2011 and rose up the party to become an MEP last year. She is the author of Ukip's welfare policies.
On her website, Ms Atkinson describes herself as "happily divorced" and remarried with children.
She said she joined Ukip to "stand up for things that we believe in" and because she "wants (her) country back".
Folkestone and Hythe is seen as a safe Tory seat and was represented by the former party leader, Michael Howard, before fellow Conservative Damian Collins won in 2010.
Additional reporting by PA
Register for free to continue reading
Registration is a free and easy way to support our truly independent journalism
By registering, you will also enjoy limited access to Premium articles, exclusive newsletters, commenting, and virtual events with our leading journalists
Already have an account? sign in