Harriet Harman interview: Even Labour supporters were glad we didn't win the election, says interim leader
Labour's interim leader admitted the widespread doubts about the party's leadership and economic credibility cost it dearly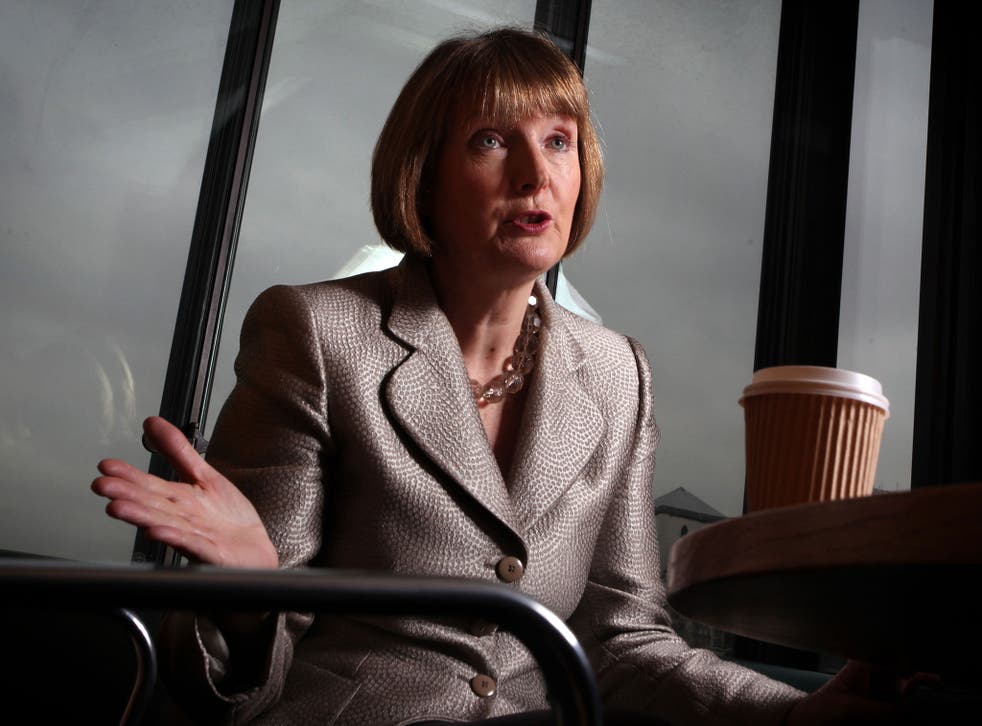 Even people who supported Labour at last month's election were privately relieved afterwards that the party did not win power, Harriet Harman has admitted.
In a candid interview with The Independent, Labour's interim leader admitted the widespread doubts about the party's leadership and economic credibility cost it dearly. She said Labour's much-trumpeted 6m conversations with voters counted for little because the party had the "wrong message." Many people felt Labour was not talking to them because it raised issues such as zero hours contracts, the living wage and food banks, she said.
Ms Harman has commissioned Deborah Mattinson, who was Gordon Brown's pollster, to find out why voters spurned Labour and to assess their current mood as part of a no holds barred inquiry into the party's crushing defeat.
Initial post-election focus groups by Ms Mattinson, founding director of the Britainthinks consultancy, uncovered a feeling of relief among Labour voters than the party had not won. One supporter in Ealing Central and Acton confessed to being "a little bit disappointed and a little bit relieved." The same view was expressed across the country, highlighting how even Labour's own voters lacked confidence in the party's ability to govern – a graphic reminder of the huge task facing Labour if it is to regain power.
Who will be the next Labour leader?

Show all 7
Ms Harman said: "Sometimes after an election, you get a sense that people think 'Oh my God, that is terrible, what a disaster.' A lot of people felt that because we got nearly 40,000 new party members who were very disappointed. But there is an even greater number of people, even though they were not enthusiastic about David Cameron or the Tories, who feel relieved that we are not in government. We have got to address it. It was not a blip."
Labour faces three big regional challenges – the rise of the SNP, a threat from Ukip in the North and Labour's poor performance in the South. But Ms Harman believes a common problem all over Britain was that voters felt the party "doesn't talk about me". Labour was seen as supporting "people on benefits" but not those who "work hard." She said: "It doesn't matter how many leaflets you deliver if the message is not right."
She is determined that a taskforce she has set up, chaired by the former Foreign Secretary Margaret Beckett, will ensure Labour learns the right lessons from a defeat it did not expect.
"Sometimes after a big general election defeat, some people take lessons that protect their own involvement in the campaign," said Ms Harman. "They don't want things looked at because they were a part of it and feel defensive. Others want to find things that support what they want the party to do in the future. It is really important for the party that it is not defensive about the past but is absolutely honest and clear-eyed and faces up to the truth of what people are saying."
Ms Harman believed it would be better to have "some turbulence" now during a thorough post-mortem than to "paper over the cracks" to preserve party unity, as it did when Mr Brown replaced Tony Blair in 2007 and Mr Miliband succeeded Mr Brown in 2010. "When you change the captain of the ship, you should look at the direction it is going in," she said.
Ms Harman, who will lead the party until Mr Miliband's successor is elected in September, will remain neutral in the contest but is urging the party to choose the leader who will best connect with voters in 2020, rather than make Labour members "feel glowing about our principles and values." There will be televised hustings events open to people who did not back Labour last month.
She said Labour must continue to be an effective opposition and not repeat the "hiatus" during its 2010 leadership contest– when the Tories convinced some voters the previous Labour government caused the deficit by spending too much. "We never got to grips with why we lost the economic argument [in 2010]," she admitted. "We really must do it this time, even if people feel anxious about talking about the past…..I don't want people to think that the only thing we need to do is elect a new leader."
The inquest will look at Mr Miliband's performance and Labour's economic credibility. "The two combined together. People tend to like a leader they feel is economically competent," she said.
Ms Harman believed the Tories exacerbated people's fears about Labour by warning the party would do a deal with the SNP. "If people had trusted us on the economy, they would not have worried that we would be pushed around by the SNP."
She suspected there was a late swing to the Tories but admitted: "A lot of people were undecided about the Tories but were never as prone to vote for us as the polls implied. They were never going to decide for us." She dismissed as "rubbish" claims that some Labour internal polling had warned that it was heading for defeat, saying all the party's contingency plans for election night were about taking power.
What did she say? Harman in her own words
"People were not massively enthusiastic about the Conservatives or David Cameron but they settled for the devil they knew."
On Ed Miliband and Labour's economic credibility: "The two combined together. People tend to like a leader they feel is economically competent."
"We never got to grips with why we lost the economic argument [in 2010]. We really must do it this time."
"If people had trusted us on the economy, they would not have worried that we would be pushed around by the SNP."
"I don't want people [in the party] to think that the only thing we need to do is elect a new leader….When you change the captain of the ship, you should look at the direction it is going in."
"It is really important for the party that it is not defensive about the past but is absolutely honest and clear-eyed and faces up to the truth of what people are saying."
"It [the leadership contest] is about actively reaching out to engage with people who did not support us, not just those who did."
Join our new commenting forum
Join thought-provoking conversations, follow other Independent readers and see their replies